Sn2 Scale (9mm gauge)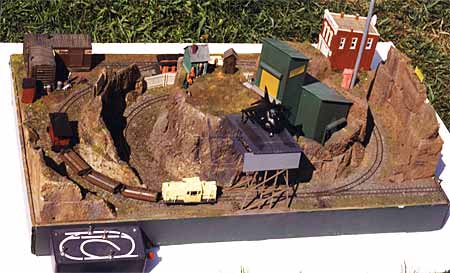 Russ Haigh built The Cavorite Tram, a 20x30in narrow-gauge railway, sometime around 1995. It's built on three layers of Foamcore board glued to a frame of two inch thick pink insulating foam.
The little 1:64 tram serves a mine for cavorite, a mineral invented by H.G. Wells that has the uncanny ability to fall upwards. Wells used it to power a flight to the moon. Russ's pike includes an appropriate mountaintop airport for cavorite-powered planes, complete with an office and an outhouse that is guyed down to avoid being blown over by departing flights. Cavorite can be shipped out either by rail or by air.
O Scale (1¼ in gauge)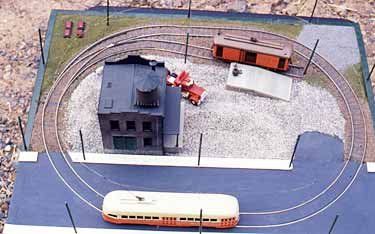 Dick Bell built this tiny 36x28in O scale railroad, theDelaware Valley Traction Company, almost 30 years ago. The small layout features private right-of-way, street trackage, working overhead wire, and a curved turnout leading to a spur that serves as a team track.
"I originally built the layout to learn the various skills needed to build a working trolley layout," Dick comments. "Today, I use the layout as a photo prop (the scenery can be varied by changing out the buildings), as a loop to test run and work out the bugs in new cars, and most of all for fun. It has survived the construction and subsequent destruction of two large trolley layouts. I call it my 'first and lasting' trolley layout."

   The large illustration at the top of this page is Alex Lehmann's On15 layout, Rittig's Mill (1:45 scale running on 9mm gauge). It is a shoebox layout, built to fit in a 12½x6¼ in shoebox and to run Inglenook games. It features an animated mill wheel slowly turning in the background. This type of very tiny, portable operating layout is gaining popularity around the world of model railroading and has even been the subject of several layout competitions.
To demonstrate that minimum space layouts are not limited to small gauges and trolleys, here's a plan I drew up recently for an O scale modeling friend who is currently strapped for space. It's a two-rail O standard gauge layout in an area slightly less than four square feet. The Chesapeake Power and Light switching yard is designed for use with 50-foot modern cars and an RS-3 diesel road switcher…full-sized rolling stock! One #4 turnout (from Old Pullman) is used in a plan very similar to San Vince de Rey (shown above in N scale).

#1n20 Scale (16.5mm gauge)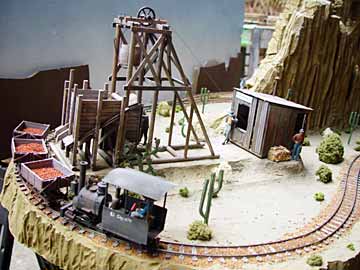 Richard Heisler's Acme Mining Company is a 1:32 scale layout measuring 48x24in. Scale is 3/8in to the foot, representing a 20in gauge mining railroad in the tradition of the well-known Coronado RR and the lesser-known Hackberry & Iron Queen RR from the same area of Arizona. Primary construction material throughout (including the vertical mountain view block) is pink insulating foamboard.
Taking its style from the Roadrunner cartoon series, the layout features mesa-top scenery and a Warner Brothers style desert background. The loco, bashed from a Bachmann On30 Porter, is named "El Coyote," and of course the line features a scratchbuilt dynamite car.
G Scale (1¾ in gauge)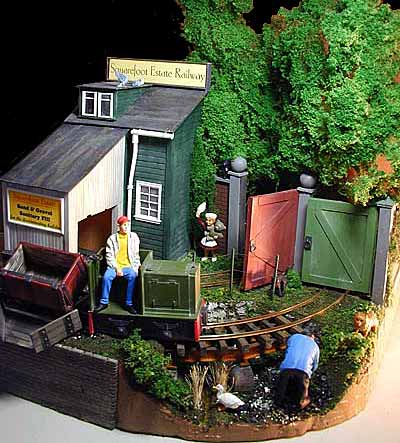 These two layouts demonstrate that even Large Scale trains can be enjoyed n a minimum space. Above, Bill Nunn is building this G gauge railway on a 1x4ft bookshelf. Track is stock LGB sections, the loco is an LBG field diesel, and cars are adapted from Hartland four-wheel stock. There's a sector plate hidden in that wedge-shaped building, and the back of the white building is open to provide a sneaky fiddling capability. Who says G scale requires a lot of space?
G Scale (16.5mm gauge)
At the left is Carl Arendt's Squarefoot Estate Railway. It's Gn15 scale: same proportions as LGB, but running on a gauge that represents a prototype 15 inches between the rails. The layout occupies just one square foot of space, but accomplishes a lot of work for its size. It represents the back lot of a large estate, where a brisk trade in sand and gravel quarried on the property is conducted. The little railway makes its living by hauling the aggregates from the crusher/sorter building (green) to the edge of the layout where they're automatically tipped into the waiting customer trucks.
The Squarefoot was the first layout built in the then-new Gn15 scale (in 2001), and it was instrumental in helping to ignite the current explosion of interest in minimum-space layout design.