FAQ: How to make a turntable from a Lazy Suzan
A. This question was answered in Carl Arendt's book, Creating Micro Layouts (now out of print). Ian Holmes, from Minnesota, USA, is the titan of the train turntable. He built the classic of the genre for his Gn15 micro layout, Apple Valley Light Railway. He used a common, inexpensive item of houseware — a kitchen turntable called in the U.S. a "Lazy Susan" and designed to make a variety of piled-up contents easily reachable. Here's a summary of the original article.
---
How to Make a Train Turntable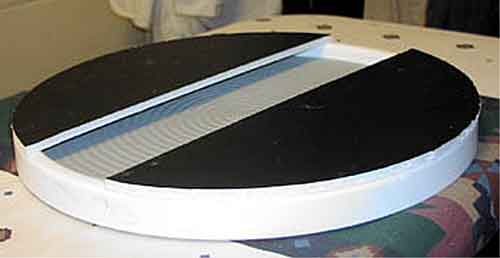 1.
Ian started with a 12in Lazy Susan direct from the housewares store. He added two partial circles made out of ¼-inch (6mm) foamcore and glued to the top of the turntable. The diameter is long enough to hold a Gn15 loco and three four-wheeled cars/wagons.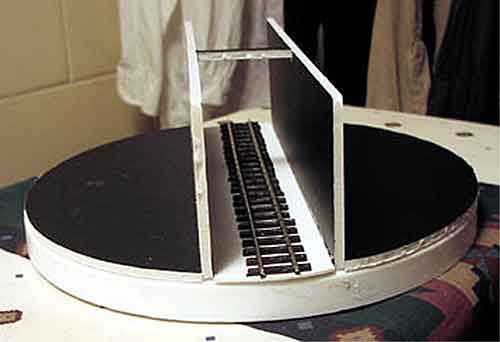 2.
This photo shows a removable cassette, also made up from foamcore, installed on this pilot model. The cassette fits on the Lazy Susan rim surface, snugly between the two cutouts. The tall sides protect rolling stock from falling off during transit. The cassette can be picked up, carried to a storage area, and replaced with a different cassette that holds an entirely different train. The cross-brace at the top also serves as a convenient carrying handle.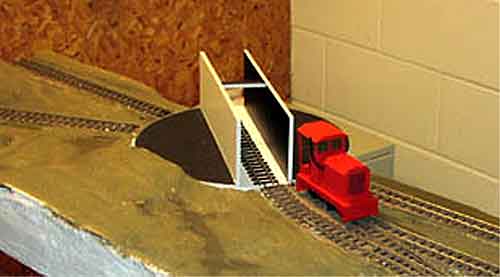 3.
Here the train turntable is in place on Ian's original Apple Valley Light Railway layout (the track plan was featured on p. 98 of the U.S. magazine, Model Railroad Planning 2004). Note that the track on the layout was raised somewhat to be flush with the track on the cassette. Alternatively, the turntable might be mounted in a circular hole prepared for it in the baseboard.
Where do you get a Lazy Susan turntable? At almost any store that sells kitchenware. They come in diameters from 6 to 22 inches.