07 – Port Nairn
Chris Herron
Nairn, Scotland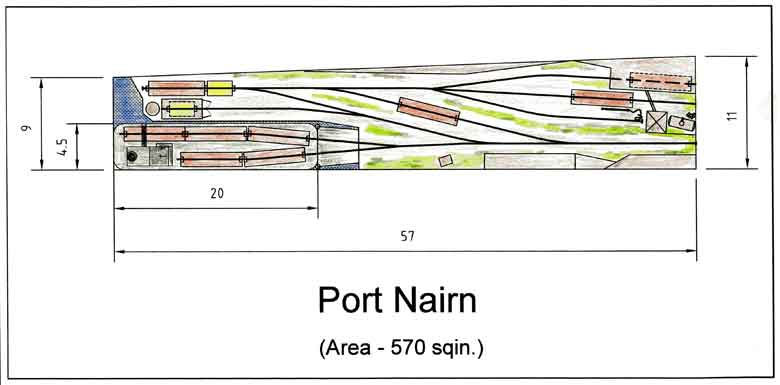 Located in the Pacific Northwest, off the Washington coast, Port Nairn is the main town on an island in Puget Sound and is linked to the mainland by the rail ferry MV Arendt.
The principal traffic is conveyed in 40′ boxcars or flatcars that bring in supplies to the islanders and gives the local industries a rail connection to the main network. Additionally there is a fuel oil tanker service that brings in fuel to replenish the local depot that supplies the island's fuel needs. Outbound traffic includes timber products, machinery, minerals & the weekly gondola service that takes the island's rubbish to the mainland for processing.
With space being at a premium, the Trackmobile provides the local railroad with the ideal vehicle to shunt cars around the port area and to load/unload the ferry. Between turns, the Trackmobile rests in its own shed with a small supporting works that carries out maintenance on the vehicle or any of the cars that need repair.
It's intended that the ferry is removable to act as a staging area. The right-hand end has another staging area for one car in the warehouse and also provides for a possible connection to the main intra-island railroad. (There's still 6 sqin of allowable area left to make up staging cassettes!)
The Plan.
Designed using Peco track-templates scanned into Autocad and then hand-coloured. Typical boxcars and the Trackmobile are shown on the plan.
(NOTE: This layout requires alterations to the Trackmobile to install a front coupler, as permitted in the rules.)