12 – Monk's Island Brewery
Andreas Krause
Wiltshire, England

Monk's Island Brewery is located at the bottom of a cliff on Monk's Island, just a mile offshore on Lake Pahinda. All transport to and from the brewery is conducted by barge.
Given the space constraints, operation is straightforward, although not simple. Barley and hops arrive in 40′ grain hoppers on the barge from the mainland and are then transported to the grain storage. Beer ready for shipment is loaded onto 40′ box cars at the end of the bottling plant and from there transported to the barge for transport to the mainland. Complications arise from the need for storage of empty as well as fully loaded box cars and the emptied grain hoppers —in total there are 5 box cars and 3 hoppers to accommodate. This will require quite some shunting and forward planning.
In addition there is a small repair shop to address any small problems that arise with the rolling stock or the Trackmobile. Using this facility might add additional shunting problems. In order to use the newly acquired Trackmobile most efficiently — it replaced an old 0-4-0 switcher — a small turning device was installed by a local company (explanation in a separate figure below).
This layout combines using a set of transfer tables in the bottling plant (as in A Pony Keg of Beer), having fascinated me since I first saw it, with the use of a barge, another favorite of mine.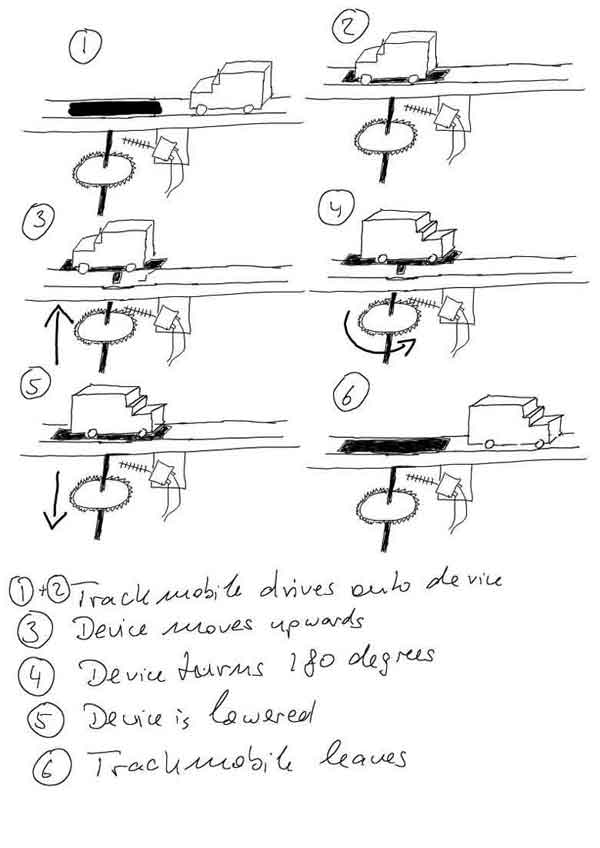 (NOTE: This layout does not require any alterations to the Trackmobile, which can be used directly from the box.)