19 – ANP Paper Products
Josh Cole
Waynesville, North Carolina, USA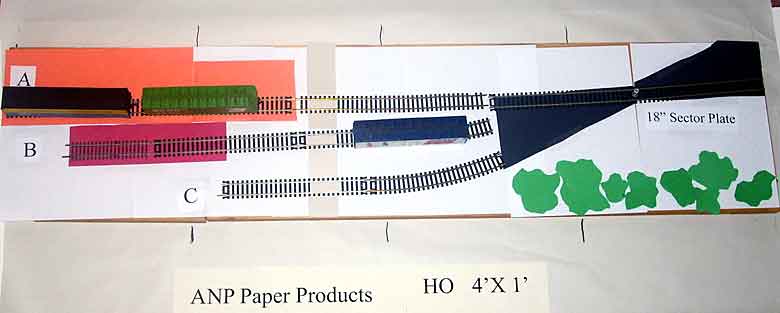 ANP Paper Products is a 4x1ft HO scale layout. This layout is inspired by a local finishing paper mill that I often visit with my children to watch trains. This mill takes paper and coats it with plastic to make paper drink cartons for milk and juice. The prototype(below), much larger of course, uses four axle diesels to switch the mill twice a day. In my layout, the company, tired of waiting on the railroad to move freight cars, invests in a Trackmobile.
The layout works like this: paper arrives from the main mill, about 8 miles away, in 50′ box cars which go inside the mill on track A. Track A can hold three cars, two of which are actually inside a building. Plastic pellets arrive in 3 or 4 bay covered hoppers and are located in a covered shed next to the mill building on track B, which can hold two cars. Track C, two car capacity, is used to hold and sort cars when switching the mill.
Box cars full of finished paper and empty covered hoppers are placed for pickup by the railroad. One operating complication is that due to frequent truck traffic, the road, crossing all tracks, cannot remain blocked.
The key to operating this layout is a sector plate which can hold the TM and two cars. For a change, this layout can be run as a 3-2-2 Inglenook.

(NOTE: This layout does not require any alterations to the Trackmobile, which can be used directly from the box.)