22 – Rügenshaven
Thomas Van Hare
Ashburn, Virginia, USA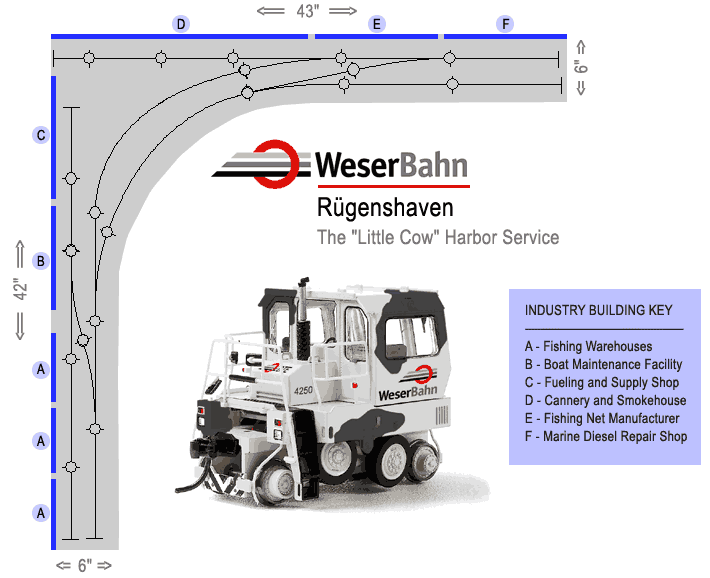 WeserBahn's famed "Kuhlok" paint scheme is brought to Trackmobiles through this imaginary HO Scale (1:87), German Baltic fishing harbor corner layout. Operations involve a Tymesaver (with eleven destinations), plus dual opposing Inglenooks, competitively running two DCC "Little Cow" Trackmobiles.
The layout features small fishing warehouses, boat maintenance facilities, fueling and supply shops, a fishing net manufacturer and marine diesel repair shop. At center is the harbor's main canning smokehouse business, with two loading platforms.
Construction is fast and easy — a great opportunity for a first timer to build an interesting micro-layout in hours, rather than weeks. The harbor industries are backdrop cardstock flats, like those in the Peek's Pike layout — rendered in Photoshop, printed onto quality paper, and then pasted along the layout's back walls. The Rügenshavensfisch Fisherman's Warehouse is shown on its draw card.
The layout uses two 6in inch deep, 42in and 43in shelves with a curved connecting corner piece. With the narrow shelf arms, the layout still totals precisely four square feet, yet packs in lots of operational interest. Track is Atlas Code 100, largely in 6in and 9in lengths, common AT-850 and -851 Snapswitches, and two lengths of flex track giving approximately 10in radius curves.
Trackmobiles are modified with dual Kadee magnetic couplers. Four-axle and two-axle cars carry fishery supplies, the daily catch, canned goods, marine diesel parts, plus fuel and equipment, making a highly realistic Tymesaver based on draw cards.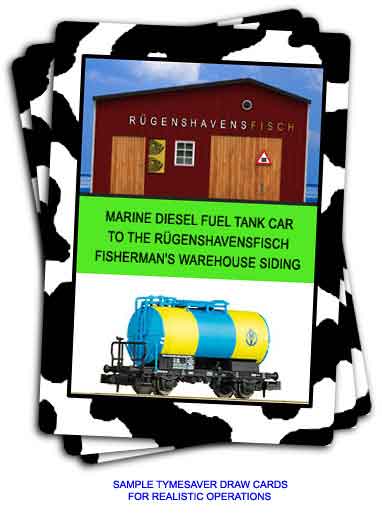 (NOTE: This layout requires alterations to the Trackmobile to install a front coupler, as permitted in the rules.)