Shoebox Madness – Three for the show


THREE FOR THE SHOW
Steve Bennett photo

This was the scene at ExpoNG in Swanley, Kent, late in October 2003. Lined up facing the hall entrance were these three formidable but very small model railways. In fact, all three were created to fit in shoeboxes, by three indomitable English modellers — Chris Krupa (who started it), Chris O'Donoghue, and Richard Homewood.
Not only had they built working railways in a shoebox, they had done it in OO scale (narrow gauge division) and created believable — and attractive — scenic settings as well! To top it off, all three featured boats as an integral part of their design … and even better, they freely acknowledged that "Carl's Imports made me do it!"
Articles on these bombshell display layouts will be appearing in various media over the ensuing months, but here's an exclusive closer look at all three layouts here and now.     (Top two photos by Steve Bennett.)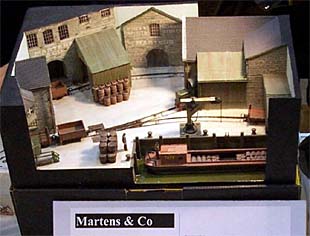 Martens & Co.
by Chris Krupa (center)
Chris's OO9 layout (9mm gauge) reverses the design of Carl's Imports and features a canal boat and a busy wharfside scene. A sector plate is hidden at the right rear corner.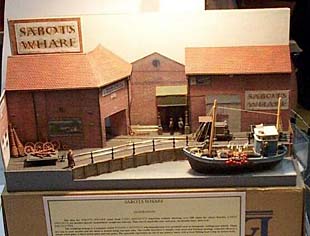 Sabot's Wharf
by Chris O'Donoghue (right)
This one follows the design of Carl's Imports very closely with the sector plate at the left rear. Both buildings and boat were modelled after actual English prototypes.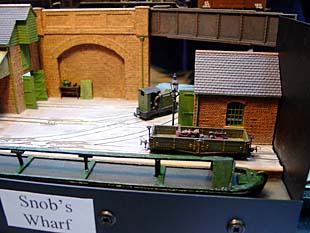 Snob's Wharf
by Richard Homewood (left)
This work-in-progress photo shows Richard's first serious layout in something like 30 years. It features complex trackwork, a full-sized canal boat, and a standard-gauge locomotive overhead!