Rolling Stock on the SFER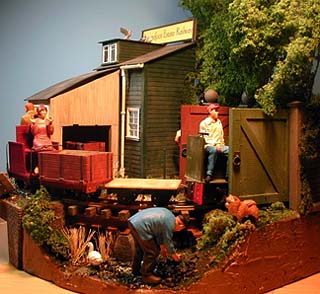 SFER rolling stock is mostly freight wagons, typified by this small train that also is hauling the line's only passenger carriage (see below). The locomotive shown is an "out of the box" offering from Sidelines Models (England) and is described below. The flat car and low sided open wagon are also from Sidelines kits.
Figures are almost entirely from LGB and Preiser (including animals), except the dog, who is a mascot from the Small Dog Electronics Company.
Locomotives
Largest locomotive on the SFER is 'Mosca', a freelanced 1930's estate diesel based mainly on Jungian archetypes. It's home-built on a Model Power Hustler chassis and is made mostly of plastic sheet.
Unfortunately, 'Mosca' is eight scale feet long, about six inches too much to allow her to fit on the sector plate along with a wagon–so her appearances are pretty much llimited to photo ops like this one. She'll star in her own layout later. Watch this space!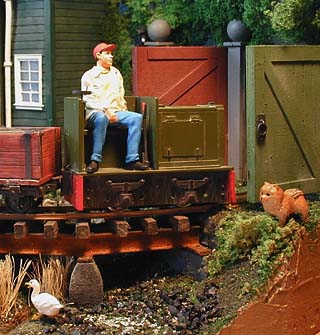 Workhorse of the SFER is 'Jején' ('Gnat'), made from a freelance diesel loco kit from Sidelines Models. At six scale feet long, Jején is exactly the right length to fit with one wagon onto the sector plate. It does this over and over again in accomplishing the work of the little railway.
The driver is a "seated passenger" from Preiser. One of the pleasures of G scale is the nicely sculptured people and animals available from a number of suppliers.
Passenger Carriage
The little Squarefoot owns only one passenger vehicle, used for giving Estate guests a tour of the grounds.
This little carriage is modeled on Sir Arthur Heywood's original passenger carriage built for his pioneering 15″ railway at Duffield Bank in 1881 or so. It seats two comfortably, three or four in a pinch.
The car was built up on the chassis of a Sidelines flatcar, so it is somewhat shorter than Heywood's original car. Everything above the floorline was scratchbuilt. Seated figures are from Preiser and LGB…they change periodically throughout the SFER's busy day.
Tipping car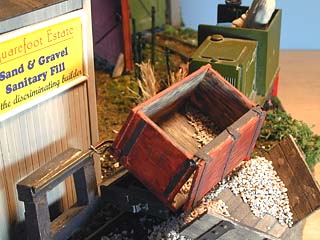 Most of the freight stock of the Squarefoot is straighforward, as shown in the picture at the head of this page. There's one exception, however: the tipping car shown here.
It's a heavily modified Sidelines kit, with added features such as a swinging door and a tiltable body. In operation, the locomotive simply pushes the loaded tipper onto the ramp, which forces the body to tilt and allows gravity to empty the tip into the chute at the right. The gravel falls into the truck waiting below (not shown).
This sequence is the featured operation of the SFER, as described in the Design page, as well as in the Loading and Dumping pages. You can watch it do its thing in the SFER video movie, "Workin' on the Squarefoot".