100th Layout!
When this Micro Layout Design Gallery was founded in March 2002, I never dreamed we could reach 100 micro layouts … I wasn't even sure there were 100 different micro layouts — displays under four square feet or so, with capability for interesting operations.
But it turned out that the only limit was imagination — and 26 talented layout designers* from three continents pitched in with highly creative designs. So here we are!
The Centennial Central is a collage of three "quickie" micro layouts — intended to show off some of the options available to modelers who want to make a micro of their own.
Each of these little demonstration layouts is made in a different scale/gauge combination — from the left: HOn30, On18, and Gn15. None of them took more than a couple hours to put together. All of them need a lot more detailing to look really good, but they're far enough along to give you a taste of what can be accomplished.
All three are narrow gauge layouts because that's what I have on hand, and because standard gauge models are already familiar to everyone from the mainstream model press. But of course, standard gauge trains in N, HO, O, and even G scale can definitely be used in micro layouts as you can see from many plans in this Gallery.
---
Let's take a closer look at the Centennial Central layouts, from left to right.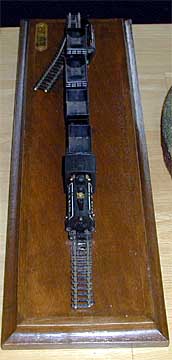 This little point to point display, in the trendy minimalist style, is built in HOn30 … 1:87 scale trains running on 9mm gauge (same as N gauge). Similar models in England are known as OO9, 1:72 scale on 9mm metals.
HOn30 and OO9 are the most popular scale/gauge combinations for making micro layouts, just as their standard gauge counterparts are the most popular scales in model railroading. A vast array of accessories and scenic splendors are also available, none of which have yet been applied to this layout.
Foundation is a wooden plank (in this case, the walnut base from an old ship model). Using a wood or plywood plank is one of the easiest ways to get started in micro layout modeling. For larger planks, some cross-bracing underneath is desirable to prevent warping.
The trains shown here are Ready to Run (RTR) models from AHM (no longer available). As their name implies, these locos and cars can simply be removed from their boxes, placed on the track, and run. There are a wide variety of RTR narrow gauge models available in HO and OO. Along with ready to lay Snap Track, they're the easiest possible route to getting your first micro layout up and running quickly.
The same is true of their larger brother, On30 or O16.5 — 1:48 or 1:43 models running on 16.5mm gauge (HO standard gauge). In particular, the Bachmann range of excellent On30 RTR models at affordable prices has pushed this scale way up in popularity in recent years.
---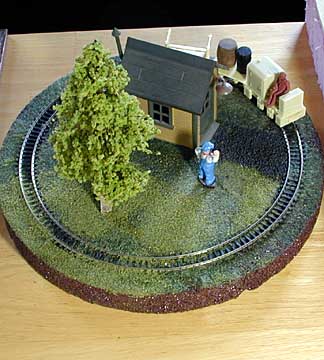 The middle model is an On18 "pizza" layout — ideal for going round and round at train shows to show off your rolling stock and scenic talents.
The foundation for this layout is expanded polystyrene, the white plastic used for packing materials and sold in crafts stores as a base for flower arrangements. In this case, a 10″ circle was sprayed with earth-brown acrylic enamel, then covered with glue and green flock.
The track is N scale flex track carefully bent into a 4″ radius and soldered together at the joint. Actually, a better choice would be the 9mm gauge track made with fewer and larger ties especially for HOn30 (OO9) layouts — it also looks good in On18 (O9).
The train was built from Black Dog Mining Co. resin kits. These are typical of many kits available, both in this convenient scale/gauge combination and in most others. I've left the kit-assembled locomotive and cars unpainted to show them in their "natural state."
One advantage of this larger scale is that detailing is easier, and the weight of the trains seems to improve running reliability. (I will probably get arguments from HOn30 fans about that statement!) Lots of accessories and scenic doodads are available for this scale, because it's the same size as three-rail trains like Lionel and MTH.
---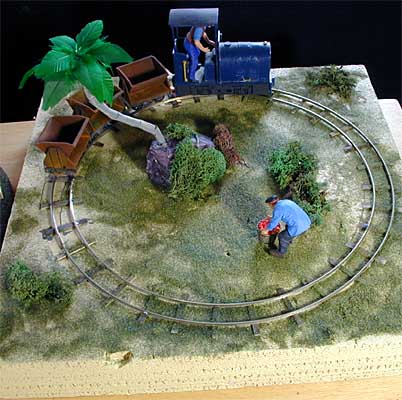 The third segment of Centennial Central is another pizza layout, this time in Gn15 — the newest and largest of the narrow-gauge micro scales. It's the same scale (1:20 to 1:24) as the G gauge garden-size trains, but runs on 16.5mm track, representing a prototype 15″ gauge.
This 15″ square layout uses pink foam-board insulation as a foundation (available from DIY stores like Home Depot). It's sturdy, fine-grained, and easy to sculpt into attractive scenic contours. It was sprayed with sand-tan acrylic enamel and sparsely covered with glue, green flock and lichen. The palm tree is made of green feathers from the crafts store.
Track was hand laid on basswood ties using Code 100 rail, prebent with a Roy C. Link rail bender. Radius is 6 inches.
The train illustrates another way to get the rolling stock you want (besides RTR and kits) — scratchbuilding. I built the locomotive body from styrene sheet material, and mounted it on a motor chassis from an HO gauge 4-wheel diesel. The rusty skips are an example of "kit-mingling" — they're Sidelines Models chassis with Gnomy skip buckets mounted on them.
Proponents of Gn15 claim its large size makes detailing a pleasure, and its heft makes running a delight. For more on this scale/gauge combination, check out my Gn15 Squarefoot Estate Railway or the Gn15.info web site.
---
* I would like to take this opportunity to express my thanks and deep appreciation to the talented layout designers whose efforts have made this Micro Gallery possible. To check out any individual's work, simply click on "Linked Index" in the menu at left and search for his name using your browser's "Find" function (usually under the "Edit" menu). In alphabetical order, my wonderful collaborators are:
Dick Andrews, Julian Andrews, Gordon Avis, Steve Bennett, Ian Campbell, Alex Ceres, Don Coker, Bill Cooke, Jim Favre, Chris Gilbert, Jeff Hatcher, Pete Heininger, Ian Holmes, Emrys Hopkins, Bernard Junk, Reinoud Kasschieter, Jack Matson, Bill Metcalf, Geren Mortensen, Gaston Schikowski, Jeff Semprebon, Trevor Simpson, Harry Symonds, John Thomas, Jack Trollope, and A. R. Walkley.
---