Layouts for Fun to Run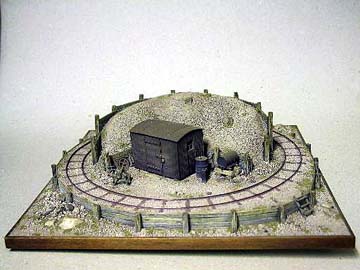 The other category of layouts with no turnouts are the round-and-round exhibition layouts that make no pretense of being anything but a circuit. They're a lot of fun for exhibiting our models in attractive settings, breaking in new locos, and generally showing off our scenic skills to our fellow modelers.
At the left is an excellent example built by Steve Bennett of Black Dog Mining Co. This little "pizza" layout is built on a 12″x12″ ceiling tile, in On30 (O16.5) scale. As with all of Steve's layouts, the scenery is meticulously detailed and skillfully planned.
Steve's website pictures several more of these wonderful little racetracks in various scales.
You can have a lot of fun designing, building, and playing with one of these tiny "pizzas"!

If you like making scenery and still want to have a small round and round layout, the concept at the right may be for you!
I designed it as the ultimate in pizza layouts. It represents a construction railroad at a dam site. The train actually traverses the top of the dam, on its way to dump loads of excavated rock into waiting standard gauge cars below. Finally, it returns to the diggings (not modeled) by way of a spectacular high arch bridge that opens directly into a tunnel–Swiss style.
Designed for Gn15 scale in a 15″x15″ space, the 6″ minimum radius would permit the Dam Site layout to be built in HO, OO, S or O narrow-gauge scales as well!
After you've had lots of fun running trains and dumping loads, you can try adding real water–pumped out of the dam spillway, running down the canyon, and finally slipping quietly back down into the reservoir at the bottom!
If you'd like a longer run in a pizza-box sized space, try the Crater Lake Construction Site railroad. With a 6-inch minimum radius, this twice-around design could be made in Gn15 … but the grades would be pretty steep! Try it in On30, On2, or On18–or even HOn3 or HOn30. You can have a pretty long run–almost 3.5 feet–preferably in a clockwise direction so the uphill pull is on the easier grade.
The construction site can be working on anything you'd like to model, from a dam or highway interchange to an oil field or an archeological dig a la Indiana Jones. Let your imagination roam! Whatever they're digging up can be transferred to standard gauge cars at the lower right corner. If you make the back of the mountain hollow, you can load up your tippers there.
It takes some scenic trickery to make this little layout convincing–which explains the reason for Crater Lake–but it's worth it!
---
A Christmas Centerpiece Layout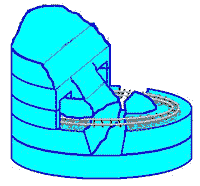 Planning on a holiday railroad in December? Jim Favre is buildilng a terrific "pizza" style Gn15 layout, the Eastern Star & Jolly Holly Tramway, that just might be what you're looking for!
Jim writes: "My wife requested a centerpiece for the table at Christmas. She loves Gn15 and thought that 'it would be a cute idea and the grandchildren will love it.' She did however limit me to a 16 Inch diameter.
"Here's the design I came up with, and work has begun as I have the 'blue foam' cut out. Note, it is drawn as if it is summer, but the finished layout will be snow covered."
Jim also made a cutaway view of the 2″-thick insulating foam construction, showing the "layer cake" design that provides for interesting and dramatic landscape contours.
Should be a real crowd-pleaser!
---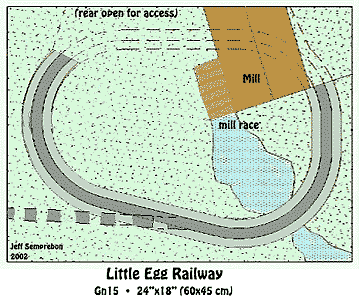 Gn15 "pizza" layouts seem to be the rage this year! Here's another — not quite round — being built by Jeff Semprebon. It's called the Little Egg Railway, and attempts to see how much Gn15 layout can be squeezed into 24″x18″.
There's a mill with its wheel, and Jeff plans to have real water running beneath the mill wheel, to turn it. Access for rearranging the train's consists is at the rear, and the Gallery editors have suggested a place to add a standard turnout, if you can't bear to be without a little switching capability.
Jeff also suggests that the straightaways, which make Little Egg different from pizza layouts, are good places to join the pieces of flex track that make up the loop … without kinking. A good trick to use in designing many small layouts.
All in all, a good egg, this pike!