Narrow Gauge Lines
As tight curves are likely to be a big issue on micro layouts,
most designs patternd after real places are built on shelves —
where curvature of the track is not an issue, but length of run is!
Take a look at some of the ingenious solutions to this problem
in this section, dedicated to layouts designed to fit on shelves
and modeled upon narrow-gauge prototypes.
---
Pentewan Harbour, the terminus of the 30″ gauge Pentewan Railway, brought loads of China Clay down from the pits in St. Austell, Cornwall, to the seaside village of Pentewan. There the wagons (four-wheel hoppers) were emptied into cargo ships from an elevated trestle. This layout reproduces the trackage at Pentewan and provides a modeling challenge to you — to build a working wagon tipper!
The Pentewan Railway owned two delightful Manning Wardle steam locomotives and one passenger carriage, the private coach of the owner. Both the locos and the coach were stabled at Pentewan and can provide additional operating features for this tiny layout (measuring about four square feet).
The track leading to the left, marked "To St. Austell" can lead to a cassette or fiddle yard (owner's choice), or it can remain as shown and be used to marshall incoming trains by hand, concealed by the engine shed and trees. To the right the "main line," which actually continues a bit farther before terminating, is simply lost in the trees behind the coach shed.
This design is based on a prototype sketch by Don Boreham, the godfather of British narrow-gauge modeling, published in Model Railway News in 1969. Many thanks to John Thomas for unearthing Don's article and passing it along to me! Thanks also to Chris Gilbert and Jack Trollope, who explained that China Clay is an intensely white clay, also called kaolin, used to make high-quality glazing for pottery and increasingly as a raw material in the paper industry. It's been mined in Cornwall (the world's most productive source) since the mid 18th century.
The Pentewan Railway closed down in 1918, then re-opened in 1927 and operated into the early 1980's. It was renamed the Pentewan Dock and Concrete Company in the late 30's and even acquired two brand new Ruston and Hornsby diesel locos at that time! Thanks to Steve Bennett for providing this historical information, which explains why most of the trackage was still in place "50 years after closing," when Don Boreham visited in 1968!
---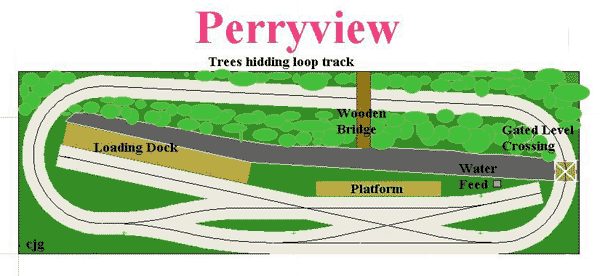 Inspired by a visit to Perrygrove Railway, a showplace for 15″ gauge trains, Chris Glibert designed a small Gn15 layout around the principal station there. Because he shifted things around a bit, he calls it Perryview.
The track pattern is faithful to the prototype (including the main line doubling back behind the station), but Chris has subsituted a loading dock in place of the carriage shed (to provide increased operation) and moved the platform a little nearer the water tower (to conserve space). In Gn15, using Peco small radius switches, this layout could be built in 16″x48″ (38×120 cm). It could also be built in 1:32 scale or On15/O9, in somewhat smaller area.
Perrygrove Railway, in Gloucester on the edge of the Forest of Dean, is an essential site for minimum-gauge fans. Its website is also worth viewing. Chris took some photos during his visit, two of which are shown here to illustrate parts of the area being modelled.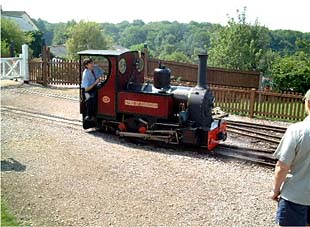 ---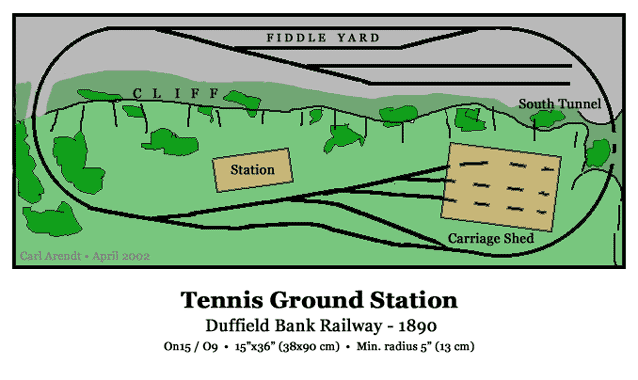 Tennis Ground Station models a real place — the first station that Sir Arthur Heywood constructed in 1874 for the minimum-gauge demonstration railway at his estate, Duffield Bank in Derbyshire. Tennis Ground had two buildings, an unusual station building and a large carriage shed that also sheltered goods wagons. This little micro layout duplicates all the trackage at the station, as well as the high escarpment behind it and the South Tunnel.
Operation can be a "fiddle yard to through station" variety, or you might want to scenick the opposite side of the layout and operate it as a second station. With two passing sidings (loops) opportunities abound for shunting operations and even multi-train timetable running.
This tiny railway, only three feet long in O scale, makes an excellent simple project for a beginner in modeling minimum gauge (15″). There is considerable commercial support for O9, and a number of Heywood's unique rolling stock designs are available as kits. For more information, see the excellent publication, "Going Minimum Gauge," published by The 7mm Narrow Gauge Association.
For those interested in larger scales, this same layout can be built in Gn15 scale (1:24) in about 22"x54" (56×137 cm).

---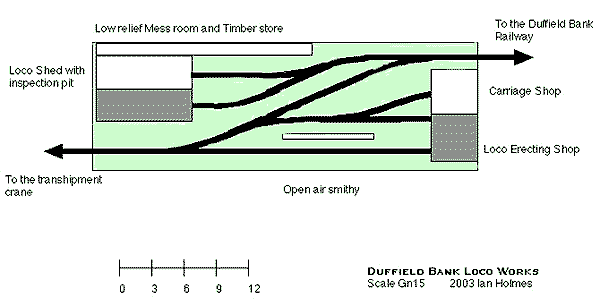 Ian Holmes has drawn further inspiration from Sir Arthiur Heywood's pioneer railway in 15-inch gauge at Duffield Bank, his estate in Derbyshire. Duffield Bank Loco Works is very close to an exact duplicate of the trackage at the line's loco shed, near Sir Arthur's house. It was the home base for a marvelous assortment of tiny 15-inch locomotives, all designed by Sir Arthur, in 0-4-0, 0-6-0, and even 0-8-0 configurations (see photo below for examples).
This layout, which occupies a 36″x12″ baseboard in Gn15 scale (less in O9/On15), almost demands a pair of 15″ train cassettes to be used as fiddle yards at each end of the layout. The left end went down to the transhipment crane, the line's interchange with the standard gauge. To the right was a delightful, wooded ride around the estate. Action on the layout itself will be mostly devoted to locomotives, readying them for service and servicing them as needed. It makes a grand showplace for some unusual models!
This photo, dating from 1904, shows the engine shed at Duffield Bank along with several of the unique Heywood locomotives that were stabled there. Notice the elevation difference between the shed and the through line to the left — this should be captured in the model, to add considerable scenic interest. The open-air smithy to the left adds even more to the scene. This photo is from Mark Smithers's wonderful book, Sir Arthur Heywood and the Fifteen Inch Gauge Railway, by far the best and most comprehensive treatise on Heywood's railways.

---
Small and Scenic in Austria
Ivan Furlanis, who lives in Italy, spent some of his 2003 summer holidays exploring Austria's tramways and trolleybus systems. You'll soon be able to see some results of that trip on his website. Another result is these layout designs for two delightful narrow-gauge termini, nestled in the beautiful mountain lake country of Austria. The first is at Gmunden Seebahnhof, but because he has taken some liberties with the prototype proportions, Ivan calls the layout Gmunden Traunsee.

Gmunden is the terminal of two short railways heading north to Lambach. It's dual-gauge track throughout, because one railway is (or rather was) standard gauge ÖBB (the Austrian national railway), and the other is a meter gauge electric line, Traunseebahn. Although the plan is very simple and easy to construct (using Tillig dual-gauge HO/HOm turnouts), some active operations can be achieved because the station represents the terminus of two different raiways.
For example, a standard gauge passenger train (two cars long) arrives from the cassette, unloads passengers at the platform, and the loco (probably a double-ended diesel) uncouples and runs around the train, recoupling to the front ready to leave. At that point, a short passenger train (or worse, a mixed freight/passenger consist) arrives on the narrow gauge line. It must take the siding and run onto the long tail track.
When the standard-gauge train departs, the narrow-gauge train can reverse into the platform to allow passengers to disembark, and its loco can uncouple to run around the train. But of course, if there's a freight car, it will have to be shunted to the wharf at the very end of the tail track. So the next narrow gauge train may have problems ….
And so it goes. There's a lot of operation in this simple runaround loop (passing siding) at Gmunden! The photos below show the tail track at the left, with a passenger car temporarily parked on the dual-gauge turnout. The station and its platform are shown at the right, with a typical modern narrow-gauge motor car releasing its passengers.
The second layout is, as Ivan describes it, "another beautiful small station that can become an interesting micro layout. [It's called] Attersee, terminus of the Atterseebahn (another meter gauge line to another beautiful Austrian lake). This station features a passing siding [loop] with a loading dock for an industry, a long spur that serves the freight house and can be used as a storage track for unused cars, and a two-track train house–all with only five turnouts!" Here's Ivan's plan based on Attersee:

This is a fairly conventional station layout, with an economical use of turnouts. There's one nice (from our point of view) snag to shunting — the factory loading dock located right on the runaround loop for the train house. A car or two spotted there for loading or unloading will definitely complicate the switching crew's activities, especially when there's already a passenger train (or railcar) needed for loading at the passenger station!
The front corner of the model is rounded to invite people to look down the "alley" behind the train house, a particularly interesting part of the station. The scenic backdrop covers the rear and righthand end (where a copse of trees conceals the line's disappearance into the hidden cassette). LIke Gmunden, Attersee illustrates the nice effects that can be achieved with simple means, by imitating the prototype! Needless to say, either of these layouts can be set anywhere in the world — they're not dependent on being in the lovely Austrian mountains. But it 'alps, as they say.
Here are two more of Ivan's excellent photos showing the Attersee station. The lefthand photo shows a two-axle motor car, numbered Att 20 104, in front of the train house. A few meters to the right and rearward is the second photo, showing a motor car and trailer, along with a closed freight car, stored in the two-track "alley" behind the train house.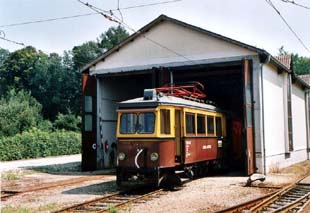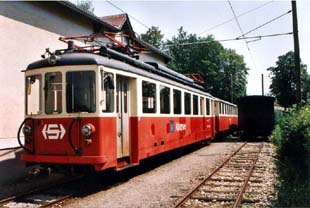 ---

Spectacular French Rack Railway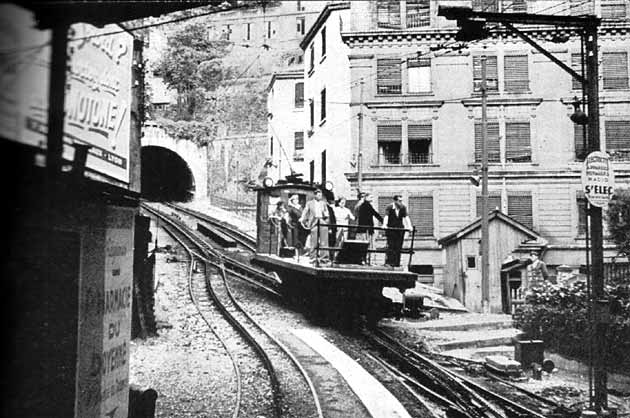 David Thomas, from Middlesex, England, discovered this unique electric-powered rack railway near Lyon during one of his holidays in France. It was originally built as a funicular (rope-hauled incline), but was changed to a rack (cog) system in 1901. Part of the Lyon tramway (traction) system, it connected the old-quarter station of St. Jean with the upper-level station at St. Just, site of the old Roman city, where it once interchanged with several local narrow-gauge lines. Here is a diagram of the 824-meter-long line (redrawn from a sketch in Loco Revue magazine, 1956).

For over 50 years this little railroad carried passengers and freight up and down the hill on a grade as steep as 1 in 5, with much of its length in a tunnel. The line had four small rack locos that took their power from an overhead electric wire, three enclosed passenger vehicles, and several self-propelled flat cars for freight (mostly autos and bicycles). The photo above, taken just outside St. Jean, shows that the flat cars were also used to fill in for passenger trips at peak hours! There was also a battered, gray Brill car used for shunting around St. Just, serving its depot and interchange tracks.
It's an irresistible prototype, and David has not resisted. Here's his micro layout design, based on the St. Jean-St. Just line (1=passenger siding; 2=freight siding; 3=interchange track):

David has chosen to use 16.5mm Peco Set Track, suggesting a scale of 1:60 to model the meter-gauge line. A Fleischmann center-rail rack system can easily be added to the tracks. Fleischmann rack locomotives could also provide a mechanism if a scratchbuilder wants to create a true, working rack line. I think I'd settle for having the rack track for scenic pleasure, and use normal two-rail propulsion!
The goods depot (freight station) at the left has been replaced by a building shell housing a small traverser, used to put new cars into play. The interchange siding at the right is hidden behind a convenient wall and offers "hand-shunting" to deliver and remove cars supposedly exchanged with the roadside tramway.
The operating pattern for the line, as David desribes it, "would be for each of the electric locos to couple up to a passenger car or a flat car depending upon the time of day and the intensity of service — the intervals between trains ranged from 3 to 6 minutes. From time to time freight wagons would be pushed into the exchange sidings by the connecting railways and these would have to find their way up and down the hill in amongst the regular service. Several times a day a passenger trailer
from the local interurban line would be pushed up the rack to be picked up at the top by either a traction unit or even a steam loco — this really did happen until the 1930s."
The line could also be built in HOm (12mm) gauge, which would allow it to be shorter — or allow the center station of Les Minimes to be modelled, with maybe a hint of the famous Roman theater. David also conjectured, "For a smaller layout in HOm just having one of the stations with the line disappearing into its tunnel (perhaps to a hidden traverser) would occupy a very small space and might even be fitted into the proverbial shoe box."
For an unusual and spectacular prototype, with a rich urban setting and plenty of activity to keep operators busy, it would be hard to beat the St. Jean-St. Just line of the Lyon tramway company! In real life, the rack railway was removed in 1959 and the line was rebuilt as a rope-hauled funicular line with two cars in each direction. You can ride it today, along with its "little sister", the shorter funicular to Fourvière which also climbs the hill from St. Jean. The view is still great, but operation of those systems is much less interesting than in the "good old days" of the rack railway!
Head photo from "End of the Line" by Bryan Morgan (long out of print).

---