Single-Level Micro Layouts
Avalon Brick Works (On30 / O-16.5)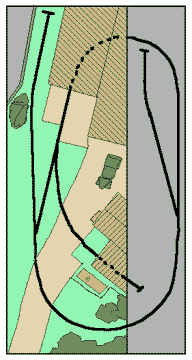 Avalon Brick Works was originally built by Julian Andrews as an experiment to see how small you could make an 0-16.5 (On30) layout. An article written by Julian describing the building of the layout was featured in the July 1999 edition of Railway Modeller. The scale is 7 mm = 1 ft using 16.5 mm gauge to represent a track gauge of between 2 ft – 2 ft 6 ins. The overall size is 34″ x 16″ (86×40 cm). The layout is now exhibited by Howard Martin of Avalon Line Models.
The line was built to serve a fictitious brickworks which uses fine clay from under the peat on the Somerset Levels near Glastonbury as one of its raw materials. The company has always struggled, hence the overgrown nature of the track.
Basic operation of the line involves a loco pushing a rake of loaded wagons from the imaginary clay pits, emerging from the trees, crossing the road, and depositing the wagons in the covered unloading shed. Returning behind the scenes, the train can repeat this operation endlessly. With two locos and additional wagons, a variety of other operations can be added.
The layout currently runs considerable equipment from Avalon Line as well as rolling stock from Wrightlines, Black Dog Mining, and Roy Link. This is a superb example of a continuous micro layout!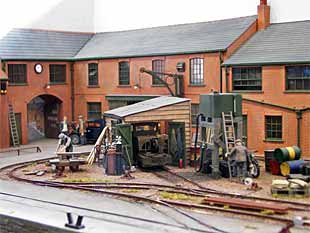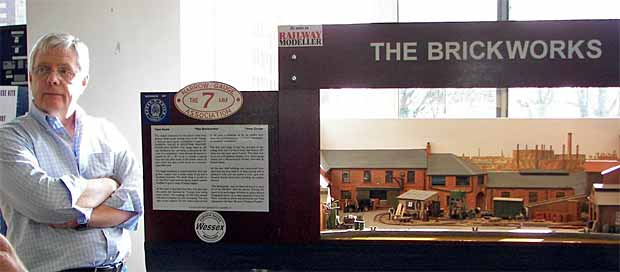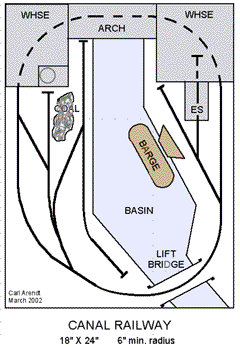 I originally designed the Canal Tramway for Gn15 scale, but with a 6-inch (15 cm) minimum radius it could be built in On, HOn, or OO9 … or even as an HO/OO standard gauge tram!
This little road serves a canal basin in an industrial district, and is kept very busy haulting minerals to the barge, coal to the power plant, vans of supplies and materials to the warehouses, and so on. The runaround loop allows a single locomotive to serve all the sidings, no matter in which direction they're facing.
One end of the circuit is hidden by warehouses or other buildings and has access at the rear for changing consists and loading/unloading cars or wagons. The turnouts must be scratchbuilt, and as most of the right-of-way will be paved over they could be single-point jobs, trolley or tram style.
There's even room for a small station in the lower left corner, if you want to include passenger operations in your mix. And concocting a working lift bridge could provide a challenge to your engineering skills. Railroading life is never dull around the canal basin!
Also serving a canal interchange is Emrys Hopkins' clever design for a furniture factory with its own sawmill, both served by a tiny HOn30/OO9 railroad. Emrys has used a slightly larger area here, in order to provide a transfer table (traverser) for shifting cars to and from the sawmill and for storage. A space saving double-slip switch also affords a lot of flexiblity in switching (shunting) the interchange siding–where raw materials enter the scene and where Mr. Fine's finished furniture is shipped to the eagerly waiting world.
For more examples of Emrys's layout designs (and some others' as well) see his excellent web page, LayoutDesigns.com.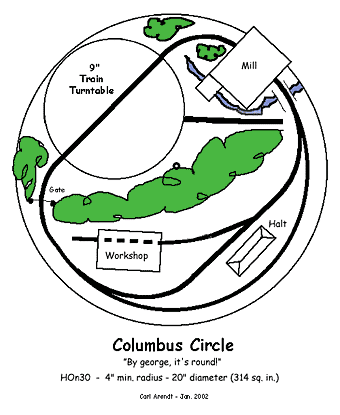 In the Columbus Circle Estate Railway I borrowed Ian Holmes's idea of using a kitchen lazy susan as the basis for a 9-inch train turntable and placed it on a revolving circular baseboard, 20 inches in diameter. With four-inch radius curves, the CCER is suitable for HOn3, HOn30, or OO9.
The little layout represents an estate railway in three mini-scenes, through which pass a delightful procession of steam and diesel short-wheelbase locomotives, hauling an ever-changing variety of small cars and wagons.
Leaving the turntable, a clockwise-bound train first passes beneath an overhanging upper story of the Mill (can be either a sawmill or a grist mill) and over a small bridge spanning the mill stream. Proceeding past the passenger shelter at the Halt, we may pause to switch/shunt a car or two at the Estate Workshop (general purpose, including railway repairs) using the passing siding to run around our train. Then we move onward to the third mini-scene, a pleasantly forested glade with a gate into the Estate proper.
The automated gate swings open to allow our little train to proceed. We move slowly onto the turntable, rotate to align with the storage siding, and perhaps shunt our cars/wagons to the siding. At this point, new cars may be introduced and empty cars reloaded. Or a different cassette can be placed on the turntable to start a new train on its way. Or our locomotive–this time with a new train–can proceed back the way it came.
All the while, the entire layout is rotating slowly, like a Needle-top restaurant, to show off its various mini-scenes — including the turntable fiddle/staging area which many visitors find fascinating. And of course, the mill wheel continuously turns majestically in the background.
There's a lot of activity happening on Columbus Circle, all of it highly entertaining, in a very small space!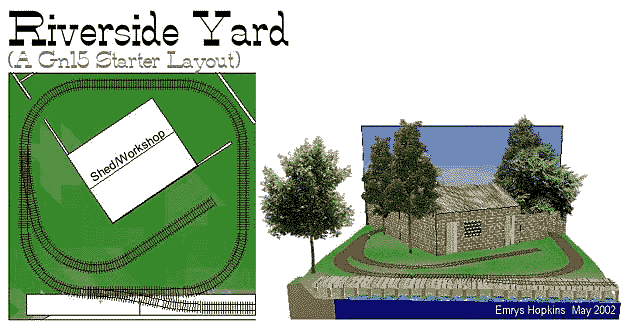 Emrys Hopkins has turned his considerable talents to designing a "beginner's" layout for someone just taking a first flyer at Gn15 scale (1:24 scale trains running on 16.5mm tracks). Riverside Yard is a 24″ square (60 cm square) layout that can provide a sparkling setting for these "tiny big trains" … using standard HO/OO flex track and off-the-shelf commercial turnouts (in this case Peco small radius, but Atlas or any other brand would work with a little trimming).
Riverside Yard is home to a little 15″ gauge estate tramway that hauls materials and projects from the workshop to various parts of the estate (hidden away behind the workshop) — and picks up visitors who arrive by water to convey them up to the House (also hidden beyond the workshop). The layout is easy to build, using materials that you may already have at hand or can easily obtain anywhere. You'll also get some experience building a large-scale structure and creating G scale trees that are 12″-16″ tall. Details on building rolling stock kits, foam baseboards, large-scale scenery, and the like are found elsewhere on this site.
Emrys also designs layouts that are more complex than starter sets — for more of his work on this site, search the Index for "Hopkins." To see some of his larger designs, visit his website, LayoutDesigns.com.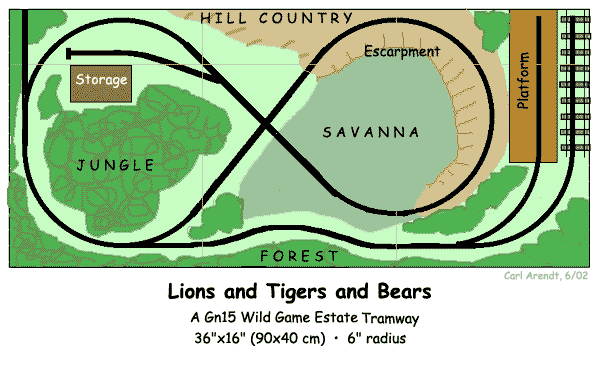 For several months now, I've been toying with the idea of a Gn15 estate railway that would carry visitors through the grounds of a wild-game refuge. It would run in a site where animals roam freely through environments typical of their homes in the wild, and the passengers view them from the security of the railway carriages.
These thoughts were fueled by the many available G-scale animals, from antelopes to zebras, made by vendors including Preiser, Model Power, Noch and AristoCraft. But somehow the layout refused to "gel" … it lacked some essential ingredient.
Then recently I received an e-mail note from Dana Gill, who wants to build a zoo railway to haul food and supplies to the animals, and take carloads of waste products away. Bingo! That "goods" traffic was the catalyst needed to complete the wild-game estate railway presented here as Lions and Tigers and Bears. Oh, my! Thanks, Dana.
By day, the Gn15 railway routes trains of visitors from the arrival platform around the Figure 8 main line, passing through typical environments — savanna for antelope, zebras and elephants; hill country for lions and mountain goats; forests for bears; and jungle for tigers, apes, and other mighty beasts.
Visitors arrive on the "wider gauge", represented by a small slice of dual-gauge trackage at the right. They transfer to the little 15″ gauge trains at the arrival platform, and have a wonderful time watching the animals, who in turn are watching them.
Then at night, when the visitors have gone, the little railway gets down to work, bringing in food and supplies from the interchange, and exchanging carloads of animal waste for the wide-gauge trains to haul off to the fertilizer works.
This little layout can be a wonderful display for a hobby-shop window, a kid-pleasing home layout at the Holiday season, or a real magnet at model exhibitions. The scenic opportunities are limited only by your imagination. Children can have endless fun trying to "count the animals on the layout". And don't forget about sound effects … a few elephants trumpeting, lions and tigers roaring, and chimpanzees chattering can really make your day!
Continue on Page 2 of "Single-Level Micro Layouts"