PAGE 101a – September 2010 Special Mid-Month Extra
H O T    I D E A S    F O R    S M A L L    R A I L R O A D S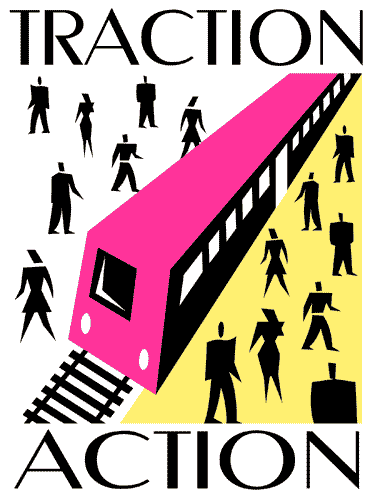 In This Issue
Victoria Street—We revisit an Australian layout now touring
N-Kofferanlage—Clever operating design in a German briefcase
Prototype Scenes
Lechmere Station—A modelable terminal in Boston USA
Charlotte, NC USA—A larger station and yard in North Carolina, USA
South HIlls Junction—Traction action at a junction in Pittsburgh USA
Japanese N
Japanese in Germany—A fully wired Japanese layout in Germany
Hiroshima—Canadian version of Hiroshima station
Tanoshinde—US layout name means 'have fun' in Japanese
Czech Tram—Paper tram from the Czech Republic
Sunderland Trams—Tramway twins from northern England
Traction models and minimum-space layouts are a modeling match made in heaven. Prototype trams and trolleys feature one-car trains, so modeling them is easy. The real thing runs on extremely tight curves, required by close clearances in city centers. Electrical distribution, using overhead catenary, is easy and simple. And they run on tight headways, with frequent service, so operations are exciting. What more can a micro-space modeller ask? Here are some recent developments in prototype and model traction, with many small-space modeling possibilties.
---
VICTORIA STREET GOES 'ON THE ROAD' HEADED FOR EXHIBITIONS


Victoria Street, a Melbourne (Australia) based tram/trolley layout, has reached the more-or-less finished stage and is now "on the road" at selected exhibitions, being shown off by its builder, Glenn Corbett. The layout, which we first toured in Scrapbook #85a, is set in a fictional section of the Melbourne Tramway System.
Glenn comments on some fine points of exhibition that he uses, several inspired by this site. His methods include: "reference to the internet about the layout and to the trams that I modelled, on the display board above the layout; the theatrical use of black, both as a surround and in my attire; the openness of the fiddle yard, as opposed to a hidden yard—[the viewers] will crane their necks to look in and will wait in anticipation for the next car; the front operating of the layout features the 'directorship' and interaction with the punters and highlights the layout as a shelf unit; the signage I fabricated out of foam board in the style of MMTB destination boards; and other reference materials (such as books and magazines) that are bookmarked with 'Post-It' notes to highlight individual trams or history being recreated. Thanks to Prof Klyzlr (Scrapbook #95a) for many of these ideas!"
The layout runs from an in-town stop (lower left) out to a racecourse (lower right), cleverly omitting most of the scenery in between. Glenn's fleet of representative Melbourne trams runs "a timetable based on a regular 15 minute service, with extra services thrown in to support the race times that are usually 35-40 minutes apart (as printed in the city daily papers), plus the added interloper of a museum/traction association special, all to run on a 'fast' clock of 3:1 (20 minute hours). " You can see a sample of this mad scramble in the video clip.

---
CLEVER PLAN ALLOWS GOOD OPERATION FOR N IN BRIEFCASE

In Germany, Ingbert Neumeister has created an excellent example of how well-suited trams and trolleys are for micro layouts. This N-scale (1:160) traction line, Kofferanlage ("Luggage System") fits in a small suitcase yet provides enough trackage to operate five units at once!
There's room for a double-tracked tramline to wind uphill to its midway point, where cars can either return to town or continue uphill on single track to the terminus above. For more photographs and information, a visit to Ingbert's website is worthwhile (click on N-Kofferanlage). Thanks to Maurice Bos for calling this little line to our attention.

---
Prototype Scenes 'LET THE PROTOTYPE DO YOUR TRACK PLANNING'
Bing Maps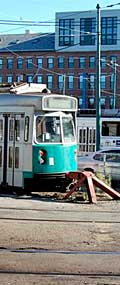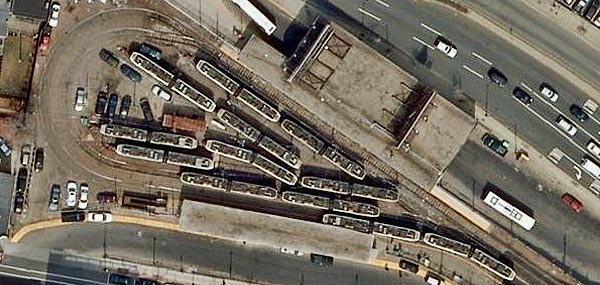 It's often said that the best source of track plans—for micro layouts as well as for larger pikes—is the prototype. After all, they've had years to fine-tune their arrangements! An excellent example is Lechmere Station in Cambridge, Massachusetts, USA, the terminus of Boston's MBTA Green Line.
Omar Lehr took these excellent photographs and commented, "A very tight loop, trolley storage, station and amazingly, room for almost a dozen trains!" Pretty good track planning! And it would make an excellent model layout (using either a fiddle yard or another return loop at the right).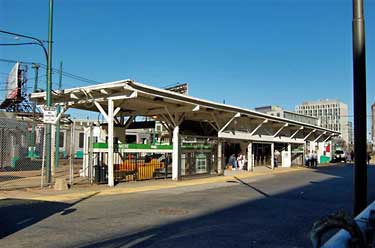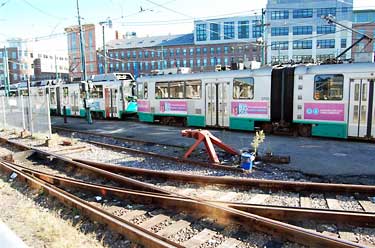 ---
Prototype Scenes A LARGER STATION CAN INSPIRE A TABLE-FULL OF FUN
Google Maps
Another, somewhat larger complex for servicing light rail vehicles is the New Bern Light Rail Complex in Charlotte, North Carolina, USA. Modeled as is, the complex would fill a large table, even in N scale; but portions of it could be used for small layouts. Wilson von Kessler, who sent us this information, comments, "Interesting reverse loop dogbone and wye in a very compact space… Charlotte Trolley has shared track and so you can mix eras as well [older, traditional trolley cars running beside new LRVs]."
A large and fascinating collection of aerial photos showing these kinds of service facilities around the world has been posted by Gordon Werner. It provides an Aladdin's Cave of ideas for minimum-space layouts.

---
Prototype Scenes WANT MORE ACTION? TRY A TRACTION JUNCTION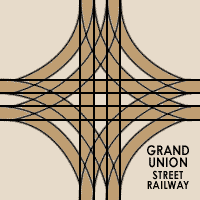 Besides terminal stations and service/maintenance facilities, prototype traction lines often operate on special trackwork that can become mind-numbingly complex and interesting. Junctions are a particular delight, the champion (left) being the Grand Union, where two double-tracked lines cross and the trackwork provides access from any track to any other track. A street level photo of a Grand Union in Toronto, Canada, gives you an idea of how intricate this trackage really is. Grand Unions are found all over the world. They and other complex traction junctions provide excellent prototypes for small model layouts whose builders like to perform what Linn Westcott called, "basket weaving in nickel silver."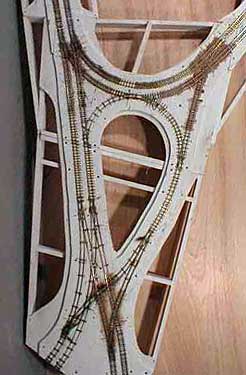 Google Maps
Another excellent example of complex prototype track planning is South Hills Junction, in Pittsburgh, USA, where at one time four different double-tracked lines came together and switched trains into and from the tunnel at the top, which bores under a cliff to reach downtown Pittsburgh. The 1950s view of this junction (above left) is actually a photo of a model, whose track plan (above right) is faithful to the 1955 version of the Junction. For more information on Bob Dietrich's delightful model, see his website. Today the junction is still in action (right), serving the Port Authority's current light rail line.

---
Japanese N TRAMS FROM JAPAN INSPIRE LAYOUT IN GERMANY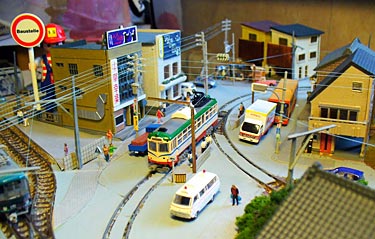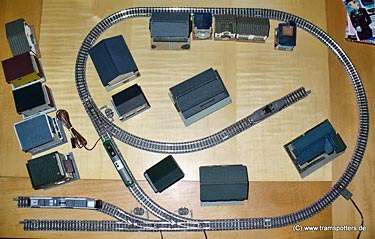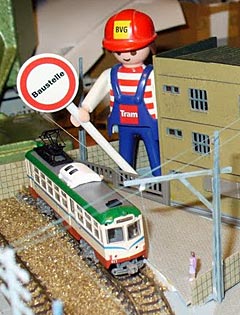 In recent years Japanese manufacturers have produced an amazing variety of well-constructed and carefully detailed N-scale models of Japanese trams. So attractive are these models that many traction fans around the world have been drawn to building layouts modeling Japan in order to run them in an appropriate setting. We've gathered examples from Germany, Canada and Japan to show off some of this artistry.
In Germany Guido Mandorf is building a 60x40cm (24x16in) N scale layout set in a Japanese town. He is particularly pleased with the results of using EZ Line wires to represent the omnipresent telephone, electric and trolley overhead wires. An out-of-scale but appropriately international accent is provided by Harry Schotter (left), the cartoon figure used in Berlin to indicate construction sites on the tram system ("schotter" is gravel, used on track, and "baustelle" means building site). For more information and photographs, see Guido's thread on the JNS Forum.

---
Japanese N MODULAR CANADIAN LAYOUT INSPIRED BY HIROSHIMA STATION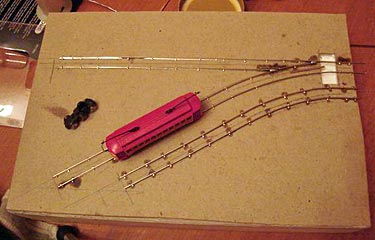 This example of a Japanese-inspired traction layout is being built by Chris Mears, from Charlottetown, Prince Edward Island, Canada. He was amazed and delighted to see a YouTube video showing Hiroden Station in Hiroshima, Japan. He reports, "You are watching the action from the end of the track. There are three stub-ended sidings (above left), each about one car long, so it's one heck of a juggling act to move so many trams through the station."
That view prompted Chris to start a modular version of the station on one of his Dollar Store inverted drawer trays (see Scrapbook #85a) measuring 11x9in (28x23cm). The end module is shown above (right). Although his original intent was to model the scissors crossover on the next module, Chris was also drawn to a charming little single-line terminal at Shokakuji-shita station (where two tracks joined, much like the right end of Victoria Road above). He's still thinking that one over, so construction has slowed considerably.

---
Japanese N WELL-NAMED U.S. LAYOUT: TANOSHINDE ('HAVE FUN' IN JAPANESE)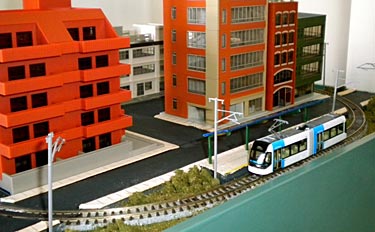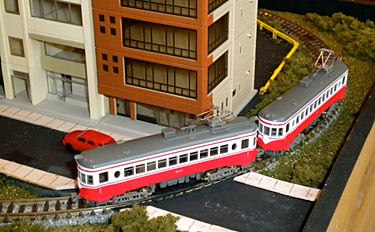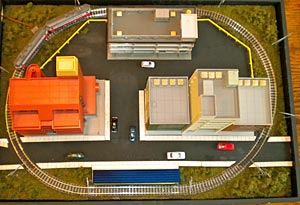 Another captive of those beguiling little Japanese traction models is long-time trolley modeler Dick Bell, from Furlong, Pennsylvania USA. He started as a collector, then "I found some sections of Tomix N scale track and an old plywood box under my workbench. So I decided to build a micro-layout [for] my N scale trolleys and interurbans.  The layout measures 20×14 inches and the minimum radius is 4.5 inches.  The buildings are from Kato and Tomix, and the PCC car is from Bachmann.  The Japanese interurbans are produced by Modemo." The photos also show Dick's latest acquisition, a light rail vehicle from Kato. Asked about a name for the layout, Dick decided to call it Tanoshinde (which means "Have fun!" in Japanese).

---
'PAPER TRAM' — INEXPENSIVE CROWD-PLEASER FROM THE CZECH REPUBLIC

A young man with a knack for creating clever scale models from paper and toy trains, David Pecina, from Prague, Czech Republic, made a traction line for his second foray into paper pizzas. (His first line was featured in Scrapbook #79a.) This one is also TT scale (1:120 at 12mm gauge) measuring 30cm (12in) in diameter. The paper trolley car is powered by a single AAA battery. The overhead wire, though a working model, is a dummy—no electrons are moved through it to run the car.

---
SUNDERLAND TWIN TRAMWAYS: LOTS OF ACTION FROM THE NORTH OF ENGLAND
Gordon Bulmer, from Seaton Seaham, County Durham, England, began painting trolley models in the Sunderland area colors during the 1990s. He became especially adept at decorating the little Corgi four-wheel trams made in 1/64 scale. Then he motorized a few, and inevitably was encouraged to build a layout for the trams to run. He chose 16.5mm gauge (OO or HO gauge) and set to work.
A word about scales: Gordon's tram cars are Corgi models, built in 1/64 scale. The track is gauged for OO scale, 1/76 size, and the buildings are built in that scale as well. The passengers are a judicious mixture of 1/76 and 1/72 commercial figures. Although this combination appears a bit unorthodox, a glance at the accompanying photographs shows that things seem to blend together quite well. And they are, after all, Gordon's models!
Ultimately he built two layouts, each 48x18in (120x45cm), just the right size to fit in a car for the ride to exhibitions. They each depict activities in the Sunderland area (near his home), and so are generally referred to as the Sunderland Twins. For much more information about both layouts, see Gordon's website. For overview looks at both, read on.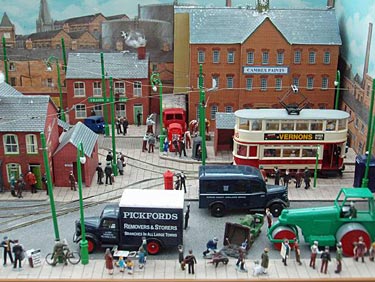 Sunderland Corporation Tramways was the first-built. Gordon's list of requirements for this layout is instructive: "As I decided to build the model tramway for exhibition, it had to be light enough to be carried by one person (me), run Corgi four-wheeled trams (which I already had), use live overhead (as per the prototype), and both automatic and manual control. It also had to be a complete townscape where the trams were a small but vital part of the whole scene." In the event, Gordon chose to model the line's terminus in Grangetown, a southern suburb of Sunderland, where the double-track main line turned off the road and concluded at the side of the pavement.
Gordon added a few features not found on the prototype scene, particularly a depot (car barn) that also serves as a fiddle yard. Cars are added and removed through the backscene behind this structure, to keep three units in motion at all times, with easy changes of stock.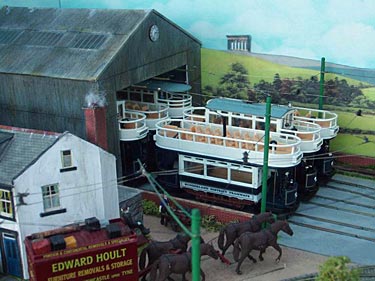 Sunderland District Tramways was a more rural (and less successful) line than SCT, and it coincidentally also terminated at Grangetown, just a few yards away from the SCT conclusion. So Gordon's second layout was designed to be exhibited beside the first one (to the right). SDT was a single track line with passing loops, so the layout includes that feature as well as car sheds where stock can be introduced and removed from the layout through hidden back and side panels.