PAGE 102a – October 2010 MID-MONTH BONUS ISSUE
H O T I D E A S F O R S M A L L R A I L R O A D S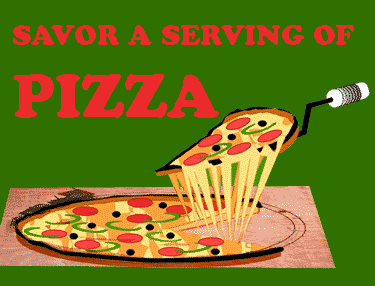 In This Issue
Fire Creek
—A busy On30 mining railroad
Al Mina Jameeya Mall
—A full-size pizza in Abu Dhabi
Jewel Pizza
—Ingenious three-part design serves jewelry maker
Wine Barrel Pizza
—G scale line surrounds a real keg
Hawkins Tower
—British estate line contains a folly
Finntown
—Toon-inspired tramway for a very young brakeman
Karakuri Layout
—Layout-in-a-box pops up for operating
PIzza from Down Under
—A vertiginous pizza from Australia
Walnut Grove
—All around a well-known TV barn
Desert Springs
—NG mining line fits into a larger layout
A Pizza from Russia
—Z line is mockup for a TT project
Soggy Bottom Boy Lumber Co.
—A rural line hauling timber and ore
Twice each year we pause to honor the world's most popular model railroad layout—the humble pizza.
It's a more or less simple circle of track that looks, if not vigorously decorated, as if it could be delivered
in a square, flat box. It's obviously engineered to show off a model train circling endlessly, passing in review.
The interesting part is the scenery. Pizza-builders can concoct highly realistic or very imaginative scenery
and even super-detail it if they wish… it's not hard to add details to a two-foot square layout!
The result is often an exciting spectacle that can teach us all some new tricks.
So here are the current crop of excellent pizzas received at this website. Is it my imagination,
or are the scenic treatments becoming more attractive and engaging every time we feature these tiny displays?

---
CALIFORNIA SETTING ADDS GLAMOR TO BACKWOODS MINING LINE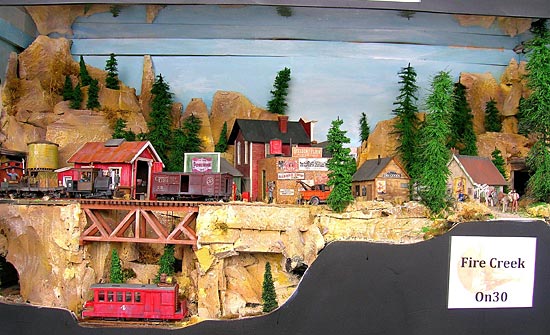 Well detailed rustic scenery decorates Fire Creek, California, an On30 (1:48 scale on 16.5mm gauge) line by Bob Wright, from Hollywood (honest!), England. The line measures 1.5×0.75m (60x30in), and Bob explains, "The lower loop is just a circle; the upper loop has two storage sidings, one at the front and one at the back. The layout was built for exhibitions so when the front side is folded up it's a 5X3ft box." Bob got the idea for Fire Creek from this website.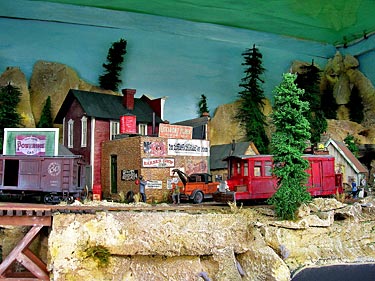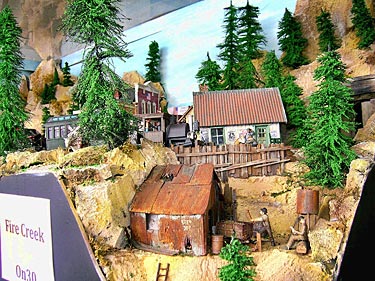 ---
A PROTOTYPE PIZZA IN A DISTANT DOMAIN…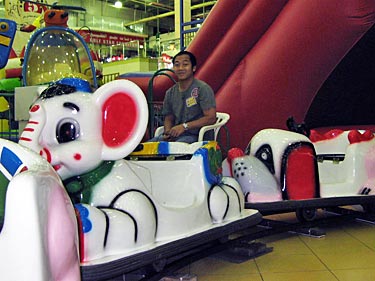 Demonstrating the delight that pizzas bring to people all over the world is this commercial example of a "1:1 pizza layout at Al Mina Jameeya shopping center in Abu Dhabi, United Arab Emirates. Al Mina Jameeya translates roughly to 'Cooperative Society at the harbour'." Christian Klammer, a German citizen working in Abu Dhabi, spotted this attraction and snapped some photos for us. He estimates the gauge at 450mm, and the circle radius at 5-6m. Notice that this ride appears to be successfully competing for attention with the helicopter carousel next door!

---
THREE SCENES IN A MOUNTAIN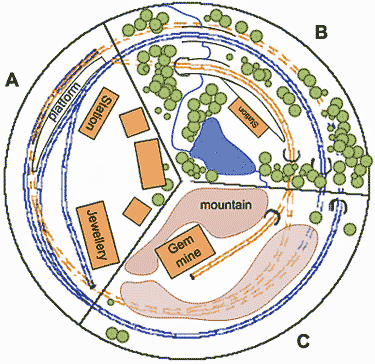 Christophe Beuret, from Neuchâtel, Switzerland, designed this N-scale 80cm (32in) diameter pizza in three sections with scenic dividers. Part A has a small town and station, with a jewelry factory served by the railway. Part B has a forest and lake, with a small station for tourists to visit the lake. Part C is a mountain with a gem mine. Christophe calls the railroad (what else?) The Jewel Pizza. Operations will include passengers from A to B, and ore transported from C to A.
ROUND ABOUT THE CAULDRON GO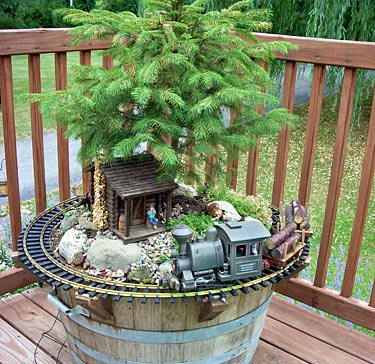 Shawn Viggiano, from Wantage, New Jersey, USA, built this very small G-scale garden railway from a 31-inch circle of sectional track resting on a set of brackets around the rim of a decorative wine barrel. He likes its flexibility: "Change it up for the season and holidays, add a water feature or combine a garden and water feature. The one I did is a garden layout using rock to add some detail with ground cover and a spuce tree." Here's a nice video of Kittatinny Mountain RR.
---
BORROWED BASEBOARD HOLDS NARROW-GAUGE LINE WITH FOLLY

Graham Watling, from Norwich, England, is best known for creating charming OO9 rambling railways that potter through pleasant English scenery. Hawkins Tower is another to add to the collection. It began when his friend, Chris Seago, displayed a baseboard with an oval of OO9 track as a work in progress. Several months later, with no progress in evidence Graham "rather cheekily asked him if I could have the baseboard. My wife, Caroline, could practice her scenic skills on it."
The result includes a tea stall, delightful small lake and a folly. The loco circles the oval and automatically and reliably stops at the platform. The Watlings exhibit this 36x70cm (14x28in) slice of countryside along with their other layouts including Fotherham and Grumblewick Coombe.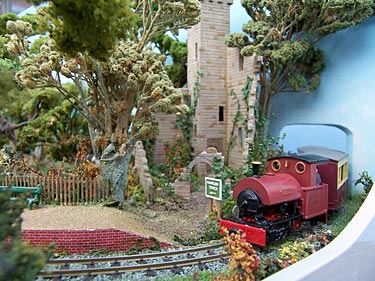 ---
FINNTOWN PROVIDES ITS NAMESAKE WITH HOURS OF PLAY TIME


Finn is two years old and in love with Disneyland and the Disney characters. So his grandfather, Mike McCauley, from Simi Valley, California, USA, built him a simple, nearly child-proof layout featuring cartoon characters and scenery. Instead of being called Toontown, it's called Finntown, of course! The train is a converted Toontown trolley mounted on a SPUD HO motor chassis. The figures are positioned with magnets and can be placed on any of the pink dots around the layout.
Mike comments, "I kept the layout very simple because it could get destroyed the first time Finn touches it (there is no such thing as child-proof), or he might take no interest in it. I also tried to make it as safe as possible, using soft materials, fastening down the few structures, and using low power magnets to attach the figures. We'll start working on detail and scale on the next layout."

---
LAYOUT-IN-THE-BOX OFFERS NEW PERSPECTIVE IN TRAIN WATCHING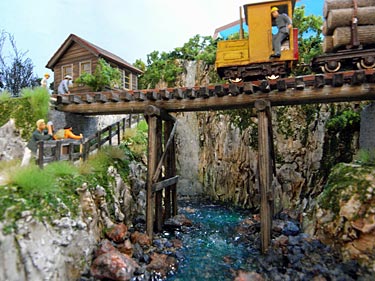 Yutaka Nakai (nicknamed Yuta), from Kyoto, Japan, built this unusual HOn30 (1:87 on 9mm gauge) layout in a nicely finished wooden box. When the lid is opened, the layout rises until it sits nearly at the top of the box, like a slow-action jack-in-the-box (see video below). Yuta likes both the safety and convenience of a layout in a box, as well as the unusual viewpoint of being able to look UP at his models! The layout is called Karakuri Layout, meaning "mechanism box in the layout." For more, see Yuta's web page.
---
Z SCALE FROM DOWN UNDER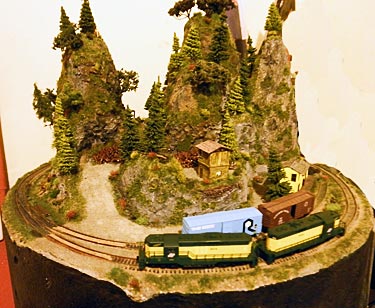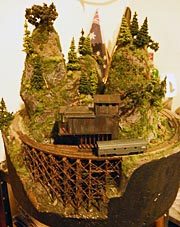 This mountainous little Z-scale pizza layout was built by Les Fulton, from Adelaide, Australia. He made it to explore the differences between N and Z modeling, but it stands well on its own.
FAMOUS BARN CENTERS THIS CIRCLE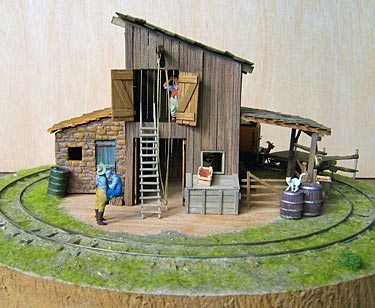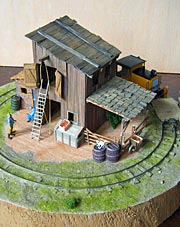 Jan Beeke, from Arnhem, Netherlands, built this 36cm (14in)-diameter On30 layout to provide children at an exhibition with "a 'moving', 'smelling' and / or 'noising' layout." The barn's prototype was featured on TV's Little House on the Prairie.
---
THIS MINING PIZZA FITS RIGHT INTO A BIGGER LAYOUT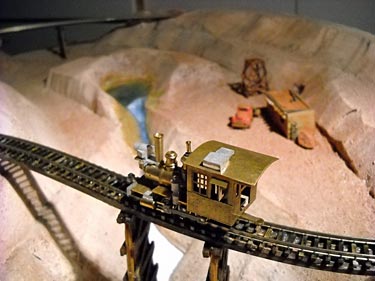 Desert Spring Mining Co. is a removable HOn30 pizza in a loop of a large N layout, built by Paul Mansell, from Seattle, USA. Brass loco is a Joe Works antique. There's a video.

---
Z SCALE LAYOUT IS A MOCKUP FOR A TT SCALE PROJECT!


Leonid Moskalev, from St. Petersburg, Russia, built this 60x40cm (24x16in) Z-scale layout as a "preview mockup" to check his plans for a larger TT layout. It has three independent ovals and some very nice scenery.

---
SAWMILL CUTS FINE FIGURE IN PIZZA FOREGROUND

Soggy Bottom Boy Lumber Company is a single-loop pizza built by Ronnie Davis from Aurora, Colorado, USA. He has a nice touch with scenery, and has built a series of these narrow-gauge railroads that he calls his "cupcake layouts." Ronnie likes to finish a layout, sell it, and right away start another.
[Note from Carl: I'll repeat the question I asked at the beginning of this page: it seems to me that the scenery on these pizzas is getting better every time. Am I right, or is it just my imagination?]