PAGE 106a – February 2011 EXTRA MID-MONTH EDITION
H O T    I D E A S    F O R    S M A L L    R A I L R O A D S
In This Issue
Stazione Montelupo Acquedotto—Spectacular scenery at Italian tram
Cimarron, NM—End of the line in the U.S. Southwest
Hasenschänke—Nostalgic German line named for a snack bar
Richelieu Valley Timesaver—A shelf switcher in Quebec
Deyton Heights—New road attends first exhibition
Totten North—A well turned out teen layout
Grand Canyon—Awesome scenery bedecks shelf design
Houghton Lane Yard—Simple layout features industrial switching
Pott Row—A gritty, bustling main-line style station
Captstan Shunting—Exploring unconventional switching practice
Museum Station, Sydney—Full-scale portrait of Sydney station
Following up our January edition of shunting shelves, called "STRAIGHT ON," here's the promised collection of switching layouts in the most popular of scales and gauges—H0 and 00 (3.5mm and 4mm scales on 16.5mm gauge). There's a little something in here for just about everyone!
---
STAZIONE MONTELUPO ACQUEDOTTO SPORTS SPECTACULAR SCENERY



Alexander Kaczmarek, from Berlin, Germany, showed us his first Stazione Montelupo at On30 scale in Scrapbook #91, revisiting later scenic additions in Scrapbook #96a. And now he's back, with another Italian Job, this time in H0 scale! Alexander explains:
"The story behind the H0 Stazione Montelupo is simple. A small terminus of a partly abandoned branch somewhere in Northern Italy. Some short DMUs and a lot of freight service—that´s Montelupo. The runaround tracks enable varied switching, but caution!—it is very short, so you have to break down trains carefully. What is typical for Italy is the mixture of old and new, the potpourri of historic monuments and new buildings.
"Hope I got it… Even though the layout isn't finished yet (you perhaps notice some mock-ups), it works! I took styrofoam for the baseboard and turnouts and tracks from the German producer PIKO (code 100). It's very cheap but looks not bad, if ballasting and weathering is added. Certainly all buildings are scratch built from styrofoam and plaster…
"Viva Italia!"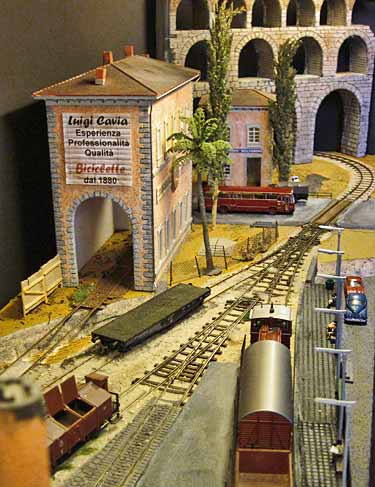 ---
AND CAN 'CIMARRON' IN U.S. STYLE BE FAR BEHIND?



Starting from E.L. Moore's Shortline Terminal design—as interpreted by Carl Arendt several years ago—Ulrich Abramowski, from Tostedt (near Hamburg), Germany, designed his 2011 railroad layout as a U.S. Western terminal: End of the Line at Cimarron, N.M. He envisions the H0n3 line as measuring 200x50cm (78x20in).
"Era is set around 1920," Ulrich explains. "I am aiming at capturing that typical small Western Town atmosphere."


---
HASENHEIDE STATION IS BASED MAINLY ON A SNACK BAR!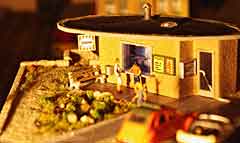 When Benjamin Betgen, from Lyon, France, set out to name the fictional railway station on his first micro layout, he hearkened back to his former home in Berlin near a delightful public park called Hasenheide (Bunny's Heath).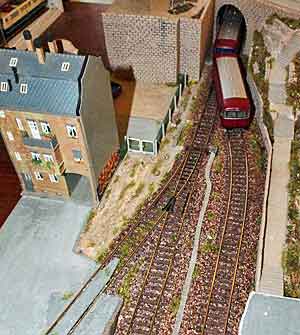 The park, says Benjamin, "has a terrific 1950s snack-bar (called Hasenschänke – Bunny's tavern) that inspired me building the one for my layout with the egg-shaped concrete roof (photo above at right). The Hasenschänke deserves well to label the layout. It seems as if I was missing the German Imbissbuden/Trinkhallen–Kultur a little bit."
The layout, measuring 120x30cm (4x1ft), was built almost entirely from parts and pieces brought to France by Benjamin when he moved there. So the setting, equipment and scenery are all German. The layout itself is intended eventually to connect at both ends, forming a part-time pizza. Other future plans include extensions at either end… on the left with a longer station and on the right with a longer traverser (currently hidden beneath the tramway overbridge). We'll bring you those devlopments as and if they occur.
---
THE RICHELIEU VALLEY TIMESAVER KEEPS VISITORS ON THEIR TOES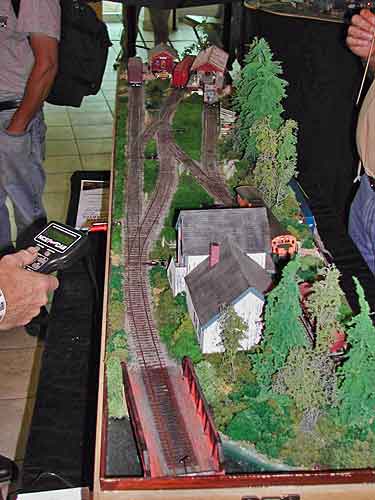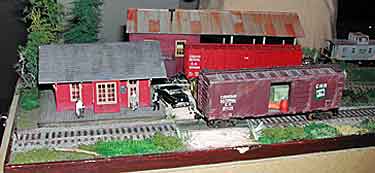 Richelieu Valley is both a model railroad club in the Montreal, Canada, region and a very large (38x40ft) HO model railroad that the club is building. In addition, the members are building a very small (14x70in/35x178cm) Timesaver layout (plan above) to provide entertainment for visitors to their weekly open houses. As you can see, the track closely follows John Allen's original plan for a shunting game and model-railroad entertainment. One difference is that the RV Club's layout is completely filled with scenery, to further increase its enjoyment level.
As the Club blog states, "We will build a small layout to give a taste of what they can expect at our open houses that will be held on the first Friday of the month. To add even more excitement visitors will be able to take control of a train and experience what it's like to do operations. Visitors will effect a train movement in the least amount of time, they will be able to judge themselves by a known time and try to improve." The line was introduced in mid-August 2009 and has entertained a great many visitors since!

---
DEYTON HEIGHTS GETS FINISHED IN TIME AND WELL EXHIBITED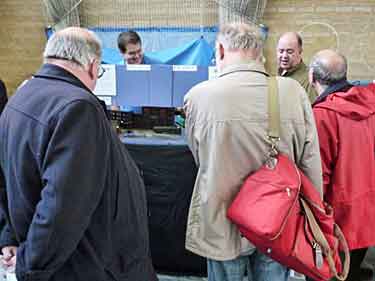 Andrew L. Smith, from Chelmsford, Essex, England, was working hurriedly to complete work on his new layout, Deyton Heights, a 4x1ft (120x30cm) U.S. style HO shunting shelf. The reason? See below.
You can almost hear Andrew puffing as he writes: "I have made the theme for this layout as a part of the city near to a big station that is ripe for redevelopment. The Tramway that used to run along the tracks has long gone; although the big station uses the tracks and has use of the Commissary Building, the machine shop is still going strong and has all manner of goods delivered and shipped out by the railroads. The boxcars and other vehicles can be unloaded in the workshop under cover…
"The reason for such a rush to get it finished… I was asked to show it at this year's Chelmsford and District MRC Exhibition." Chelmsford annually hosts one of the best exhibitions in the country for seeing good small layouts in action. Andrew finished in time, got the right light levels for the setting sun effect, and persuaded two agile Americans (see exhibition photo), the father and son team of Dennis and Neil Kamper who are living and working in the UK with their family, to run his show. "Boy, did they work hard to make sure the public got a good show from this little layout, and they have my heartfelt thanks!" concludes Andrew.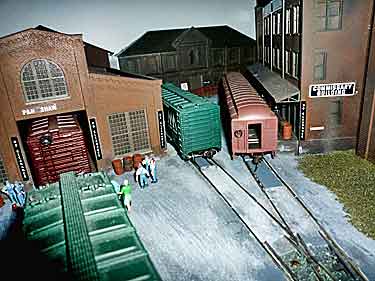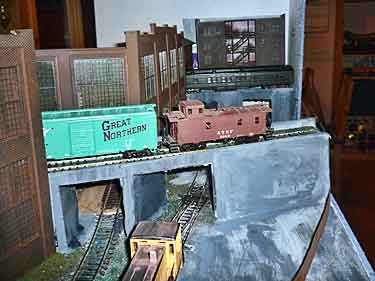 ---
NEXT, TOTTEN NORTH SHOWS OFF TERRIFIC TEEN TALENT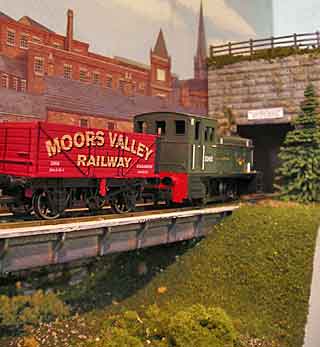 Geraint Shipsides, from Southampton, Hampshire, England, has spent two years to produce—at age 16— a remarkably clean-cut and well scenicked 4x1ft (120x30cm) OO layout, Totten North. He reports, "The line across the back is an automatic shuttle. Toward the front is a marshalling yard. None of this is based on a prototype but makes for challenging operation, the sidings being only just long enough to fit three trucks—longer trucks won't fit, such is the lack of clearance. A small building cut into the landscape also creates interest, accepting rolling stock, but not locomotives and creates another challenge for the operator." The line made its debut last fall at the Llandford model railway exhibition.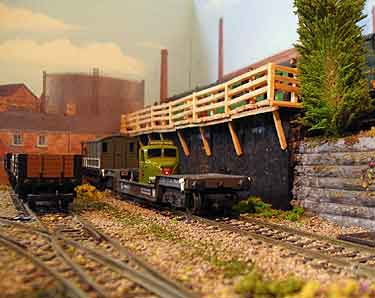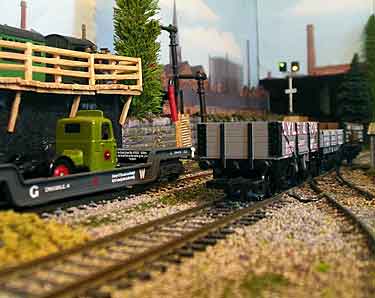 ---
THE GRAND CANYON SHOWS OFF SUPER SCENIC POTENTIAL

Coming from the master hand of the Dutch designer Reinoud Kaasschieter is a layout nearly as old as this website! It's German Grand Chasm, and you can also find it listed as Showcase Layout in Reinoud's wonderful layout design site.
Now look to the right to see a new version, under construction by Hayden Goss, from New Zealand. "My version measures 1200x600mm (48x24in) and is built with Hornby OO standard gauge track. The locomotive featured in one of the pictures is a DX Class from New Zealand." Looks very promising for sensational scenery to come!

---
HOUGHTON LANE YARD GETS GREAT RESULTS WITH SIMPLE MEANS


Shifting to OO scale (from N) for the occasion, Andrew Cockburn, from Tyne & Wear, England, has produced this "larger scale" layout, Houghton Lane Yard. Andrew declares, "It's a small, fictitious OO Gauge industrial shunting layout, featuring a goods/coal yard, also a private siding serving both a factory and a warehouse. The layout is based primarily in the BR 'blue' era of 1970's/early 80's, but by changing rolling stock, it is possible to switch to earlier BR periods.
"The track plan is rather simple and incorporates just three points (turnouts), though some interesting shunting movements are still possible… There are the two parallel tracks, with the nearest one forming two sidings (via a right-hand crossover), while the other is the 'main' track which runs from the fiddleyard/cartridge, and of course terminates by the factory.  I use two locos at a time for shunting operations, with the spur (third switch) acting as a holding siding. I felt the cartridge form of fiddleyard was appropriate as trains tend to be rather short, allowing a maximum of three wagons." Note that if examined in sequence (left to right), the photos produce a TV-style "pan" across the layout.
"Houghton Lane Yard took about six months to build, and at 5x1ft (150x30cm) (including a removable fiddle yard cartridge), is rather compact and portable."

---
POTT ROW HAS NOW BECOME A BUSY, THOUGH AGING, PLATFORM FOUR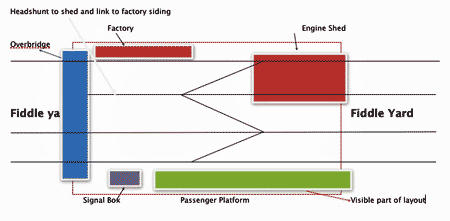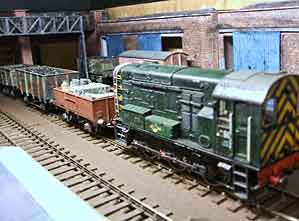 Martyn Mullender, who lives in Portland, Dorset, England, is making excellent use of card buildings from ScaleScenes to reproduce the somewhat-gritty bits of line near a bustling older station in Cambridgeshire/Norfolk to create Pott Row. "The station has grown," Martyn reveals, "and this model represents an outer platform of a larger station. The trains that arrive at platform four have branched off the Great Eastern mainline and are now heading for the Midland and Great Northern line. The format of the layout uses the 'bitsa' station idea so the first two coaches of a ten coach express can be seen and large locos can be seen on shed having gone off scene for servicing."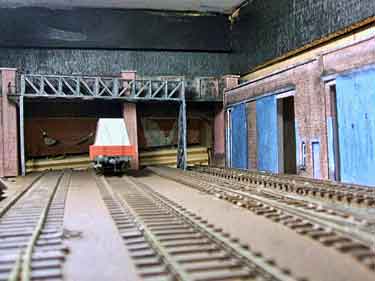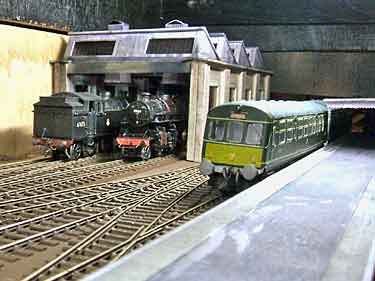 ---
CAPSTAN LAYOUT CUTS NEW DIMENSIONS OF SHUNTING


Some fascinating switching chores can be performed without locomotives… for example, using capstans, those motorized or rotating pyramids that multiply the "tug of war" power of men or beasts to haul railroad cars into position, even around corners. Shortliner Jack Trollope, from the Highlands of Scotland, designed an experimental capstan model layout, using three capstans and "lightweight loco power" to assist a turntable in moving cars off the line at right angles. Later he added a second turntable to the line.
These layouts inspired Michael Hodgson, from North Yorkshire, UK, to try out a fully scale model. His as-yet-unnamed 48x9in (120x23cm) layout "is based on British 1930's goods depots (freight stations) which used wagon turntables and capstans to move wagons around. As powered capstans on their own would be difficult to use, I opted to use a loco and various lengths of chain to move the wagons around. Both wagon turntables are fully operational and all of the sidings except one can only be accessed using a chain and one or more capstans."
For more information and photographs, see Michael's thread on the RMWeb forum.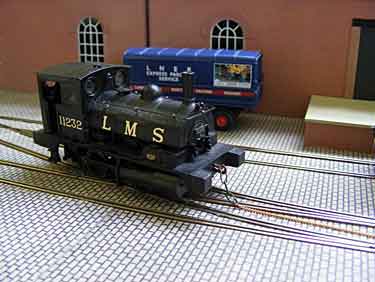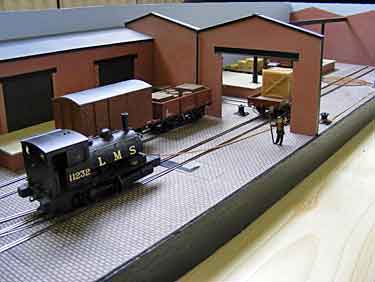 ---
ACCURATE MODEL OF SYDNEY SUBWAY STATION IS A CROWD-PLEASER
Frequent contributor Jonathan Scott, who lives and works in Hamilton, New Zealand, visited the Sydney Model Railway Exhibition in October 2010. He was particularly struck by this layout, Museum Station, which is a carefully detailed model of a well-known prototype. In Jonathan's words:
"Museum [is] an HO-scale central-Sydney underground station that still exists and that is maintained in 1950s period style, both the model and the real station. This is the first layout other than my Pizza Hill that I have seen with an underground station, but this one was breathtaking in its attention to detail and its accuracy. (I guess they have the real station to check out if they need to get exact information.)
"Interestingly, the exhibition featured a booth effectively recruiting train drivers, with an old real-life diesel loco driver's console and signal set as used for driver training. I had not seen that before!"
The layout is provided by SETS, the Sydney Electric Train Society prototype interest group. Our thanks also go to Prof Klyzlr, from Sydney, who provided additional information for this article.
Photo by Jonathan Scott