PAGE 109 – May 2012
H O T I D E A S F O R S M A L L R A I L R O A D S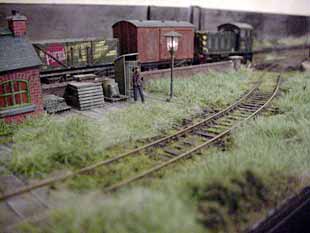 In This Issue
Simple beginnings and fine craftsmanship are the marks of this month's update. Enjoy and be inspired, and get out of that armchair and get working on your own micro. We'd love to see it!
---
MICRO FROM A READY-MADE BASE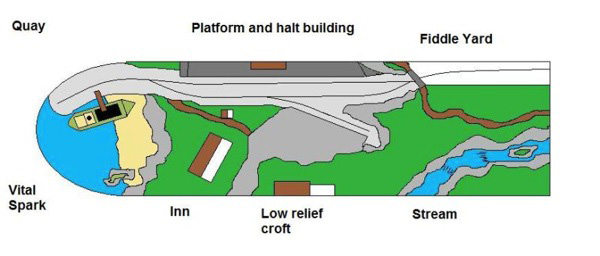 Dunbracken, from reader Tom Dauben, is a 009 (4mm scale narrow gauge) layout which is built on an ironing board. Tom says: "Well, it had legs already attached and only cost £5!"
He continues: "The layout is 5′ by 10", and has a cassette fiddle yard, small station, goods yard and a quay contained in that space. The baseboard, fascia boards, and backscene are all built of foamcore board which is mounted on top of the chipboard surface of the ironing board. Track used on the layout is Tillig HOe which is operated by wire in tube from the rear of the layout. Scenery consists of various grass textures (including carpet underlay), Woodland Scenics rock moulds and water products, and scratcbuildings. The layout has been used to test out DCC using the Gaugemaster system.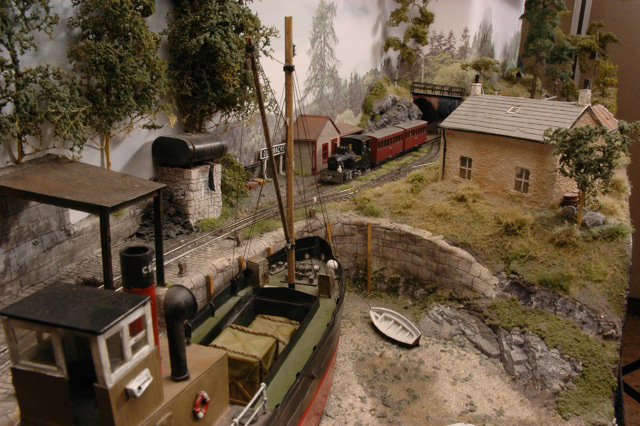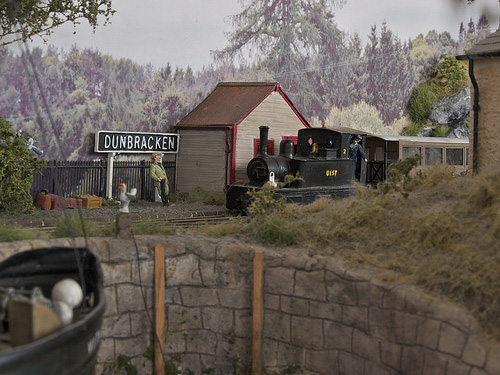 Tom says the layout has proven to be quite a conversation piece at exhibitions when people realize what the layout is built on.
You can find more information on Tom's layout at hlrco.wordpress.com/dunbracken.
To view some of the construction process, you can visit ngrm-online.com/forum/viewtopic.php?f=16&t=13.
---
INSPIRED BEGINNINGS
Alexander van der Donk, from the Netherlands, writes: As I am always looking at the site for small layout ideas, I have tried to build my own realistic layout based in German country during the periods of the 50s up to early 70s with small steam and diesel engines.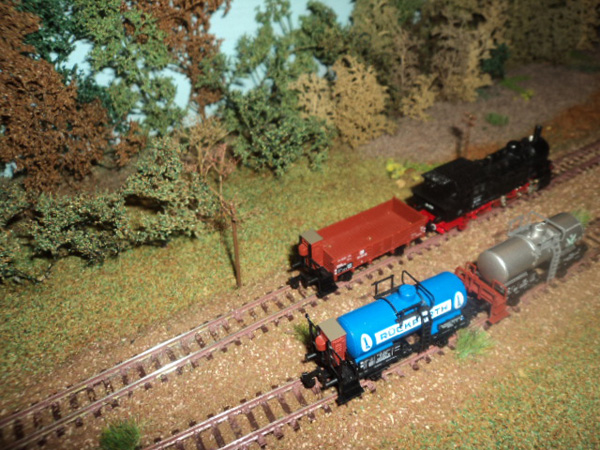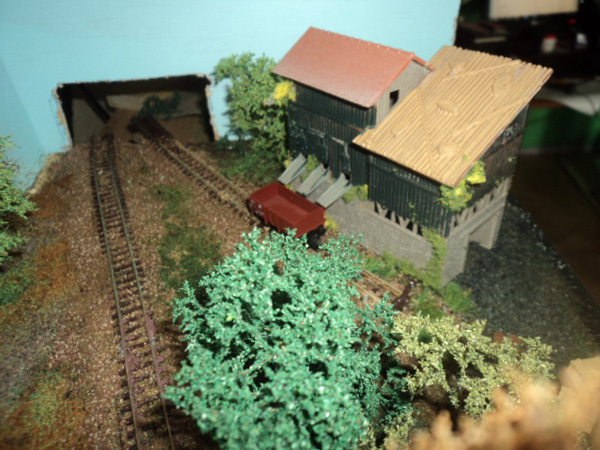 The layout is 130 centimeters long (a little over 4 feet). and is 80% landscaped and detailed. Abendroth is the name of my layout which references to autumn, especially September, the month I was born."
---
A MICRO THAT MEANS BUSINESS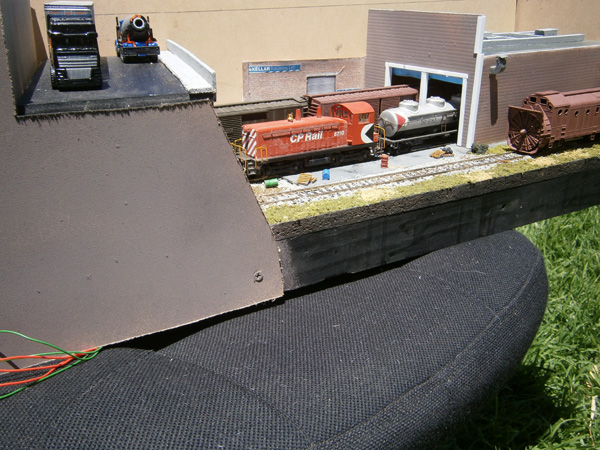 Mark Peterson, from Geelong, Australia, took the realism of his micro a step further by creating the following advertorial for the company the railroad serves. It goes:
"We are a small engineering firm with big capabilities. From a simple brake block change to a major refurbishment Granault Engineering has the rolling stock solution for your fleet.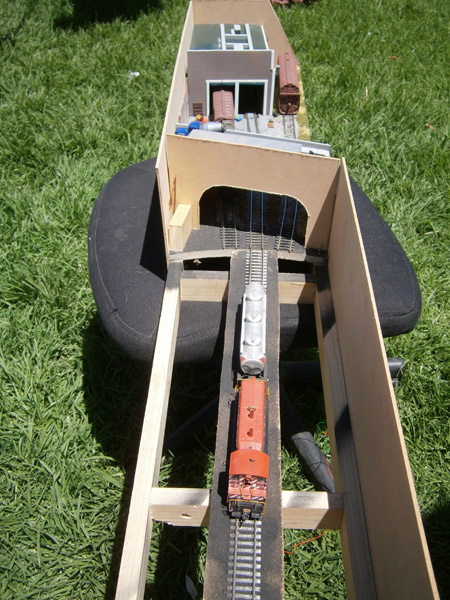 Our modern facilities include a two road maintenance shed with heavy lifting capabilities. Our competent staff are qualified trades-people who can handle all under gear, mechanical and refurbishment tasks. Whether it is a rough and tumble coal hopper or a top-end private coach, we can handle it. Loco rebuilds and caboose refurbishments, no problem. High priority in traffic repairs or long term fleet refurbishment, give us a call and see how we can help."
From Mark: "Like many others, I had always got to a stage where the larger layout I was working on just didn't quite make it for any number of reasons. After discovering this website I started tinkering. Granault Engineering is the result. A little inspiration also came from Julian Andrews' Yard 6 recently described in an article in Continental Modeller (A UK magazine).
"My layout measures 4'4″ by 9½" and consists of three roads connected to a pivoted fiddle track off scene. Two of the roads cross the concrete apron and lead into the maintenance shed, the third road is a car in/out storage road. Operations are rather simple and could possible utilize the Inglenook idea. The whole idea was to finish a layout and try some basic scenery applications. The only thing that remains to be done is a backdrop that I am trying to construct by blending digital photos."
---
RECYCLING AT ITS BEST!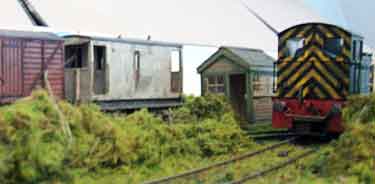 Having seen articles on Carl Arendt's micro layout web site and articles in the modelling press relating to box file layouts, Martyn Mullender of Dorset, UK, decided have a go at building one, but I set a limit of recycling as much as I could from the equipment, buildings and scenic items he had acquired over the years. He only need to purchase a bit of track to complete the layout.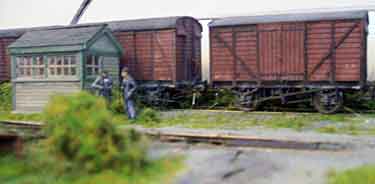 He writes: "Initially the layout used just two box files and recreated a well known micro layout plan called 'Carl's Exports' and in its initial stages was featured on Carl' website in January 2008. The layout is loosely set in the area south of Kings Lynn in the heart of the Fens.
"The current layout is the length of four standard box files, three are scenic and one is a cassette fiddle yard. I use the box files so the lids still close as this keeps the dust off and as the layout is based in our spare bedroom it can be easily stored when we have visitors."
---
TWO-FOR-ONE MICROS


It is not uncommon for modellers to have more than one project going at a time. Paul Love from Pennsylvania, USA, is no exception. He sent in some photos of his current projects. From Paul: "They are two Inglenooks with an added siding on each one, one to the round table (top photo) and one to the boiler house. Both baseboards are 48″ long. The one with the turntable is 13″ wide and the other is 8" wide. These are joined by a 36′ X 3′ covered "Tunnel" that runs behind a bookcase that sets between the shelves. Both are not yet finished."
We look forward to new updates, Paul, as you progress!
---
MICRO ON EXHIBIT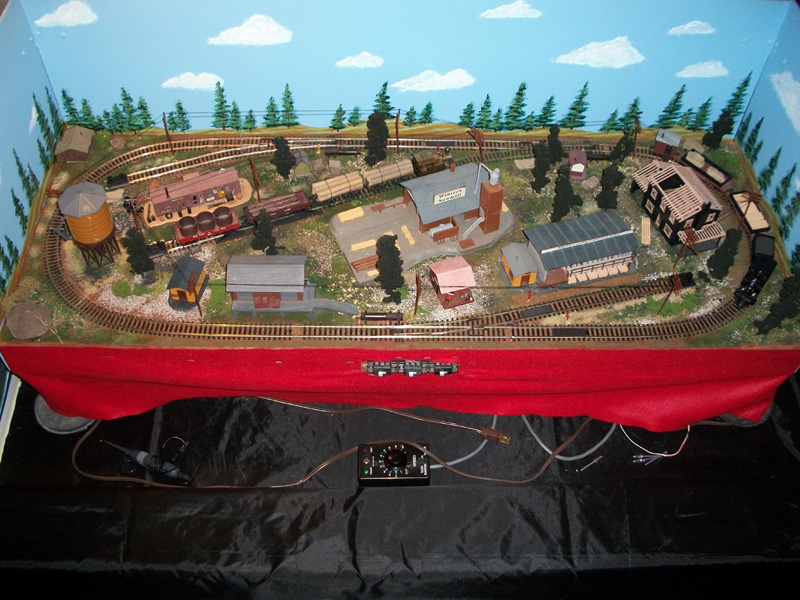 Chuck Perrucci, who has contributed to the site on a few occasions, sends a note on his latest creation he calls Winter's Sawmill. Chuck writes: "I built this layout for the yearly open house at the Sellersville Museum. They have a trains and trolley exhibit each November. This layout is 18×48 inches and features my only brass collection of plantation engines imported from Japan in the 1960's. They run really great for their age. The log buggies are Riverosi. The Water cars are from Mantua, the flat cars are from Roundhouse and last but not least the caboose is from Kadee."
---
A RAILROAD REPURPOSED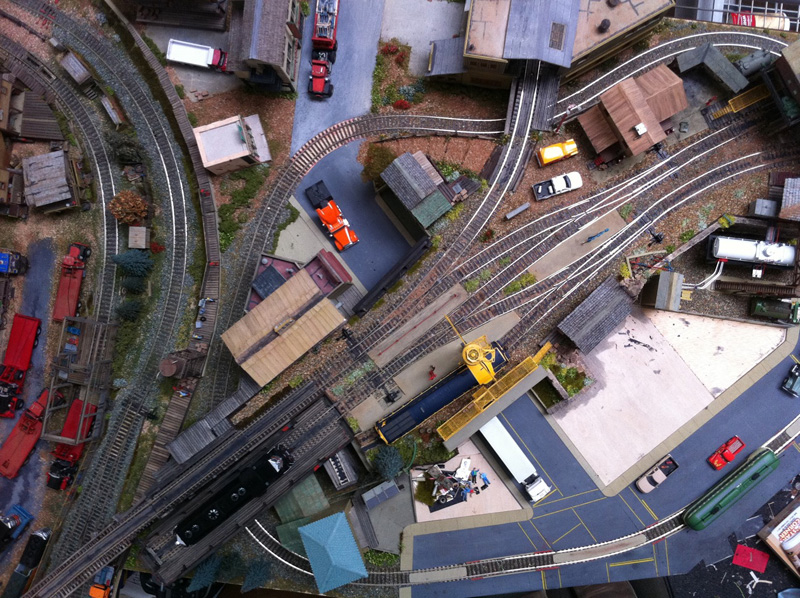 Nick Haskell sends in some photos of a project that has changed in purpose over the course of its construction. Originally intended as a stand-alone switching yard, the layout is now tied into Nick's larger layout, and is no longer a switching yard, but is instead a diesel yard. Nick continues: "You'll also see a trolley line that surrounds it. I tried for a while to keep all of this on the same plane, but to do that, I'd need much better track laying skills than I have. So, instead, I separated the elevations of heavy and light rail—which worked out fine."
A unique feature (at least to the editor) of this layout is the clever use and detailing of the sector plate, which blends right into the scene. Nick adds: "The sector plate works fine. Its operated by a hand throw mechanism, mostly hidden in a small building, which I've detailed to be a sand shed.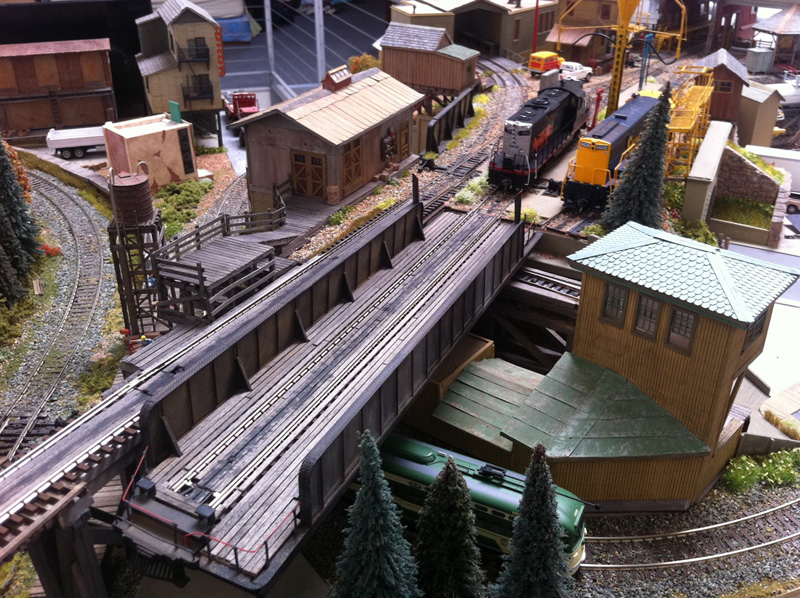 "I still have buildings and scenery to add, but you can see the intent – a diesel yard in the heart of town. This has been a fun project on several levels – starting with laying out the switch yard and scratch building the sector plate, followed by the real test – will locos actually do what I am "asking" them to in this configuration – the answer is yes!. The next big challenge was connecting this area to my main line, which I did through a viaduct, which runs out of view next to the sector plate. Getting the various vertical and horizontal conditions aligned has required some head scratching, but I like it now that it works. Next step will be to set this area up on a separate circuit, as I've figured out, this district pulls allot of power – even with locos just sitting! Most of the buildings and structures are scratch built, but one built is a Bar Mills another a Downtown Deco, and a few more Bar Mills to follow to fill in real estate. The sand tower, fuel tank yard, and fueling and watering towers are scratchbuilt too."
---