Page 119: June 2016
I can't believe it has already been a year since I added a new scrapbook update to the website.
Here is a new update for you all to enjoy! 🙂
---
Lokálka by Střelec from Plzeň – Czech Republic
"Lokálka" (local railroad) is project of small  railroad in czechoslovak country in "epocha II" (cca 1920 – 1945) in H0 scale. The tracks are from Fleischmann startset. Dimensions are 100 x 100 cm. The terrain is made from styrofoam and paper.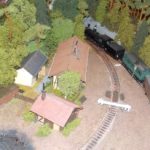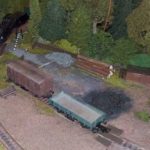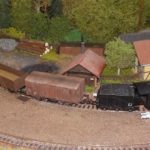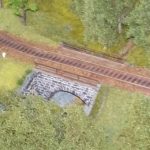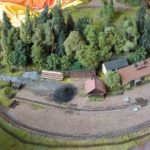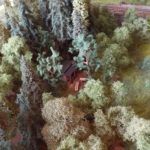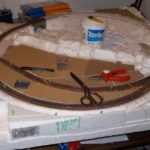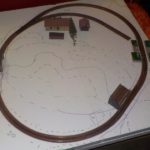 ---
the Agawamuk creek and punkin heights R.R. by Sean Madey
My name is Sean, I am 16 years old and I would like to submit my HO scale engine terminal built in an iphone box to the small layout scrapbook. This little railroad, named the Agawamuk creek and punkin heights R.R., is the result of my wanting to experiment in narrow gauge (I am currently working on a four by nineish foot layout as well) and also by the world's smallest micro contest, which got me thinking along the lines of some thing really small. The layout is a tad under three by five inches, and includes a track on which the engine is stored, a small transfer table to move the engine between its storage track and the track that represents the rest of the line. Operation is very simple and goes as follows: The engine starts out on its storage track and runs onto the transfer table, which slides towards the back of the railroad using the Big Hand In The Sky method. The locomotive runs off the transfer table onto the staging track behind the fence. Then we skip to the end of the day when the locomotive comes back and the entire process is reversed. The layout is powered with batteries which are stored in another iphone case along with the locomotive.
I'd like to add that I've taken the railroad along on a class trip and operated it at the beach during that time, and it has proven itself to be quite durable. I had to be very careful to not get sand onto the layout, for fear of damaging the locomotive mechanism. I am also hoping to take this small layout on other trips. The locomotive is a Bachmann N scale Plymouth diesel that I modified with a new cab and some other details. Most of the materials used in the construction of the railroad were bits from my scrapbox and are mostly pieces of strip wood and card-stock.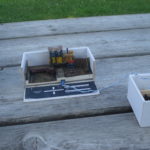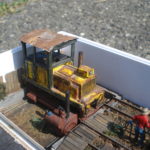 ---
Bookcase layout by Nathaniel Hopkins
This is a layout I purpose built to live in the bookcase in my office. I built it over the winter break intending to submit it to Carl, but that was the year he died, so I never got around to sending it in until now.
The base is foam insulation board and measures about 25×80 cm. The track is a single loop of n-scale flex with a simple set of leads to a power pack on the shelf below. The scenery is probably flexible enough that HoN3 would look at home, though the polar bears would have to be cubs. I figured the basic requirements of a good layout were a tunnel and a bridge, so both are included. This was also a good set of experiments in modeling snow, water, and ice. The trees are cake decorations and the frozen lake a diffuser from a flourescent light fixture.
The turns are quite tight at about 10cm radius. I typically run a Brill trolley or the pictured Kato set of which I can only use two cars without causing derailments. I run it rarely, but it is a great attraction when kids happen to visit my office.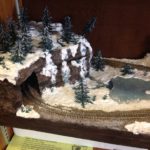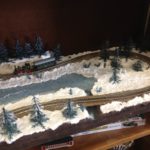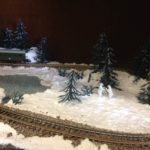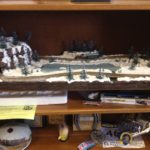 ---
Tilley Yard South by Rob Strachan from Surrey, UK

Set in the late '50's during winter, it is a 3-2-2 inglenook based in Chicago, served by the Santa Fe. Locos are in the striking zebra stripe livery and can be found pushing a variety of boxcars around (ATSF, CBQ, UP, CIM and CNW). Motive power is provided by many different locos, from short yard switchers (Alco HH1000, Alco S4) to bigger road engines (Alco RS-2, Fairbanks Morse H16-44)
The layout is 5'2" by 12", using Peco code 100 track and Kadee uncoupling magnets. Still a work in progress at present.
To add complications to the shunting game a passenger service will pass through every 5 minutes or so, in the form of a Budd RDC, requiring right of way and needing the centre track free of any freight cars.
The layout is due to appear at 2 exhibitions and updates can be found at https://tilleyyardsouth.wordpress.com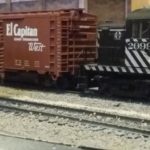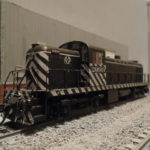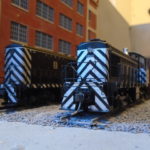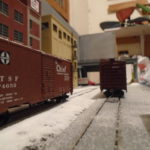 ---
My first pizza by David Perry from Hayward, CA
After building and not completing many model railroads, I thought I might have a chance to actually finish a layout if I started with something smaller – hence, the 2'x2′ pizza shown here. The upper loop has a radius of approximately 5″ and the lower is around 10″. The loco you see on the upper loop is a scratch built thing using a Stanton Drive. The loco on the lower loop is a Bachmann Porter mechanism with the rest scratch built. Both are radio controlled using Del Tang transmitter and receivers. Typically all one needs for a pizza is an on/off switch but my larger layout is radio controlled so I use the same thing on the pizza. I'm not overly pleased with the pizza since I tried to put too much into too small a space. Therefore, the photos were taken the same afternoon I disassembled the pizza. I'm going to start on a 2'x4′ portable layout with more scenery, fewer buildings and a couple of turnouts.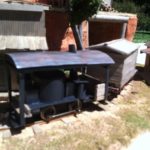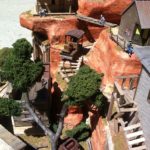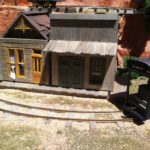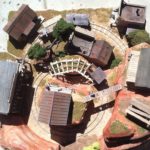 ---
Raven Gill 009 scaleby Graham and Caroline Watling from Norwich, England
Somebody in our local narrow gauge modelling Group suggested a challenge to build a scenic micro layout in 2 square feet, and all entries would be exhibited at our first open day which was a great success.
My wife and I chose a larger version of "Grumblewick Coombe" an A3 size layout shown in the back-pages of the Scrapbook dated February 2003. The new layout is 19" x 17" (482mm x 432mm) and within this space is a two-track sliding traverser all made out of 6mm ply-wood.
An old Kibri N scale three arch viaduct was used, and the rock faces were made up of cork bark and Hydrofibre paste all dry-brushed with acrylics when dry.
The scene is somewhere in the North of England and a resin "folly" tower gives the layout a lot of character which is visited daily by ravens. The pub, cottages, goods office and waiting shelter are all scratch-built using Wills embossed plastic sheets. The animals, birds and figures are mostly "Langley" white metal products.
The turnouts are operated by wire in tube.
My wife is gifted with making natural scenic's, so she has helped with the rock faces and made all the trees (using Woodland Scenics Sprues) and the vegetation and flowers.
A full write-up with photos can be found on our Group website: nsngm.org.uk