PROTOTYPE NARROW GAUGE
A 1:1 Decauville Micro Layout!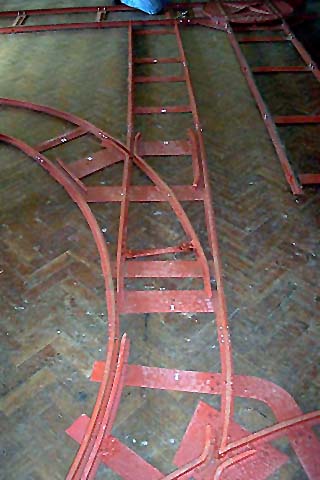 Steve Bennett, of Black Dog Mining Co. fame, kindly forwarded these photos of Decauville portable railways displayed at a model railway show. The gauge is 40 cm (15.75″) and the diameter of the circles, 4 metres (about 13′).
The French firm of Decauville was one of the world's leading suppliers of industrial narrow-gauge equipment and trackage, and these carefully-restored items of prototype "snap track" date from the 1890's.
The overall length of the Decauville skip wagon is 3′ (90 cm) and the frames are a little over 2′ wide (60 cm). The skip itself is 1 metre wide (3′ 3″). The original wheels and axleboxes/journals were replaced by the British firm, Robert Hudson, sometime in the last 20 years–but for completeness these are 9″ (23 cm) diameter curved spoked, with a tread width of 2″ (5 cm).
This material was displayed at a model exhibition in Leeds, England during March 2003 by the Narrow Gauge Railway Society. The equipment is privately owned.
---