Page 120: November 2016
A couple of months have already gone by since the last update, but here we are again! 🙂 Enjoy!
---
Krumme Fohre by Alexander Kaczmarek
210 x 45 cm (6,9 x 1,5 ft for our friends from oversea) or 0,94 squaremeters of model railroad will probably find a place in a small living room as well as my station "Krumme Fohre" does. Only two points and four tracks. Obviously "Krumme Fohre" is not a busy big city terminus. Short trains, some Diesels and a handful of grotty freight cars – enough rolling stock to have a lot of fun. What you perhaps have recognized already – "Krumme Fohre" is designed after Ian Wright´s famous "Inglenook layout". That means, there is a lot of work for the switchman. "Krumme Fohre" is a small station at the "iron curtain" – the inner-german border in Northern Bavaria in the 70th. Germany in this time is a divided country, the railroad line was interrupted at the border and "Krumme Fohre" so advanced to a small terminus of the Deutsche Bundesbahn (DB) – without a runaround track. Trackwork is by Lenz 0, all buildings are scratchbuild.
For more, please see http://www.freeonrail.com/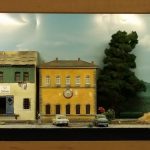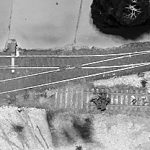 ---
Stop the train game – Jurassic Junction by Neil McGrath
I thought you might be interested in featuring my model railway. The layout is N scale and measures 2ft x 2ft. It is a simple oval circuit featuring escaped dinosaurs and people trapped at the station. The idea of the game is to stop the train at the station to rescue the passengers from the dinosaurs. It sounds simple but is really much more difficult than it seems. The train runs at a random speed each time the game is played and it can take between 1/4 and 3/4 of a lap to stop depending on the trains speed. The only control is a single big red button. Press it once to make the train go and when it reaches its cruising speed you press it again at the correct point to start the braking. The train then slows down at a set rate to hopefully stop at the platform. There is an automatic scoring system to show how many people you have rescued and a speedometer to show the trains speed. The whole layout is controlled by an Arduino micro-controller. More pictures and full construction details can be found at:
https://sites.google.com/site/g7aqkhamradio/stop-the-train
---
OMEGA METALLWERKE by Stefan Zeller from Graz, Austria
I'm sending you some pictures of my micro-layout OMEGA Metallwerke (metal works, inspired by a book I once read). It is a narrow gauge HOe layout that is about 80% finished. It is also my first ever layout, so I thank this site that at 50 years I finally have a pike. In the beginning I wanted to build a copy of Carl´s Imports but got carried away and kept adding tracks.The layout´s size is 50 x 51 cm. Trains enter the visible part by way of cassettes (which I have yet to build) and are distributed via the sector plate hidden in the large building. The costruction of the sector plate proved to be quite a challenge to me but I finally found a solution that I´m happy with.
I haven´t yet developed an operating scheme, but it should go roughly like that: Incoming trains are "unloaded" in the left part of the layout; there will be an overhead crane perpendicular to the brick building. Finished products are loaded at the right part (there will be some kind of warehous on the background between the gate an the big building). Outbound cars are collected there and leave the layout by way of the sector plate and cassette. At the left stub track (where the tank car satands) will be a diesel fuel facility.
Rolling stock comes entirely from the Minitrains range (Krauss steamer and a green Gmeinder diesel loco).
---
N gauge micro layout by Ian Glover from the UK.
A small shunting layout built to fit in side a cardboard gift box that is roughly 31 x 22cm in size. An extra length of track attaches to the side of the box for basic operation.
All track is PECO set track, using wire in tube controlled points with the levers hidden under the back right corner of the layout.
The concept was to create a corner of a shunting yard, with the idea that the rest of the station or operation is out of view.
The track layout uses a basic fork, but with an extra short siding to park a second shunter.
It took me around three to four months to complete it.