A LAYOUT THAT'S IN THE LOOP
Jim Kestner, who lives in Green Bay, Wisconsin, is building a remarkable small layout modeling the traffic in the Chicago Loop during its heyday. His layout actually measures just 4×6.5 feet (1.2×2 m), but it boasts three levels of traffic, and Jim is busy adding enough buildings and detail to make it look three times that size!
---
ORIGINS: IT STARTED HERE
Jon Songøygard, who lives in Norway, enjoyed Emrys Hopkins' track plan for the Whitehead Brewery in our Micro Layout Design Gallery (I wonder why plans for brewery railroads are always so popular?). Jon created his own version on a 65x47cm (26″x19″) baseboard. These pictures were taken by his friend, Trond Rustenberg when the layout was at the "plaster all over everything" stage. Another friend, Jan Petter Kamnes, loaned Jon a loco and wagons for the shoot, to relieve some of the barren look and dramatically improve operating capabilities! The layout is called Ubergsmoen Industries, after Jon's father's hometown, and we hope to see more pictures as Jon and his friends continue to work on this nice micro. Stay tuned!

---
ORIGINS 2: IT ALSO STARTED HERE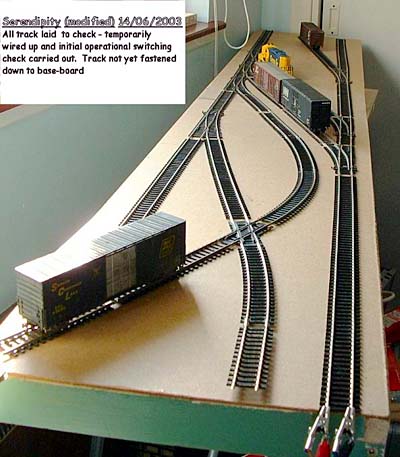 I'm always delighted to receive photos of layouts under construction by people inspired by designs from the Micro Layout Design Gallery. I was particularly happy and honored to receive this photo from Jack Trollope, himself a layout designer and frequent contributor to the Gallery.
Jack was intrigued by my Serendipity Switching Line plan, and he's building his own version of that design, shown in "bare baseboard" form at the left. Crossings can add spice and adventure to industrial layouts, and they give a nice clickety-clack sound as trains pass over them.
Jack models current-day U.S. outline railways, despite living in the Highlands of Scotland!
---