PAGE 2 – JUNE 2002
The sole micro layout on display at the recent Midwest Narrow Gauge Meet in Ohio was this one. It's a nicely done "pizza" layout with a continuous circle of Sn2 (or possibly On18) track at the lower level, along with a dummy wider gauge mine siding on top. Unfortunately, I failed to write down the name of the builder — if anyone knows who made this nifty little display, please let me know so I can provide proper credit. Meantime, these photos speak for themselves!
UPDATE JULY 2003: The creator of this little gem is Russ Haigh, of Willoughby, Ohio. He writes, "The layout is S Scale, S9 (Sn2) for the circle, Sn3 on top… Layout base is two 12″ cutouts (2″ blue foam and 1/2″ homasote) from a friend's On2 turntable. The rest is layered up 5/8″ beaded styrofoam carved with a hot-wire tool and covered with colored texture paint."
The layout represents a cavorite mine. "Cavorite" is an exotic substance invented by H.G. Wells in his novel, "The First Men in the Moon." The mineral has the unnerving property of screening out gravity, so that it falls upward. Wells used it to propel a 19th Century spaceship to the moon and back.
Russ explains the mine's workings this way: "Cavorite ore is loaded into the 2 ft ore cars and transported to the grading plant on the other side. Being lighter, the Cavorite-bearing rocks are sorted out and move UP through the plant (dare I call this a flotation process?) and are bagged and shipped out on the 3 ft to the main process facility."
---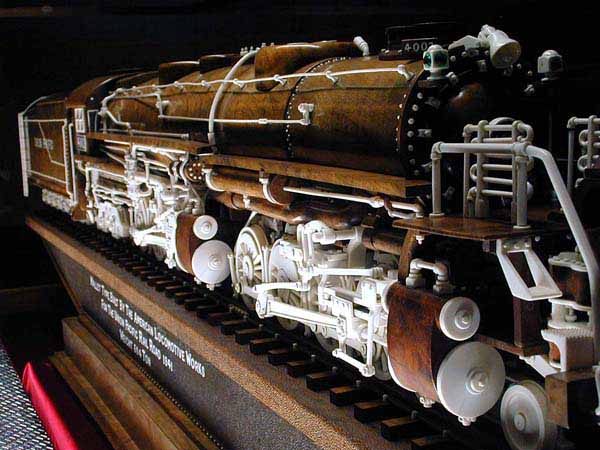 No, this behemoth doesn't belong on a small layout — nor even really on a middle-sized one! This is a 1/2″ scale model, one of dozens made by "Moonie" Warther in the 1950s and displayed at his museum in Dover, Ohio. Moonie carved the entire 72″ long model from ivory and ebony. The wheels revolve and the complex valve gear operate properly. It's a breathtaking display, and I couldn't resist sharing it with you.
---
What happens when you set out to build twin railcars?
Ian Holmes and I, searching for ways to add passenger accommodations to our small Gn15 layouts, decided to build 1:24 scale railcars. We searched for photos, enlisted the aid of Steve Bennett, and selected a design. Then we each set out to make a model — Ian in Minnesota, and I in Pennsylvania. We kept in touch daily on the Internet with each other and with Steve (who offered invaluable advice throughout the process). All three of us had a lot of fun during construction. The results are pictured here (Ian's model at left). Well … looks like we got two designs for the price of one!
---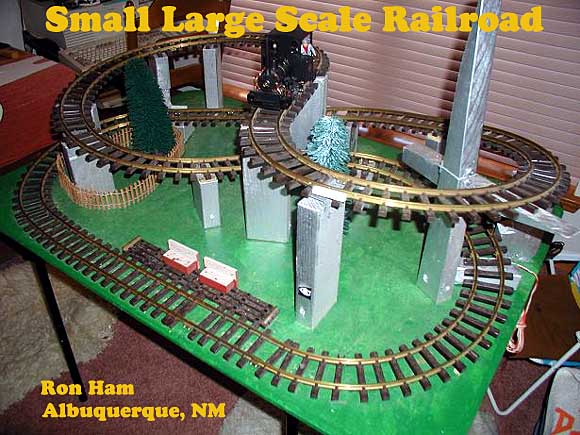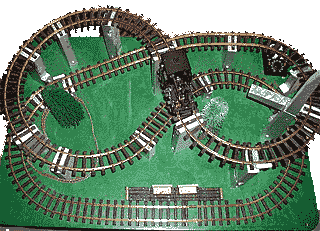 Ron Ham built this convoluted G-scale display layout on a 4'x3′ table (122×91 cm)! He built a 10% grade to lift the line to a peak height of 11 inches (28 cm) and installed a resistor at the top to control train speeds on the descent!
Ron describes the design process this way: "Inspired by a similar layout I saw at the LGB Convention in San Diego in 1996, I purchased a rail bender. This was one of the first layouts I made with it. An LGB steam Koppel switcher runs on the layout (and is shown in the pictures)."
---