PAGE 31 – NOVEMBER 2004
Our Annual PIZZA PANIC!
Just in time to help you plan your holiday display layout,
here's a rundown of Pizza Layouts that have hit our desk
in the past six months or so. (Pizza layouts have a simple
circle of display track.) Here's a feast for the eye,
and a recipe book of clever ideas that may inspire you!
---
MICRO IN A MICROWAVE … A PERFECT PIZZA PARLOUR!
Selecting what has to be close to the perfect venue for a pizza layout, Hans Hammarsten — who lives in Västerås, Sweden — chose to build his pike in an old microwave oven! He removed the unneeded "innards" and built a circle of Peco track to make his Gn15 layout. It's called the Rio Frito Banana Tram Co. (credits to David Powell for originating the name), and it's very much a work-in-progress.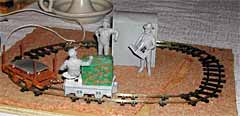 Hans first laid a circle of Peco 16.5mm flex track by pre-bending the rails (without the ties) using a Roy C. Link rail-bender. The mocked-up scenery shown was put together from a computer printout of the free paper outhouse available on the Paper Creek website! Future projects, besides finishing the scenery, include mounting the layout controls in place of the microwave oven controls.
These photos were taken in October by Henrik Laurell at Hans's Westridge Mini Meet. ("Westridge" is a literal translation of Västerås.) Sounds like fun!
---
MOVING FROM PIZZA TO PEARS … AND SPAM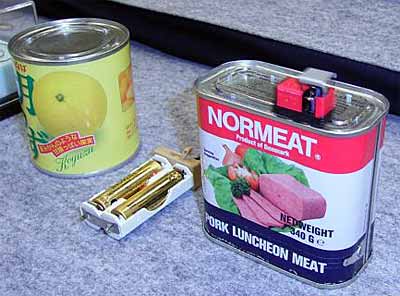 Hiromi Masaki, a Japanese modeller, passed along this shot of two "canned" pizza layouts — both HOn30 (1:87 scale running on 9mm track). The two tiny lines were built by Yukinobu Tamura and were shot by Hiromi at the 5th International Model Railroad Convention in Tokyo last summer.
The tiny diesel locos run steadily round and round, very reliably. By the way, a visit to Hiromi Masaki's website is well worth the trip!
---
PRO PIZZA PACKS IN PERFORMANCE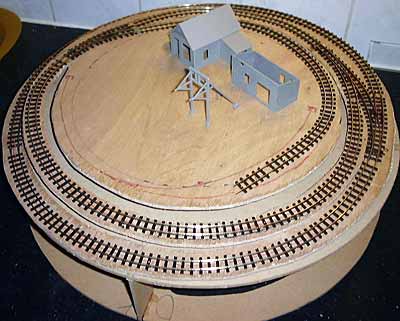 Ronald Halma, from Aalten in the Netherlands, is a professional builder of exhibition layouts. His first attempt at a micro layout is this marvelous pizza design in HOn30. It's only 54cm (21 in) across!
The scene will feature U.S. mining. Turnouts are Pilz Elite, track is Peco, and a little Roco HOn30 diesel negotiates the tight curves with ease.
For more on this layout and Ronald's other projects, take a look at his website. His shelf layout, The Shop, is in the April 2004 Scrapbook.
---
U.S. LAYOUT FEATURES MULTI-LEVEL SCENERY
Detailed mountain scenery is the highlight of Lost Canyon at Deer Creek, built by Jim Wanlass, who lives in the western U.S. It's an HOn3 railroad (1:87 running on 10.5 mm gauge), typical of the American West. The whole thing measures 11×17 inches!
Jim has posted photographs of the entire construction process at his website, and his descriptions and methods are well worth a visit.
---
BUILDING YOUR LAYOUT ALL AROUND THE MOOSE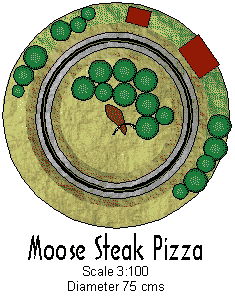 Jon Songøygard, from Arendal, Norway, likes to design whimsical layouts (see his Valhalla Hog Express in Scrapbook #27). In this latest effort, he has chosen to explore a "new" scale of 3:100 (halfway between 1:32 and 1:35), which allows modellers to use materials available for both of those very workable large scales.
Jon's adventure began when "I came across a moose in a toy shop. One leg is marked '1:22', but this resembles a small and implausible animal. At 3:100 scale, however, this moose appears as majestic and frightening, as it should" (left photo).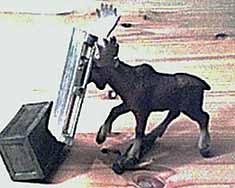 "As a frame for this 'actor', I've planned a new layout as seen in the drawing (right). Track radius is 25 cms, and as yet I have no purpose for the railroad other than encircling the moose." Track gauge is 16.5mm, and Jon plans to start construction soon. Keep an eye on his website.
---
THIS GIANT PIZZA IS ALSO A TEACHING AID!
This gigantic pizza layout is in On30 scale on two levels, and it's designed to illustrate techniques for making scenery as well as being an appealing display of 1/48 scale running on 16.5mm track.
Jeff Hartmann, from Long Beach, California, took these photos at the annual "Fullerton (CA) Railroad Days" train show this past summer. He was unfortunately unable to get the name of the builder — if you see this item, please identify yourself and be recognized for your excellent work!
Jeff's comments about the layout were, "I was told that the layout is 48 inches in diameter, and it's a nicely done small layout. It was constructed to show how scenery is built. One side shows the layers of foam stacked and cut to shape and the other side has the completed scenery. The whole layout slowly rotates so the viewer can easily see all sides. The rotating layout with the trains running around at the same time is a real crowd pleaser!"
---
UPDATE ON A PREVIOUSLY PUBLISHED PIZZA
To see the difference that details can make in even a simple layout, compare this photo with an earlier photo of the same layout in the March 2004 Scrapbook.
Roger Jansson, from Frövi, Sweden, has built this delightful pizza layout in On18 (1:45 on 9mm gauge). Compare this shot with the previous one we published last March, and you'll see how the layout springs to life with added detail.
To see more of Roger's work, visit his website (click on "Modellsidan").
---
'THE WRONG SIDE OF THE TRACKS'
Keith Henn, from Kingston, Ontario, Canada, has learned well the lesson that lots of details make a layout seem much bigger than it is. His two-foot-square HO pizza layout, built on a leftover ceiling tile, is called The Wrong Side of the Tracks.
It's jam packed with scenic touches, including a construction crew at a burst water main, a SWAT team complete with Hummer entering the building, a graffiti artist at work, punk rockers partying behind the building, a couple in the doorway of the boarded up building, and three parks on the corners. Rolling stock are Brawa track maintenance locos, which place the layout in Germany. Still to come: overhead catenary with poles and wires, and still more details in the upper stories of the apartment building.
---