These two photos show early mockups of Michael's 1:10 scale efforts. The left-hand photo shows two very unusual elements he's working on: a model of a compressed air loco that was used at a town called Bankside in Alberta, Canada, located in what is now Banff National Park; and a STUB double-slip switch, using Code 330 rail. It actually works! For much more information on this unconventional modeling effort, see Mike's website.
And to whet your appetite, here is one of Mike's early design concepts for a shelf layout in 1:10 scale. It uses not one but two backstage sector plates, and is made possible by the incredible stub double-slip.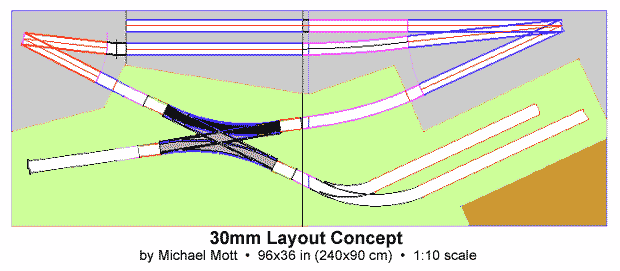 ---
SCALE 1:13.7 (7/8 in.)
Don Coker, from Columbus, Georgia, USA, loves to doodle track plans, and as he's a professional artist his doodles tend to be both attractive and accurate. Here's a good example, designed for 7/8in to the foot using a gauge of 1-3/4 in (45 mm) to represent two-foot gauge (60 cm) tracks.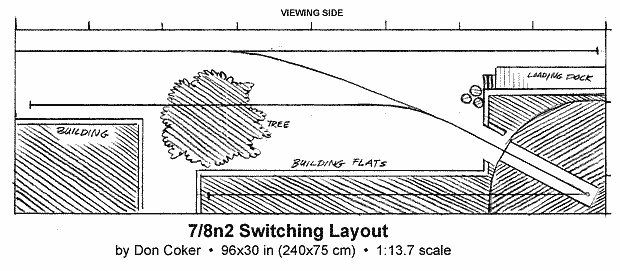 Don's comments on this delightful little shelf switcher (with very large trains!): "I have been messing around with this notion for some time. It's certainly not a new, groundbreaking design , just the old 'sector plate special' (stole it from your book), but I thought it might work for a switching layout in 7/8n2 with four-wheeled cars and lokey (small equipment). I would love to build it to fit on one wall of my studio but make it portable (on casters) to take to local and regional shows. I think that it would measure about 8×2.5ft (240x75cm).
"I would hand-lay the track to fit (assuming that I can find a source for code 250 rail) and with the help of a local friend, build the turnouts to fit the space. I would build very detailed building flats so as not to use up too much space, probably wooden structures from the post-Victorian era… not even sure what the focus of the layout would be yet." Notice that front and center is a large shade tree, a dramatic Coker speciality!
---
SCALE 1:22.5 (G)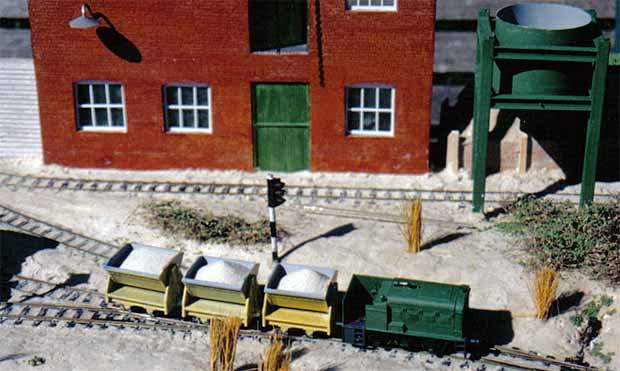 One way of getting large-scale trains in a small space is to use a prototype that is very small with tight-radius curves. Industrial 15″ gauge trains fill this niche nicely, and Gn15 scale modelers have begun to create some excellently-operating large-scale layouts in very tiny spaces.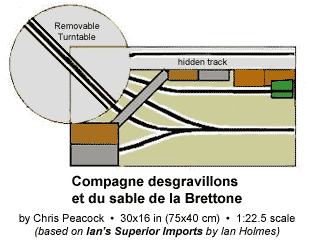 Chris Peacock, from England, adapted a design from this site to the needs of his Gn15 exhibition layout, Compagne desgravillons et du sable de la Brettone.
Chris comments, "The layout was built (but not totally finished) in order to get a modelling bug out of my system. It is based on Ian's Superior Importsâ found in Carl's second book (and in this website). I have altered the track geometry a bit to get Peco narrow gauge points to fit (plan at right).
"I have altered the rational of the layout, after reading in the Oakwood Press book about Leighton Buzzard Sand Pits; and I have made it a bit more bizarre by moving it to France, hence the name. I just need to get a driver with a beret and a Gauloise hanging from his mouth to finish it off.
"The building is inspired by the stables at that previously named location. The hopper is Plustruct, around a cut-down washing-up-liquid (liquid detergent) bottle. There are two engines and four wagons on the layout — some of the stock is from Sidelines kits while the other locomotive is based on an old Tri-ang dock shunter cut up a bit. The wagon is the underframe of a white-metal kit from a Cambrian Oil tank, supplanted with a (real) wood floor.