PAGE 37 – MAY 2005

There's no question that the world's most popular model railroad
layout design is the "pizza" — a single circle of track on a small,
usually square display board. Pizza layouts are found everywhere
that model railroaders live! Here is a sampling of the best pizza
particulars that have hit our desk over the past half year. It's
time for the semi annual roundup that we call "PIZZA PIZZAZ"!

PIZZA 1: SOMETHING ASKEW, FROM CANADA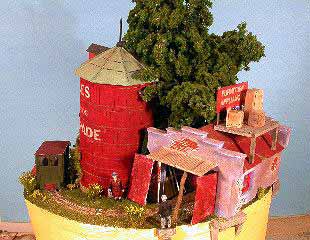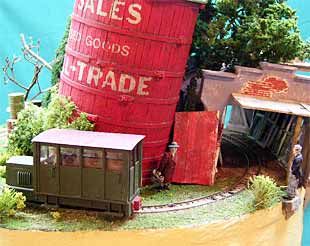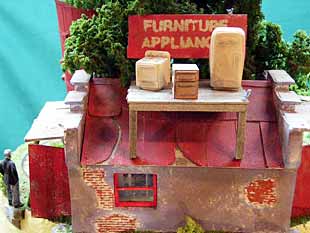 Does it look to you as if the buildings in this scene are located in Pisa, Italy? Well, it's not your imagination — Christopher Creighton, of Schomberg, Ontario, Canada, built it that way! Here's how he tells it:
"There was a time, not long ago, when an enterprising person could make a reasonable living 'fixing up'. As young families grew and prospered, they traded in their first appliances for newer, more sophisticated models. These trade-ins were serviced and sold to the next generation of families and the cycle continued until the appliances were too old or worn to be repaired.
"Somewhere along the way, the dynamics changed. The cost of labour became the determining factor in the value of an object, and it became impractical to repair broken appliances. Tastes changed and used goods became unfashionable.
"This did not bode well for Fayle's Sales.
"Change is progressive and unstoppable and it often leaves people a bit off balance."
Fayle's Sales is an On18 / O9 layout. You can see more of Christopher's O-scale productions at his website.
PIZZA 2: A GRANDE CONCEPTION FROM ARIZONA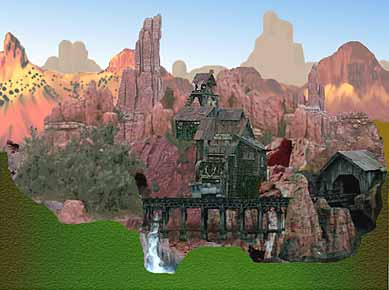 Steve Jarman, of Gila County, Arizona, created this unusual pizza design by making a photomontage on his computer. The On30 layout is called the Gila Copper Company RR, and the scenery was created using photos of the real thing.
Steve comments, "I believe this layout could be constructed using common modeling techniques. As with other pizzas, the track work is a simple circle of track. Motive power is provided by either a Shay or a couple of Porters as shown in the picture."
If anyone builds this spectacular circle of track, please send us some photos!
PIZZA 3: WOODWORKING SKILLS FROM CANADA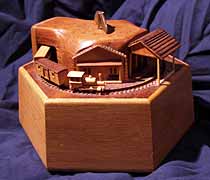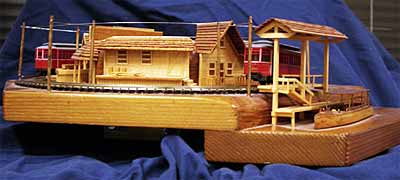 Rob Pringle, from Toronto, Canada, created these two unusual and beautifully made pizza layouts — one created as a music box and the other a more conventional N scale traction layout.
The music box (left), reports Rob, "is built on a hexagonal box, about 12 cm [4.72 inches] across, which houses a music-box movement, the 'motive power' for the locomotive. The brass semi-circle on topis the 'key' for the movement. Brass wires radiate from the central shaft of and take a right-angled bend to emerge from a slot between the rails, where they are fastened to the locomotive and each car. Since the slot is continuous, the central portion of the layout is cantilevered from the rear via the 'roof' of a tunnel.
"The layout is fabricated from different species of wood to provide some contrasting colouration. The buildings and other facilities are 'false fronts' attached to the central block. Many nights, my daughter went to sleep listening to the music box play 'I've Been Working on the Railroad'.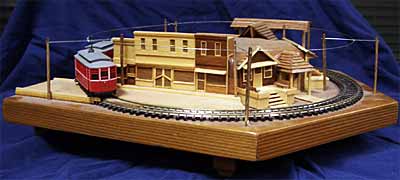 "The N scale traction layout, about 25 cm [about 10 inches] across, is an impressionistic rendering of the old interurban lines that plied between Toronto and Jackson's Point, a tourist destination on Lake Simcoe to the north. Of course, interurban cars were used in real life rather than the Brill single-truck cars shown here.
"The buildings (false fronts attached to the central block) range from the 'downtown' buildings along the paved street on one side, through various rural and small-town stops, to the hotel on the other side, complete with a dock and launch. Except for the old guitar string that was used for the overhead wire, this layout is fabricated completely of scraps of wood and veneer of different species, such as walnut, padauk, bass, mahogany, cherry and pine. "
PIZZA 4: SCENIC O SCALE FROM FRANCE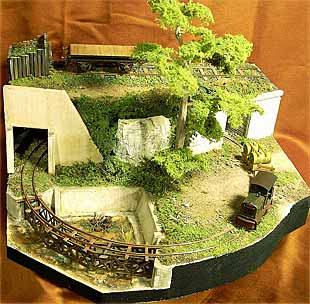 Vincent Beitscher, from Nancy, France, has created a 600mm narrow gauge line in O scale (O14 or On2) in a space roughly 40 cm square (16 inches square). He's even found a way to include some standard gauge track up on top!
For more photos and information about Vincent's fine work, see his website. Google will translate this site from the French for you.
PIZZA 5: EMPIRE BUILDING IN OHIO
Jim Foster, from Dayton, Ohio, built the Atlantic & Ohio RR in HOn30 (OO9) on a 10×10 inch square. The two brass plaques mounted on the front of the baseboard read (at the left) "Coast Division" and (on the right) "Mountain Division", illustrating the continent spanning grandiosity of this pizza layout. (Photo by Stumpy Stone, taken at the April 2005 Midwest Narrow Gauge Meet.)

PIZZA 6: A ZOO FROM OZ, BY WAY OF CALIFORNIA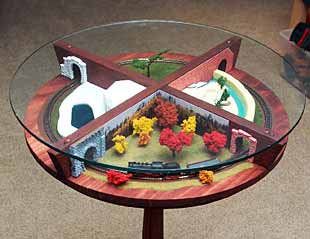 Jonathan Scott, a transplanted Australian living in Santa Rosa, California, built this Z-scale pizza layout in a glass-topped table 18 inches (45 cm) in diameter. As Jonathan explains, "The top is divided into four sections, each modeled to be a display in a zoo for polar bears, giraffes, tigers and deer. The four sections also correspond to the seasons of the year, Winter, Spring, Summer and Fall. A Z-scale train carries visitors around the exhibits."
For more details and photos, visit Jonathan's website.
PIZZA 7: N SCALE IN A BRIEFCASE FROM CHICAGO
Doug Kaniuk, from Chicago, Illinois, built this N scale museum layout in an old briefcase. The scene represents a railway museum, complete with parking lot. The rolling stock is a Bachmann Brill trolley with the pole removed; the model is based on streetcars made by GOMACO Corp, Iowa, for the U.S. Park Service.
For more on Doug's modeling, see his website.
PIZZA 8: A NORWEGIAN WOULD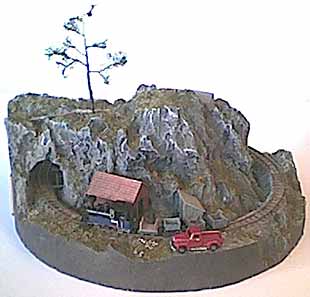 We've previously seen this Norwegian Mountain pizza under construction by Jon Songøygard, who lives in Arendal, Norway.

PIZZA 9: EXTREMELY NARROW GAUGE FROM THE U.K.
This elegantly-modeled stretch of English countryside measures roughly 16 inches across! It's a pizza layout by Mark Fielder, from the U.K., and it's modeled in Nn3 using the Z scale track gauge — about a quarter inch (6.6 mm) — to model a three-foot narrow-gauge railway. This layout has been making the exhibition rounds for a number of years now — it was truly a pioneer in establishing the feasibility of Nn3 modeling (you can make one whale of a layout in very little space using Nn3!).
Mark graciously sent his permission to publish these classic photos in our next Pizza roundup, which is this one.