PAGE 43a – NOVEMBER 2005


You may have noticed that we usually feature layouts that cluster around
a theme — e.g., Switchbacks, Layouts in Containers, or Pizza Layouts.
Here's a "Variety Pak" of layouts that don't fit into a single theme
but have aroused our interest and may provide inspiration to you.

ONE GOOD LAYOUT DESERVES ANOTHER
Given the challenge of building a narrow-gauge layout in a space the size of two sheets of letter paper, Andrew Knights, from the Wealdon Railway Group in England, devised this clever OO9 (HOn30) industrial switching line. He offset the two sheets (each of which measures 8-1/4×11-3/4in—A4 sized) to get a longer "main line," and he arranged the lower (left hand) section as an Inglenook switching puzzle. As there's no runaround track, a second locomotive will be needed to operate this line and switch cars into the two facing sidings on the right-hand section. Note, however, that if those two sidings are treated solely as switching leads (head shunts), only one switch engine is required! Photos below show Andrew's little layout in operation. (Photos by Terry Allen.)
Intrigued by Andrew's approach Giles Barnabe, who lives in London, increased the size somewhat and designed an On30 mining layout in the same offset-board format. In this case, each section is 4x2ft!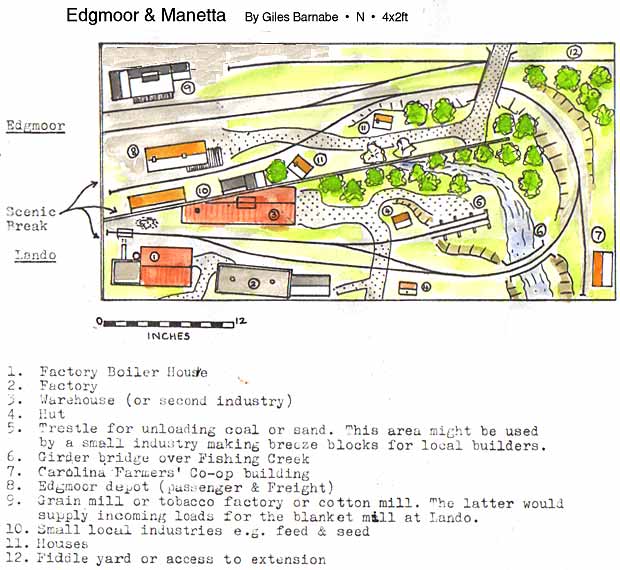 Following is Giles's description of his design: "Not all layouts need be a neat rectangle. This offset shape helps provide a more interesting track plan and also separates the two ends of the line, which otherwise would appear to be very short. Here we have moved up from 009/HOe to 7mm scale, using either standard OO/HO track or 14mm gauge. The two baseboards each measure 4ft by 2ft."At the same time the track plan has been altered to give a Z-shaped operating pattern. When I drew up the design I did not know what mineral was being mined, but on reflection think it might be chalk/limestone so that the works end is dealing with cement production. The three round circles which I originally thought might be tanks or silos thus might become limestone burning ovens."Small tipping skip trucks emerge from the mine and are run round on the adjacent loop, before being shoved back to the upper right hand track on the works board, where the contents are offloaded into a conveyor that fills the ovens. You might actually handle the loads which can be placed in the wagons inside the mine, and unloaded inside the building at the top right corner of the plan.
"The other track on the upper level is a tipping dock where wagon-loads of spoil are taken and dropped into trucks for disposal by road. To gain enough height to span a road vehicle I there will have to be a rising trestle leading to the tipple. Finished products — bags of cement — come out of the works and are taken down the hill to the headshunt (tail track) in front of the mine, from where they are pushed to the transfer platform for loading onto standard gauge wagons, or else go to the low-level yard track for loading onto road transport. The small stub track near the trans-shipment line will be useful to park the odd wagon being unloaded, while access is needed to the longer yard track. "
PICTURES FROM AN EXHIBITION (OR TWO)
Monk's Hill
is an attractive OO/HO British country terminus that illustrates well how sprawling and open those "small" stations actually were!
Stuart Marshall
(above, operating his layout)
has wisely left plenty of room for lorries (trucks) or horse-drawn wagons to pull up to the goods (freight) sidings for loading and unloading.(Below)A similar terminal scene is shown in
Stoney End,
a tidy narrow-gauge terminus built in O-16.5/On30 scale by
Peter Rye
, from Suffolk in England.
(Photos by Emrys Hopkins)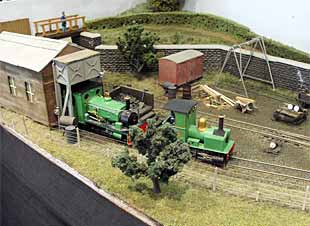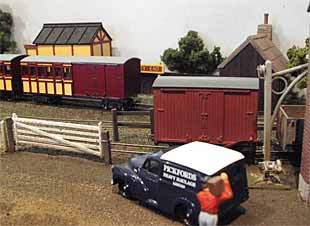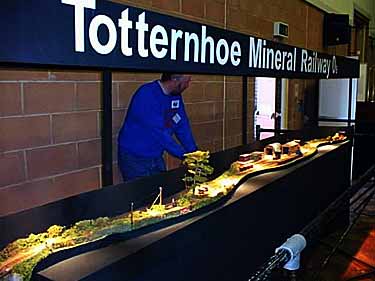 An unusual but striking approach to presenting a model layout is illustrated at left by
Totternhoe Mineral Railway,
built by
Eamon Seddon
, who now lives in Tasmania, Australia. The scale is O9/On15 (7mm to the foot on 9mm gauge). The layout is presented in a "limbo set" — a completely dark, almost invisible background. When coupled with carefully controlled lighting, the effect is to make the layout glow, much as diamonds do when displayed on black velvet.
David Bromage
photographed the layout at the 2005 Sydney Exhibition.
A BRANCH LINE IN PATAGONIA


Still under construction is
Wye River City,
being built by
Diego De Bunder,
in Patagonia, Argentina. He based his layout on one of my designs of the same name, in the Micro Layout Design Gallery
elsewhere
on this site. The HO layout measures 100x35cm (39x14in) with a 60cm (24in) removable cassette behind the trees at the right. Diego explains the reason why he's built it in a stage-like box: "I live in Patagonia, a very arid country, and winds here range from 30km/h (every single day of the year) to 100km/h with over 200km/h gusts (August to November, with trees falling and roofs flying), so I had to build the layout as a fully enclosed box with glass in the front to protect models from the dust!" Whatever the reason, the "proscenium arch effect" is excellent here. We're looking forward to additional progress reports, as Diego adds scenery. He builds almost everything himself, commenting, "All buildings and rolling stock must be built from cardboard, wood and styrene sheet, as there are no commercial models of Argentine railways." And the nearest hobby shop is in Buenos Aires, about 750 miles north of Diego's home in Puerto Madryn, Patagonia.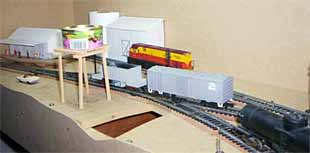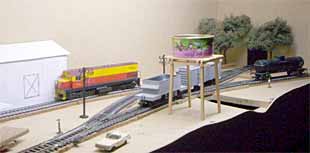 AND NOW, AS A SPECIAL BONUS…


Autumn is the season when modelers begin showing in public the exhibition layouts they've been constructing all year — it's Challenge Time! This year in particular, there were two British challenges that occurred on back-to-back weekends in late October — the "cubical" challenge at ExpoNG in Swanley, Kent; and the "narrow gauge competition" at the Chelmsford (Essex) MRC show. Here are the winners. We will be showing other fascinating layouts from those contests in later issues.

At ExpoNG …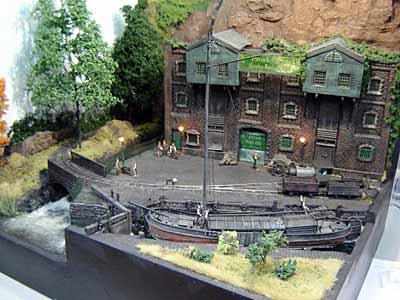 Loxley Barton Falls won the "cubic" challenge at Swanley — the layout was to be built in a cube 50cm on a side (excluding electrics and lighting). Loxley was, believe it or not, the first layout that Simon Cox had ever built! Although the photo doesn't capture the high waterfall behind the building, it shows very well the level of detail and craftsmanship involved. Though the railway has very limited operational possibilities, it does run! For more info, see Simon's website.
(Photo by Michael Campbell)

At Chelmsford …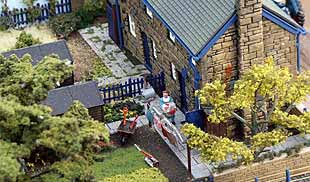 Newton Halt was the winner in the Narrow Gauge Competition at the Chelmsford Model Railway Exhibition. The rules called for a 30x20in operating narrow-gauge layout. The winner was built by Andrew McMahon and Sheila Perry. The OO9/HOn30 model is set sometime Between the Wars where the Great Western Railway crosses the Castleby Light Railway. The CLR provides a platform for passengers to and from the GWR trains. Newton Station proper (imaginary) is about 100 yards straight back, behind the GWR overbridge.
Operation, though limited, is enhanced by the use of cassettes behind the scenes to introduce a variety of stock onto the layout (photo at lower right). Andy candidly comments, "Even the best laid plans go wrong and the distance between the point blades on the LH point and the front edge of the baseboard only allowed one tank loco and one wagon to shunt into the siding. However, instead of this reducing the fun of operating, in fact it made the working of the layout more interesting." For additional information and photos, see Andy and Sheila's website. (Photos by Andrew McMahon)