PAGE 56a – DECEMBER 2006
H O T I D E A S F O R S M A L L R A I L R O A D S

For the last scrapbook issue of 2006, I've gathered some of the
items that didn't quite fit into any of our themes for this year's issues.
They all have interesting features that should give you some good ideas for
your Next Small Layout. So here's a true scrapbook–snippets for great modeling!

H A P P Y H O L I D A Y S , E V E R Y O N E !

HOW 'STAGING' A LAYOUT CAN ADD SPARKLE
John Peckham, from Torrance, California USA, has virtually completed his Rockport,Maine layout that we originally reported in Scrapbook #53. He's added a "picture frame" proscenium arch to the front and focused and balanced lighting the full length of the layout. He's currently adding more fill lights and colored lights for night effects. John also points out, "Things you can't see are four speakers tucked under the upper valance that are playing ocean and country sounds
via portable CD players
. These CD's are from Fantasonics." These theatrical accents add considerable fun and realism to operating the layout.
Operation is enhanced by a dropleaf fiddle yard hidden to the left of the layout. Card movements are handled by a classic car-routing system that is now available as a commercial product from
Micro-Mark
. The nice signs that set off the staging are from
FOS Scale Limited
. For more stage tricks to enhance your layouts, see my
article
, "Theatrical Layout Design."
A PAIR OF SMALL PIKES USE SPACE-SAVING WYES
These twoshelf layouts are both designed using wye turnouts exclusively. As far as I know this stunt was originally proposed some 50 years ago by Cyril Freezer, longtime editor of Railway Modeller magazine in Britain, in order to squeeze a terminal station onto a 1x4ft shelf. Here the idea is used to produce two excellent contemporary layouts. (Note: wyes are switches that turn out equal distances on both legs, rather than having one straight leg and one turning leg.)

---

Briton Andy Basford designed this compact 1x4ft (30x120cm) layout to represent "a small terminus somewhere in the Southwest of England during the late '50s or early '60s. It will use a diesel railcar for passenger traffic and steam locos for the limited goods traffic. I'm going to use Peco Setrack (that I've already got lying around) for simplicity and the Peco Loco Lift as a small cassette fiddle yard [to the left]." The layout drawing was prepared with RailModeller software that can identify the sectional track sections by catalog number.

---
Slightly longer, but still using only four wye switches, is Quad Y by Versif, from Kirkby in Ashfield, Nottinghamshire England. He describes the layout this way: "There's a small loco compound along with an oil depot to the left hand side. To the right of those are some DPM buildings that take boxcars either in the building or at the loading bank, covered hoppers on the middle track (by the sand coloured pipe) or vegetable oil by the red pipe. (It's obviously a food industry of some sort!) To the right the Walthers Heritage Warehouse building is now a freezer store and takes reefers, with another industry alongside it that takes box cars, The front right track is a team track for boxcars.
"The fiddle yard is tucked away to the rear of these with the exit/entrance hidden by the highway overpass. The layout represents a shortline serving an industrial area abandoned by a larger railroad." There are more photos including construction shots at his Photo Album.
MAKE A PAPER PIZZA FOR YOUR HOLIDAY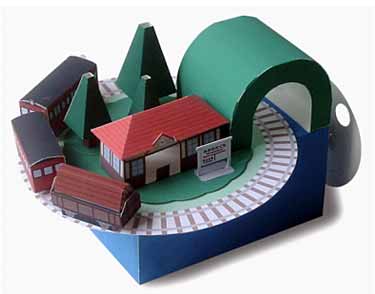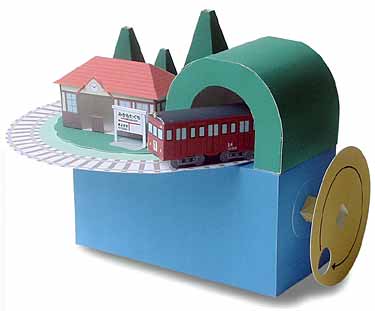 How's this for some kind of ultimate in model-making? This working pizza layout is made entirely of paper! It was designed and constructed by Keisuke Saka, in Japan. You simply insert your forefinger into the hole in the yellow circle at the side, and rotate the circle in the direction of the arrow. The train runs around in a circle, passing the station and moving through the tunnel. Starting, stopping, and speed are all completely under your control! Everything — including the gear train that makes the train go around — is made of heavy paper, printed out, cut, and pasted!
If you would like to make one of these charming little layouts for yourself, Keisuke-san has graciously posted the patterns on the Internet at his website (no longer active). There are two buttons to click — both download PDF files. One file contains the patterns for you to print and cut out of thin cardstock. The other is the assembly instructions–they're in Japanese but are copiously illustrated and easy to follow. Make yourself a new layout for Christmas! The gauge is about 11mm, so the scale is somewhere between TT and N.
SMALLEST LAYOUT FOR THE BIGGEST LOCO?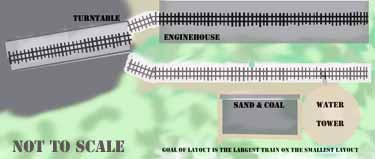 Keith Henn, from Chesterville, Ontario Canada, was inspired to design this micro layout after seeing a friend's HO model of the Union Pacific Big Boy — an articulated 4-8-8-4 loco that was supposedly the largest steam locomotive ever built. He designed this bookshelf layout as perhaps the smallest layout that would provide operation with a Big Boy model.
"In operation," Keith explains, "the big loco leaves the enginehouse to the turntable then backs up and takes on water and coal. The mainline is assumed to be the other side of the turntable." In HO, this layout could be built in a minimum space of about 42x8in (105x20cm). The "turntable" is actually an 18in sector plate, pivoted at one end but built to look like a full-fledged turntable.
As an HO Big Boy is about 18in (45cm) long, you could use an actual 18in turntable, if you can manage the extra width. Then it's possible to add two more tracks to expand operating possibilities:
One track could run behind the enginehouse, where the loco will be hidden from view, to serve as a fiddle yard or "sneak off" track — the route to the main line. In fact, if you contrived a cassette as part of that track, you could secretly turn the locomotive around for its return trip into the facility.
A second enginehouse track would give you a chance to operate some other motive power and make an even busier layout. In fact, the loco shed (20in long!) would be big enough to house a couple moguls or even consols on the second track … or perhaps a Challenger to keep the Big Boy company! I reckon this expanded layout might be 48x18in in HO (120x45cm)!
Anyone else have a very-small layout idea that could provide operation for a Big Boy?
A GREAT NEW USE FOR THOSE DEFUNCT MONITORS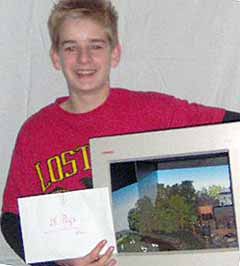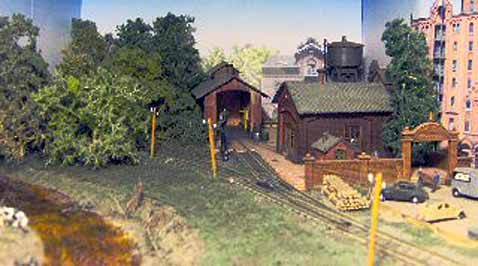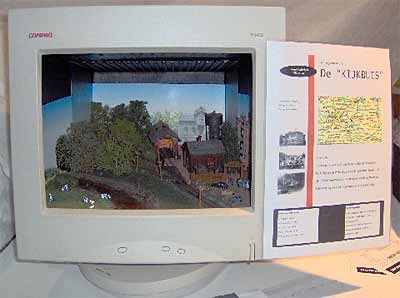 Kevin Boogaard (upper left), from the Netherlands, built this N-scale display layout as an entry in a small-layout contest. Size limitation was 2100 square centimeters, and originality was highly valued in the judging!
After consulting with his father, Martin, a long-time model railroader, Kevin decided to build his layout in an old computer monitor. The track plan is a simple Fork design (about all there is room for!) and the layout was built in a defunct Compaq 15in monitor (with the inside parts removed, of course!). Martin comments, "The lights do work, and he also added sound to all the buttons on the monitor. You'll also hear a locomotive sound when the train moves." Kevin won a cash prize in the competition.
There are more photos at their website.
A TAILORED DESIGN THAT PACKS IN A LOT OF ACTION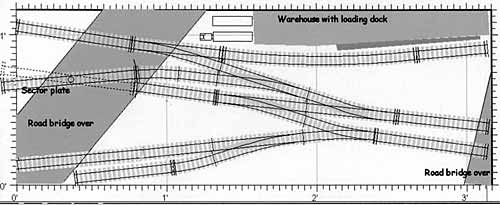 Shortliner Jack Trollope, from the Highlands of Scotland, sometimes helps his friends with their layout-design problems. One day he received an e-mail requesting layout ideas for a "38x14in board in OO scale, using on-hand track supplies of 1 wye , 2 LH and 3 RH points."
Being a talented designer, Jack almost immediately produced the design at right, which he has named St. John's Yard. In Jack's own words, "The left and right ends are hidden under overbridges, and all the tracks approaching board ends appear to continue elsewhere, to make it look bigger. You can leave wagons on a couple of the 'disappearing' tracks to make it look as though there are longer lines. All track-ends should hold an O8 size loco and at least one 10'wheelbase wagon [that's British four-wheeled stock]. The layout should feature lots of dirty urban atmosphere!
"A further thought suggests that two or three 15in double-ended cassettes (holding a loco and two cars) could be plugged onto the 'disappearing tracks' as required and would increase the 'play-value' and let stock be changed or turned around." A pretty versatile design in just over three square feet!
SECTOR PLATE SHENANIGANS
One "bump" frequently encountered in small-layout design is the "protruding sector plate." To save space, the plate is often stuck out into space beyond the actual baseboard. In order to make the layout portable, it then must either be made removable or cunningly hinged to fold out of the way. Here are two layouts that are taking the latter direction.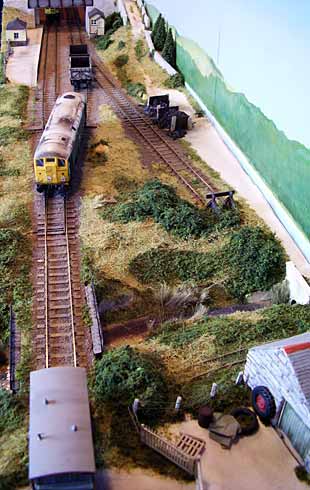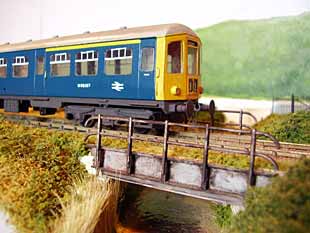 Neil Rushby, from York, England, began constructing this layout a couple years ago, then put it aside in the shed. Highlight of the design is a "foldaway" sector plate which pops open and aligns to the correct track when a train approaches. The two photos above show how it works. The unfinished baseboard measures 32x16in (80x40cm). Neil recently unearthed the project, dusted it off and sold it. 
---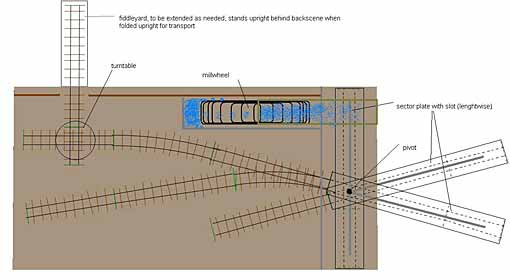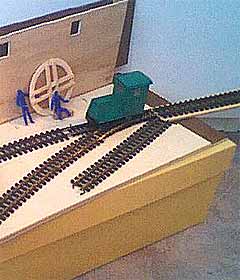 Coincidentally, in another workshop in another part of Europe, Alex Lehmann from Mannheim, Germany, has started construction on a shoebox layout in O9 (On18 – 1:45 scale on 9mm gauge), using a very similar idea. The track plan at left shows the original design, which featured a slotted sector plate that could align with either track and then slide into a neat stowage place. It's still early in construction, but the photo at right shows how Alex is interpreting his design in the actual construction of this 315x158mm (12.4×6.2in)
layout
. The finished railway, called Rittigsmühle (Rittig's Mill), will feature a large, moving water wheel. We hope to bring you up to date on this construction soon.
HOW TO FIT THE PROTOTYPE IN YOUR SPACE — REALISTICALLY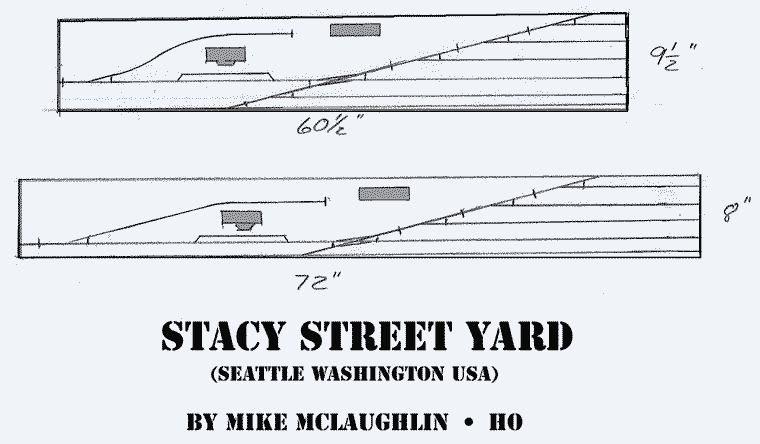 Senior track-planner Mike McLaughlin, from Denver, Colorado USA, forwarded this compact railway design which contains a bunch of good ideas we all can use. The man almost sparkles wth great ideas! Mike's commentary reads like this:
"Stacy Street Yard suggests how a micro layout can be adapted to a favorite prototype-based and prototype-appearing configuration, and also demonstrates that certain 'game' trackage arrangements can be superimposed on larger, more typical layout designs without physically modifying the existing trackage.
"The prototype locale is drawn from my own past in Soggy Sound Country, the Pacific Coast RR yard in Seattle. The PC was a 30-mile coal-hauling short line that also served various manufacturing industries and some waterfront piers (their turntable and roundhouse were on a pier) and had a vest-pocket yard switched by an 0-6-0 when I discovered it in the late 1940's. A neat feature of the yard was that the scale track, which frequently served as the yard lead, joined the yard ladder via a double slip switch, plus the scale house was part of the two-story yard office. I spent a lot of time there!
"Which brings us to Stacy Street Yard, the layout. A classic Inglenook, it's 8x72in (20x180cm) and covers the scale track (lead), double slip on the ladder, and two additional yard tracks (see lower drawing). The yard track that is an extension of the scale track holds five 6in cars, the other two tracks hold three cars each, and the lead a loco and three cars. Actually, the lead is just long enough for tha loco to be an 0-6-0 with tender.
"Note the cosmetic additional yard track and the fact that the ladder continues below the slip switch, all part of the effort to portray the prototype as it really was (a large yard at the Seattle waterfront). The track behind the yard office
(also cosmetic, and a side-door caboose would look great here) was called the 'McAdoo Track' because it was built during the USRA period in World War I when General McAdoo was the USRA Administrator … who says railroaders don't have
long memories?! The small building adjacent to the ladder is an old boxcar converted to a bunkhouse.

"So there you are, a classic Inglenook with the 5-3-3-car tracks and engine+3-car lead. It looks very much like the prototype and is still only four square feet, making it an Official Micro Layout!
"The second version (top drawing) is 9.5×60.5in (24x154cm), which adds another yard track (not used for solving the various puzzle challenges) to reinforce the impression that this is indeed a part of an active yard. Yard tracks are 3-2-2-cars and the lead is loco+2 cars, which is pretty much the 'smallest practical application' [as outlined in Carl's
2003 book, Creating Micro Layouts]. Again, I believe the physical appearance would be outstanding.
"So, how do you add an Inglenook to an existing layout? Simple, merely select a lead/ladder that has the minimum requisite car capacity and add little red (or blue) flags at the proposed car capacity limits. Switch within those constraints — gives you something to do on operating night when your operators are all snowed in!"
And there you have it… a bunch of ideas for packing a large prototype scene into a tiny space — and having excellent operations on it as well! One comment about the backdrop for this layout … I asked Mike if a skyline of Seattle would be an appropriate background. He replied, "Actually, unfortunately, no. The yard was down on the huge industrial waterfront fill south of downtown. Viewing on the micro yard is toward the west (and that's all that's possible), and it's sandwiched between the Milwaukee yard to the east and the Northern Pacific yard to the west…
"One backdrop possibility would be to cobble up a 'yard' background. You've seen pictures of yards taken at just above roof level, giving a view of row after row of car roofs. I'd have a few rows, depending on the height of the backdrop, and have them about 50% of full size. Then a pasted-on full-broadside of a cut of cars and a switch engine, at about 80% or so. This would be just in view behind the last real track, at the proper elevation. Also, think I'd have the most distant car roofs fading out, coming up to a better defined image as you get closer. In Seattle, the most distant cars are usually lost in the rain."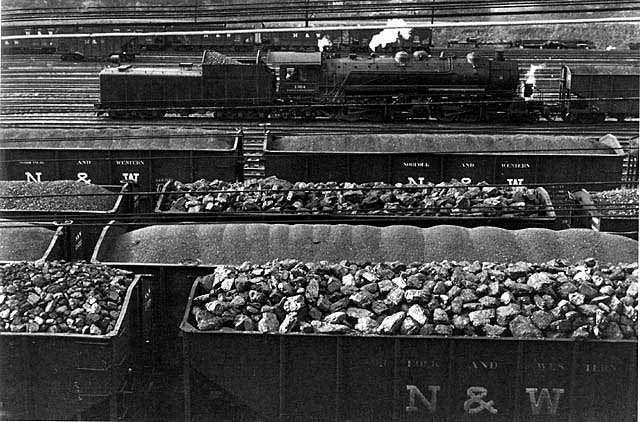 'Prototype' Backdrop for Stacy Street Yard. This classic photograph, taken by artist Ben Shahn in West Virginia USA in 1935, shows the kind of scene that would make a realistic and exciting backdrop for the Stacy Street layout.