PAGE 67a – November 2007
FLASH! Check out our Breaking News supplement for 15 November! FLASH!
H O T I D E A S F O R S M A L L R A I L R O A D S

It's time again for our twice-a-year Pizza Layout review … a look at the world's most popular layout
plan, which is basically a circle of track that looks as if it would fit nicely into a pizza box.
Coverage starts with the announcement of the English ExpoNG pizza competition winners
in Breaking News (Carl Arendt was the judge). We continue on this page with layouts
from many different countries and reports of several individuals who are showing
at least two pizza layouts. We applaud technical ingenuity as well, including
Vertical Pizzas (there are three – count 'em, 3 – of them!), a 3-D pizza,
and several videos showing layouts in action. You may need an
Adobe Flash Player plug-in for your browser in
order to view the YouTube video clips.
---
TINY PIZZA PROVES EVERYONE HAS SPACE AND $$$ FOR A LAYOUT!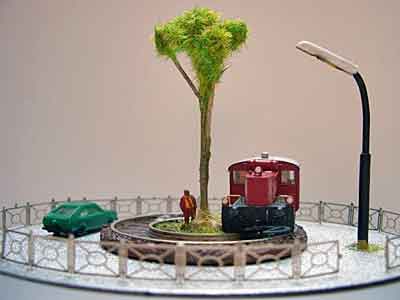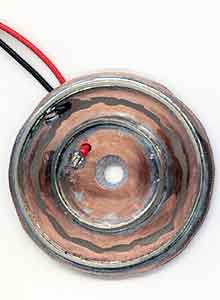 Ken Setzer, from Miami, Florida USA, built a seriously minimal pizza. It's Z scale, the size of U.S. letter paper — 8½x11in (216x279mm). "Minus the trains and transformer, the whole thing cost about $20 to build," Ken reports. "I use a loco and boxcar from a Z-scale starter set. The one switch leads to a washed out bridge." The name? Dead Man's Curve!
---
GERMAN STUDENTS BUILD CLASS PIZZA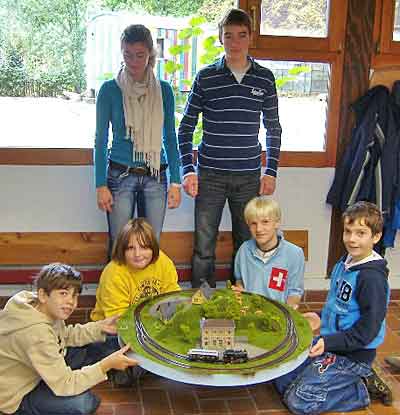 Thomas Sieben, from Krefeld, Germany, is a school teacher as well as a model railroader. He works with his pupils to make railroads as part of his classes at Freie Waldorfschule Krefeld. Thomas sent us this photo of one group of proud young modelers with their pizza layout. They are, seated from left: Jonas Freis (age 9), David Ouwens (9), Victor Küppers (9) and Marco Hay (10). Standing behind them are their mentors, Thomas's teenaged assistants Andrea and Michael Hinz (brother and sister).
The layout is H0 scale and is 90cm (36in) in diameter. Looks like a great class project!
---
DCC PUTS TWO LOCOS ON ONE PIZZA!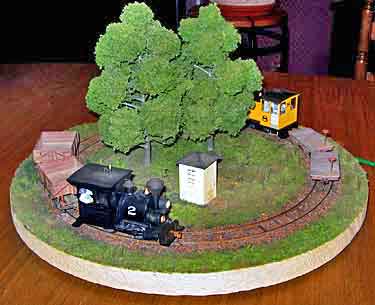 Jim Pipkin, from Carrollton, Texas USA, built his On30 (0e) pizza on a 16in (41cm) diameter foam disk from a crafts store. Unusually, he uses DCC to operate two trains at once on this tiny layout! You can catch all the action on the YouTube video above. Just click on the triangle to start the show.
Jim explains, "Bachmann DCC controllers are used to control the trains. Normally the layout sits on my desk at the office where I run one train at a time to reduce stress or kill time while on hold on the telephone. (Fortunately I own the business and can get away with things like that!)
"Running two trains at once on so small a layout requires a lot of eye-hand coordination. It is a particularly difficult challenge when viewing the two trains at a low angle. Looking down from above is much simpler."
---
PIZZA THEMES CAN FEATURE GENTEEL DISINTEGRATION…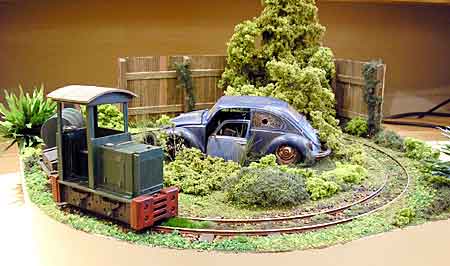 Steve Cook, from Northampton, England, tried a Gn15 pizza layout as his first venture into micro layouts. The 14in square (36cm square) baseboard is 9mm plywood braced with 40x10mm framing.
"The pizza used a lot of Woodland Scenics products and an eBay-purchased Beetle, bought for the princely sum of £2.21!" Steve adds. He has since begun another micro layout, expanding this time to use one turnout!
---
… AND CAN EVEN BE BUILT WITH STUFF FROM YOUR JUNK BOX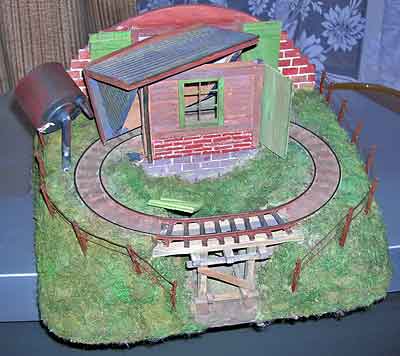 Andy Spooner, from Sussex, England, was bitten by the On30 (O-16.5) bug after reading this site. He scratchbuilds his own locomotives, so designed this 23x16in (58x41cm) two-level pizza layout as a loco test track. Overlapping twin circles provide opportunities to test run several locas at once.
"It wes built entirely from the junk box. The total cost was less than £2!" Andy remarks. Looks pretty good to me!
---
A TRIP TO THE SHORE…


John Lucas, from Troy, Alabama USA, sent along an update to his Bear Point Railroad that was featured in Scrapbook #55. Since last year he's added people, animals and structures to this 2x2ft (60x60cm) N scale layout.

"One advantage of micro layouts," comments John, "is that you can just pick them up and take them outside to shoot pictures. The natural lighting makes a big difference!"

For more pictures, see John's website.

…AND TO THE MOUNTAINS


After reading one of my books, Mason Cutchin, from Chapel Hill, North Carolina USA, decided to give micro-layout building a try. He sent a sketch of his two level pizza plan, an HOn3 mining railroad for gold or gems.
---
KIWIS MIX PIZZA AND BEER IN SEVERAL WAYS!
Photos by Paul Napier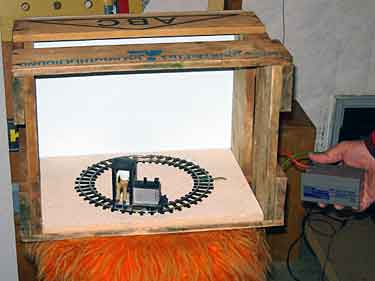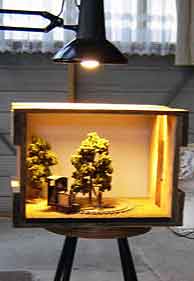 Gavin Sowry, from near Wellington, New Zealand, is building two pizza layouts. One occupies a New Zealand icon — an ABC wooden beer crate that measures 13x8x7in (33x20x18cm). Radius is 3½in (9cm), and it rests, appropriately enough, on a bar stool. At left is a construction photo, and the finished product, illuminated by a desk lamp, is shown at the right.
Gavin's second Gn15 pizza layout, Haywards Estate Railway (still under construction), is shown below. Gavin explains, "The pizza parlors over here are going in for what they call 'slab' pizzas, basically rectangular. This layout has the essential ingredients of a pizza layout, but is not round. So to complement the pizza layout, I now have the slab layout! For the record, it's 24x43in (61x109cm) with 8in (20cm) radius curves using Peco On30 track."
Photos by Rob England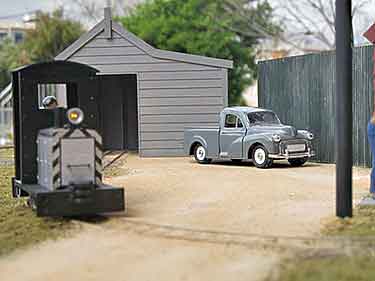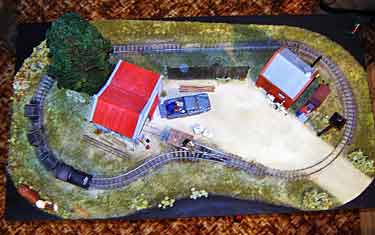 ---
REVOLVING PIZZA SHOWS EVER-CHANGING SCENERY
Akihiko Hashimoto, from Japan, created this revolving N-scale pizza layout, Soumatou ("Phantasmagoria" in English). The YouTube video (above) shows the layout in operation, rotating at a steady rate with the locomotive speed varying under the operator's control. The layout is 45cm (18in) in diameter.
Aki also sent photos of the well-done scenery on his layout. Below is shown his scratchbuilt model of a Japanese Buddhist temple, a landmark in most villages and towns across the country. For more information and photos, visit Aki's website.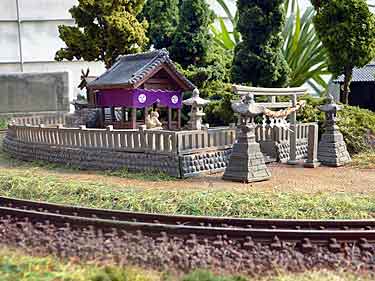 ---
HOT PIZZA DELIVERED ALL THE WAY FROM ST. PETERSBURG
Leonid Moskalev, who lives in St. Petersburg, Russia, built this scenic pizza layout in TTm scale — 1:120 running on 9mm gauge. The layout represents a meter-gauge line in a rural area, with a spectacular high viaduct beside a tall waterfall. Leonid has been model railroading for 20 years, and is the author of a book, "Russian Narrow Gauge Steam Locomotives" (1990).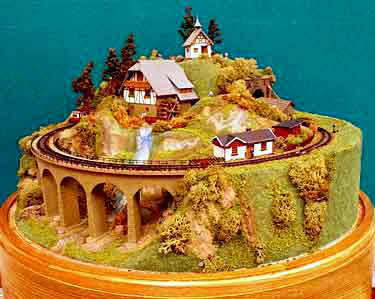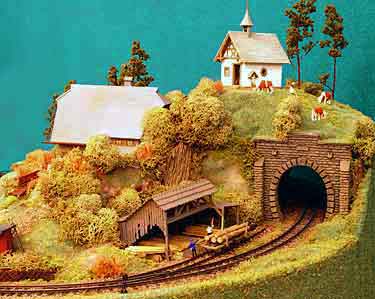 ---
HERE'S A NEW TWIST — A PIZZA PRETZEL!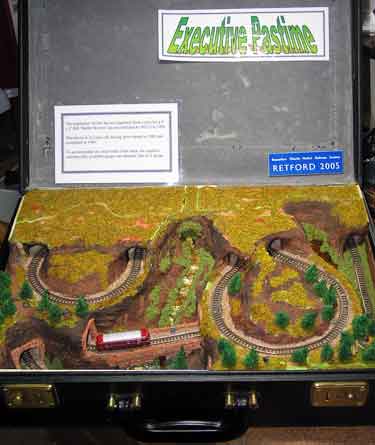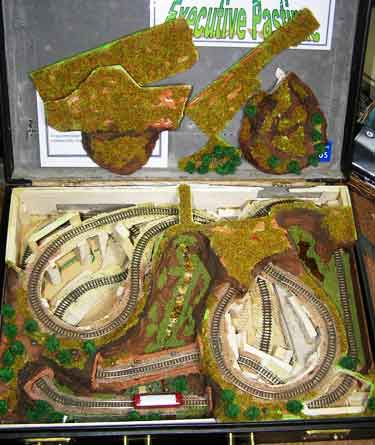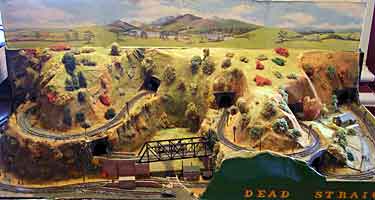 Andrew Glover, from Retford, Notts, England, downsized Cyril Freezer's well-known "rabbit warren" layout, a OO9 (HOn30) design for 4x2ft. Andrew fit the design into a briefcase-sized Z scale railroad. Besides managing the grades, the big challenge was to provide access to all areas for track cleaning and loco rerailing. Andrew's solution (above right) was to build five liftable scenic areas. Incredibly, when he introduced Executive Pastime at Bassetlaw (North Notts) Railway Society, fellow-member Robin Breddy revealed that he had built the same layout in N scale 24 years before, and fetched photos of Dead Straight (left) to prove it!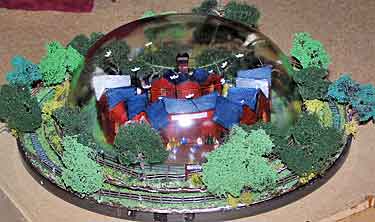 In addition to pretzel-style pizzas, Andrew makes more conventional, circular pizza layouts — but in unconventional settings! At right is his Spin Light Railway, built on a scrap washing machine door with hinge, door frame and transparent dome.
The track is 6.5mm (Z gauge), used as N scale narrow gauge. There are two concentric circular tracks, one inside the dome and the other outside. Staying in theme, the scenery depicts "Widow Twankey's Laundry" and "Abanaza's Soapworks," named after characters in the pantomime Aladdin. You can see the Widow hanging out the laundry (below right).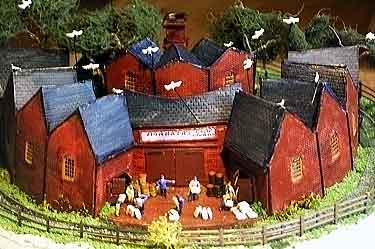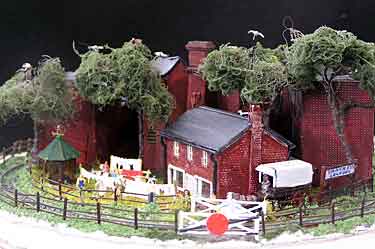 ---
THIS 'MULTI-SEASONED' PIZZA SOLD AT AUCTION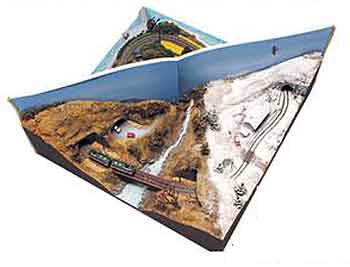 Bill Nichols, a U.S. Navy man stationed in Japan, sent me this clipping from Japanese Yahoo Auctions, showing an interesting four-season pizza — (at left) spring and summer, and (at right) autumn and winter. It's modeled after a well-known picture book, and the backdrop is shaped like an opened book. Builder is Diorama Display Factory, Inc. whose work is displayed on their website including this layout and another interesting pizza layout.
---
SOME PIZZAS GET TO GO AROUND TWICE
Here is a video by Pahan Ranasingha, from Daytona Beach, Florida USA, showing his twice-around pizza in operation.
Click on the photo to start.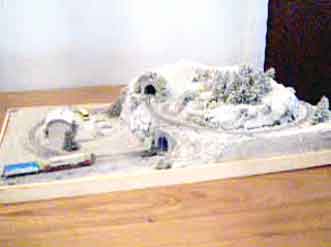 Click on Photo to Open Window and Start Video
This little layout is built in Z scale, and believe it or not, measures only 1x2ft (30x60cm)! Pahan built and sold it, an activity he plans to continue as a business. For more information, check out his website, DCC Magic.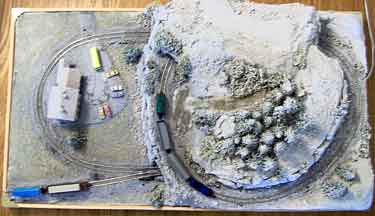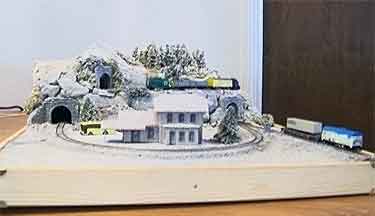 ---
A PAIR OF POTENT PIZZAS FROM JAPAN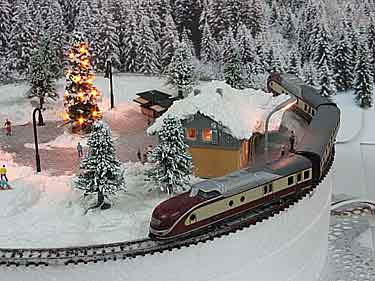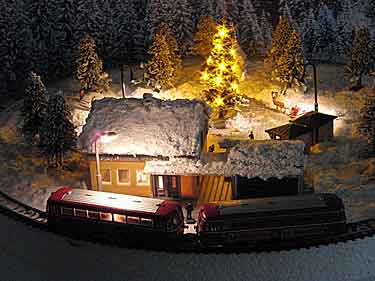 Yukio Kashiwa, from Japan, sent photographs of two Z scale pizza layouts. One (above) is completed; he calls it his Christmas Cake layout. It's complete with lighted tree, lots of snow, and of course, a high-speed train. Kashy has a web page with many other scrumptious photos.
The other layout (below) is still under construction. It's built in an executive briefcase and depicts a wine-growing and shipping activity, including a vineyard and tank cars for the finished product. Again, there are many more photos at Kashy's website.

---
PIZZAS AND JAM — A GREAT COMBINATION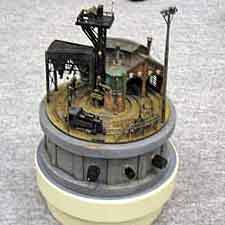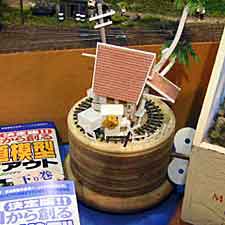 Also from Japan, this cornucopia of interesting small pizza layouts comes from JAM, the 8th International Railroad Model convention, held in Tokyo on 10-12 August 2007. This web page has lots more photos from the show.
One of the most interesting layouts is the vertical pizza (lower right), which rotates like a bicycle wheel while the railcar remains in place and scenery flies past behind it!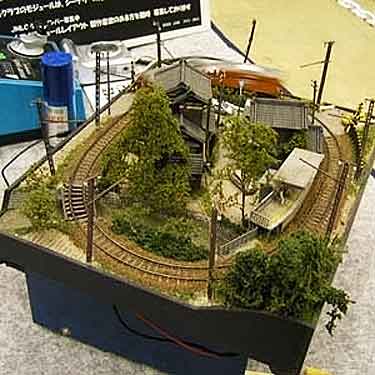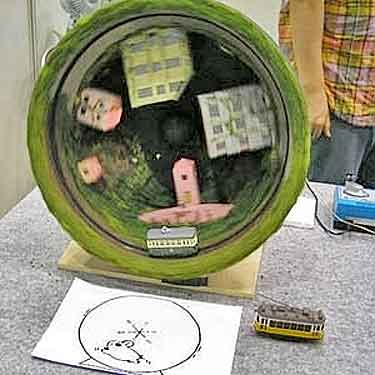 ---
Q. WHAT'S BETTER THAN A VERTICAL PIZZA? A. TWO VERTICAL PIZZAS!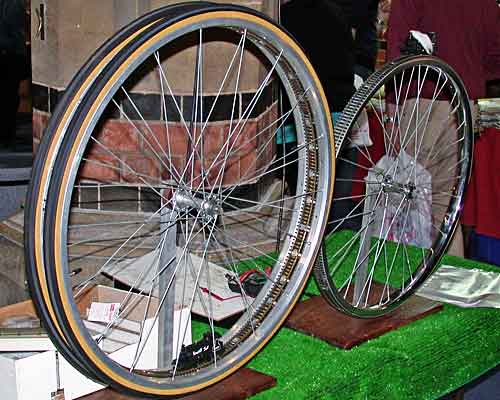 Richard Glover, of England's Greenwich and District Narrow Gauge Railway Society, ran across these two vertical pizzas (right) at this year's OO9 Society annual general meeting.
Richard reports, "In one the loco is inside the vertical circle of track and in the other outside. The loco inside the circle is always stable, but the loco on the outside has a fine wire to keep it in position. In both case the engines drive the circles of track around." (Note: the puff of smoke on the "outie" is the old photographer's friend, teased cotton!)
Unfortunately, Richard didn't record the layout builder's name; if he will identify himself, we'll give full credit here!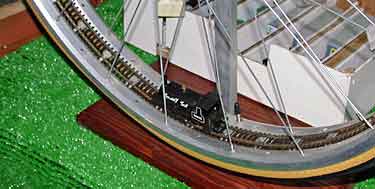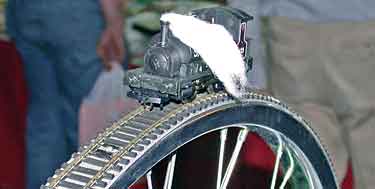 ---
THE ULTIMATE: PRESENTING … THE 3-D PIZZA!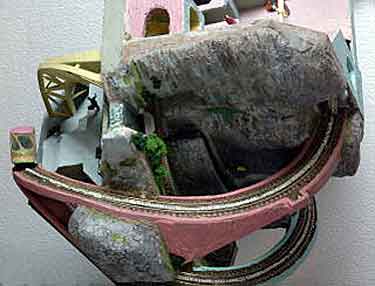 This awesome 3-D layout may be some kind of ultimate design for a pizza! It's by Koike Noriyuki, whose nickname is Rehsi. With Rehsi's permission, we show a few photographs of his pizza d'arte here … there are many more at his website. I recommend it highly.
To give you a feeling for what's involved, here are also a conceptual drawing (lower left) showing the layout's TV-stand mount, and a photo of the layout under construction (lower center) — if you look carefully you can trace the improbable path of the little tram as it circumnavigates the scenery three times! As you can imagine, the technical challenges in creating such a work are staggering. Rehsi describes "how he did it" on another web page … you might want to try a Babelfish translation from the Japanese, to capture details.
The concept is based on M.C. Escher's famous lithograph, Relativity, (lower right) in which gravity appears to work in three different directions at once. It is indeed a privilege for me to present Rehsi's ultimate three-dimensional pizza.
| | | |
| --- | --- | --- |
| | | The prototype: M. C. Escher's "Relativity" |