H O T I D E A S F O R S M A L L R A I L R O A D S
(Title photo by Jonathan Scott — see article below, under N Scale.)
One of the most popular "shapes" for a minimum-space railroad is the venerable Shelf Layout. Whether located in a cupboard, closet, desk, inglenook corner, spare room, attic, loft, cellar or garage, these end-to-end railroads are generically called Bookshelf Layouts, and they're found all over the world. I was astonished to discover in my files at least one example of a bookshelf line in virtually every major modeling scale! So here they are, starting with the smallest scale in general use (Z) and moving up to the largest (G).
---
Z Scale (1:220, 6.5mm gauge)
THIS 'SHELF' LAYOUT IS BUILT ON A 12-INCH RULER!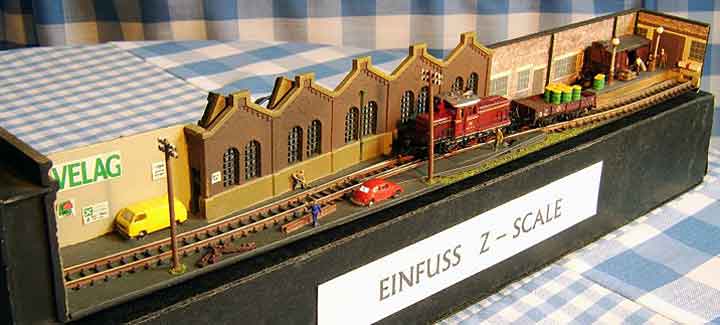 Although it's a bit small to be called a "shelf" this venerable layout is clearly a member of the breed. It's a Z-scale railway built on a one-foot (30 cm) ruler by two Englishmen &mdash Simon Hargreaves and Graham Weller. It was an early demonstration of how much railway could be operated in an extremely small space using Z scale. Graham sent me the photos, with the following description.
"The layout is called Einfuss ("One Foot") because it is built on a 12-inch plastic ruler. It was started by Simon, who passed it on to me for completion. Track work is standard Märklin and consists of a headshunt (drill track), one hand-operated point (switch) and two sidings serving a freight depot. The headshunt can hold a small loco (diesel shunter) and two wagons, and each siding can also hold two wagons. It is wired up for operation and simple shunting moves can be performed. The loco and wagons are stored in a large matchbox and the whole thing can be transported in a jacket pocket! It has appeared at many model railway exhibitions here in England and always attracts a lot of attention."
The layout design is an excellent example of a Fork layout, a simple pattern that can provide basic railroadlike operation with very little investment of time or money.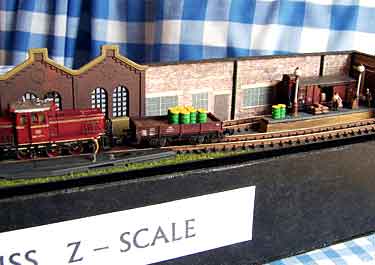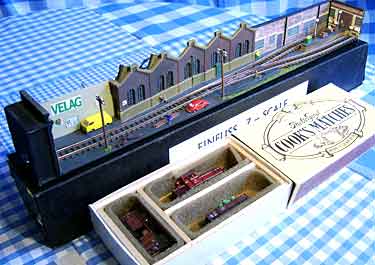 ---
AND THIS 'SHELF' LAYOUT LIVES ON A WINDOWSILL


Richard Minutillo, from Boston, USA, built this Z-scale empire, the Roslindale & West Dennis Railroad, to fit on a windowsill. Using on-off sectional controls, Richard is able to run up to three trains on this little shelf! He keeps it in his home office window and finds it very relaxing after a hectic day.
David Bromage, from Australia, first called my attention to Richard's website (ain't the internet amazing!). David, no mean designer himself, pointed out that "the design does have considerable operating potential — at least six places to spot cars plus an interchange track."
But Richard sadly points out that a small bird recently ripped up much of the layout. It got into the house and tried to escape through the bay window. In the process, it treated this Liliputian landscape somewhat like the giant Roc that landed on Sinbad … unwittingly spreading mayhem and destruction in its path. Richard is now redesigning and rebuilding this small world, and we hope to see photos of a renewed layout soon.
---
N Scale (1:160, 9mm gauge)
GENUINE BOOKSHELF MAKES THE MOST OF IT

Jonathan Scott's newest railway, Newbury, is particularly appropriate for this page. As Jonathan puts it, "This one is not just a 'bookshelf' layout, it is a bookshelf! The fiddle yards live behind narrower shelves, and the trains emerge from tunnels to reach the station. This layout is not just fully automated, it detects the approach of a person by using sonar (lower left photo), wakes up DCC locos and runs them using full DCC signalling, then parks them and turns off the lights when it detects that it has been left alone. I built the shelves using Macrocarpa (a popular NZ white wood) starting from rough-hewn timber."
Newbury is described in more detail on Jonathan's website — including the uNusual origiN of its Name! The Scotts live in Waikato, New Zealand (North Island).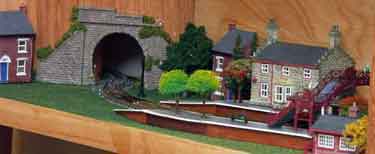 ---
TT Scale (1:120, 12mm gauge)
GERMAN LOCO DEPOT USES 'FORK' TRACK DESIGN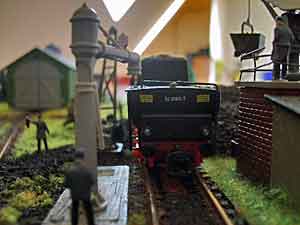 Felix Fichtelmann, from Leipzig, Germany, built this tiny 1960s-style German locomotive depot (another Fork layout) in just 104x37cm (41×14.5in). It's built with space-saving Tillig TT track.
The locomotive service track (with coaling station and water crane) is protected by a signal which must be green in order for the driver to proceed into the first part of the siding. After an interval, he will also have access to the rear of the siding or can proceed into the engine house. Shunting railway cars is also an operating activity for the layout between locomotive movements, notably moving the special car that hauls away ashes dropped by the steam locos!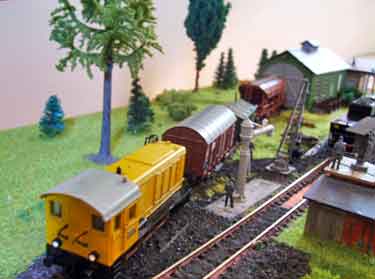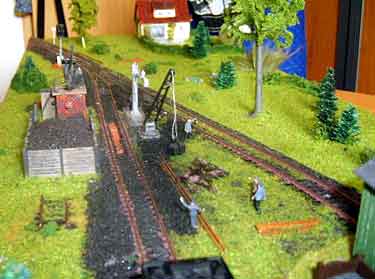 ---
H0n30 Scale (1:87, 9mm gauge)
A MAINE TWO-FOOTER UNDER CONSTRUCTION IN NEW ZEALAND!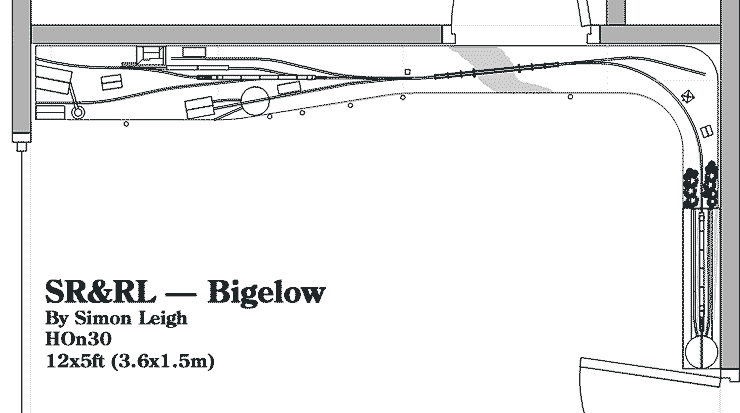 Simon Leigh, from Auckland, New Zealand, is building this layout based on Bigelow, the terminus of one branch of the sprawling Sandy River & Rangeley Lakes two-foot-gauge railroad in Maine, circa 1919. Scale is HOn30, using 9mm N-scale trackage to represent two-foot gauge in 1:87 scale. Though slightly wider than exact scale, this gauge is frequently used in order to take advantage of readily-available commercial mechanisms and equipment.
The layout takes up an overall space of 12x5ft (3.65×1.52m), but the actual area of its L-shaped baseboard is only 16 square feet. It uses just six turnouts to accurately model the track plan at Bigelow, and the line stretches away to a fiddle yard consisting of "a three track sector plate, with a loco length turntable at the far end, both sharing a common pivot point… The Salem Stream bridge is a removable section over the doorway to my elder son's bedroom, whilst the layout itself is in our dining room," Simon explains. We hope to bring you some photos in future as construction continues.
---
H0 Scale (1:87, 16.5mm gauge)
THIS VERSION OF BOX STREET YARD FITS ON A 3-PART SHELF


Chris Chinery, from suburban London, England, has produced a particularly appealing example of Jack Trollope's classic layout design, Box Street Yard. Chris's version, Mason's Bridge Yard, is a 9x1ft (2.7×0.3m) portable shelf line built from well-braced foamcore. Setting is a small industrial town in Virginia, USA, sometime in the 1940s to 1960s.
Chris discovered the Box Street design at this site, and has revealed full details of the layout and its construction and operation on his own website. The layout is available for exhibition in Southern England.
---
U.S. STYLE SHELF LINE CHANGES ERAS EASILY

Meantime, in Missouri, USA, Forrest Scott Wood is building an HO shelf line called Wood Summit on a hollow door, 80x18in (203x45cm). Forrest likes "Old Time" railroads, but his wife (an active participant) enjoys more modern eras. So the layout is carefully designed to use either 1950s stock including diesels (left) or period steam (above) along with some scratchbuilt cars.
---
OO9 Scale (1:76, 9mm gauge)
WINTER SNOW CHALLENGES THIS WELL-LIT NARROW GAUGE LINE


Michael Appleton, from Folkestone, Kent, England, has built a charming snowscape in OO9 scale on a 4x1ft (120x30cm) shelf. (Actually, he built it for a winter scenery competition on the New Railway Modellers Forum and won the bronze.) The nicely-lit little layout features a mine, a factory, and some possibly-recognizable inhabitants who arrived by sleigh! More photos and construction details are here.

---
OO Scale (1:76, 16.5mm gauge)
BRITISH SHELF FEATURES INDUSTRIAL SHUNTING YARD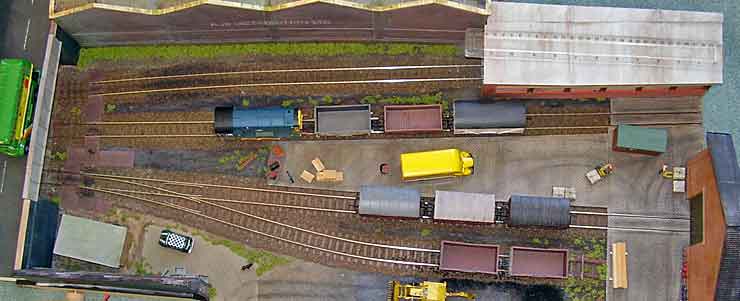 Anthony Bilton sent along some photos of his Neptune Street Yard, a 1980s industrial scene that captures some of his memories from growing up in Hull, England. As I was preparing this Scrapbook, the February 2008 issue of Railway Modeller magazine arrived here in the U.S., and whaddayaknow!? It features Anthony's layout in full colour! So from the selection of photos that he sent, I am showing you the only two that did not appear in RM! For more, see the issue!
The layout measures 60x14in (152x35cm) and is built on two sections. The track plan shows clearly on the above photo, and to the left under the bridge is a two-track sector plate forming the fiddle yard.
---
EM Scale (1:76, 18.2mm gauge)
FIRST 'SERIOUS' RAILWAY IS A TERMINUS-TO-FIDDLE SHELF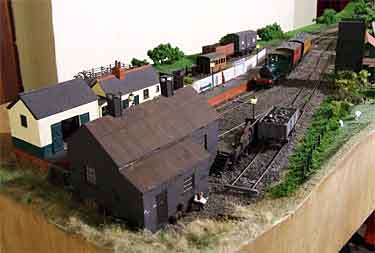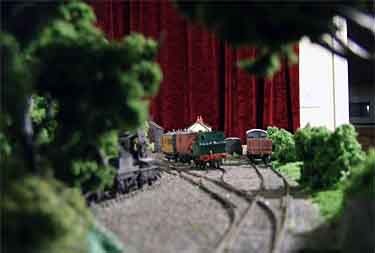 Lower Finesse, a 64x18in (162x45cm) shelf line, is the first step beyond "out of the box" modeling for Richard Ward, from Ipswich, England. Track plan is a basic Tymesaver, with a terminal runaround loop (escape track) and several sidings leading to a short mainline run to a sector-plate fiddle yard. Richard has chosen EM scale, a British attempt to improve OO realism by adjusting the gauge closer to prototype standard gauge while still using 4mm to the foot. Track is mostly handlaid, with active support from several manufacturers and the E.M. Gauge Society, who also supply change-out wheelsets. E.M. stands for "Eighteen Millimeters." (A further refinement, called P4, uses 18.83mm gauge with 1:76 trains.)
Along the line from Lower Finesse, en route to the fiddle yard, we pass Pratt's Garage, a scenic highlight adapted from John Ahern's classic "Bert's Garage" model. Photos below show this attractive feature both by day and by night.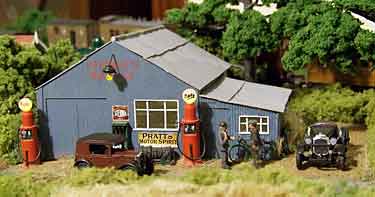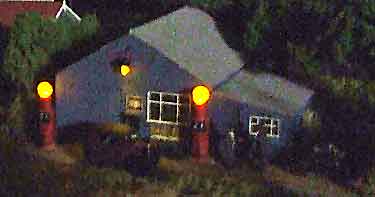 ---
S Scale (1:64, 7/8in/22.2mm gauge)
U.S. STYLE STREET SWITCHER UNDER CONSTRUCTION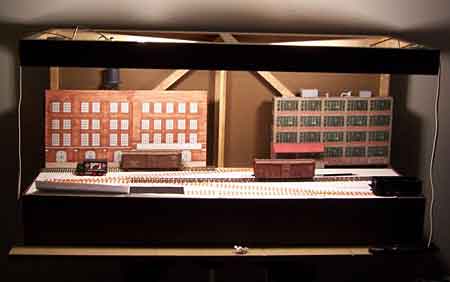 An American counterpart to Neptune Street is Lewis Street, being built in S scale by Tom Potthast from San Antonio, Texas, USA. The layout is based on a riverfront industrial area in St. Louis (on the Mississippi River) and will feature a number of actual structures from the area. Shown in the photo is one 48x18in (120x45cm) module with computer printouts of the real buildings. Notice the sturdy benchwork, including a light valence. Tom has plans for a future article on his approach to lighting, based on experience with museum displays. This dual-module layout design will require an extension to the left to act as a yard lead. Two more modules will be added later on that side to complete the projected scene of Old St. Louis.
---
O Scale – U.S. (1:48, 1¼in gauge)
'SEMI SCALE' (3 RAIL) CAN WORK IN MICRO LAYOUT SPACE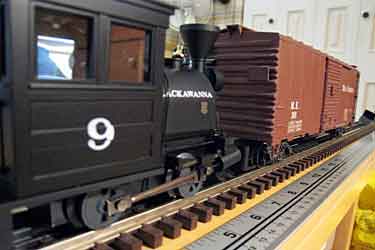 In the process of examining the possibilities for an O scale standard-gauge micro layout, I've noticed that what we used to think of as "toy trains" (O 3-rail) have lately become pretty good-looking scale models. Obviously a micro layout for these giant units is out of the question, so I drew one up. It's a 3-2-2 Inglenook no less, and more, using Atlas-O track and O-54 switches. The sector plate extending out from the 4x1ft (120x30cm) shelf is removable, plugging into an electrifying microphone jack in the baseboard.
The layout was designed for the 6-inch-long K-Line Porter 0-4-0 (shown in the photo) and 40-foot cars. For a better look at the loco (a scale model in every respect but wheels) see the Micro/Small Layout Wiki.
---
O Scale – British (1:43.5, 32mm/16mm gauge)
DIMINUTIVE DUAL-GAUGE DISPLAY DOES DOUBLE DUTY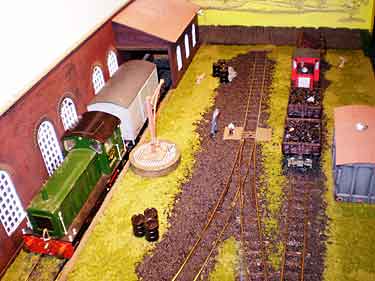 Being British, the rolling stock on Colin French's O-scale layout, Ffodos Treacle Works, are slightly larger than their American counterparts. He makes up for it by building a dual-gauge O layout in a 47x18in (119x45cm) space. The 16.5mm gauge portion would probably be called On28 in the U.S. The little line hauls raw treacle ore (aka "black gold") from the mine to the treacle works, where the tubs are emptied and returned to the mine. The standard gauge line at the rear is strictly a push-pull operation, going back and forth automatically at exhibitions. The spurs shown in the photo continue below the camera into the fiddle yard, where all operations are manual. Colin sums it up in a masterpiece of understatement: "Probably the best-kept secret of Mid Suffolk was the Ffodos Treacle Mine." [Ed. note: In the U.S. "treacle" is known as "molasses." E. L. Moore also built a model facility for mining and processing it.]
---
1/32n2 Scale (1:32, 16.5mm gauge)
FERROEQUINOLOGY FINDS FRIENDLY FODDER IN FARMING FIELDS


Peter Marshall, who lives near Kettering, Northamptonshire, England, has a real eye for detail in this farming railway layout, Two Sisters Farm, built in 1:32 scale (3/8in to the foot). Using this scale (50% larger than O) gives him the opportunity to display his collection of model farm tractors (several are visible in the photos). The 16.5mm gauge is used to represent a two-foot prototype narrow gauge.
Peter explains, "The layout depicts a fictitious two foot narrow gauge light railway serving a large estate in the Lincolnshire fens in the late fifties and early sixties. It is very loosely based on a similar railway that actually existed from the 1920's until the late 1960's… The model features the small terminus at Two Sisters' Farm, the largest of several farms that make up the estate. There is a small engine shed with minimal facilities for coaling, watering and servicing the small but varied fleet of locomotives and rail trucks. There is also a small workshop where tractors and implements for the whole estate are serviced and repaired."
Two Sisters Farm was originally built for a competition sponsored by the Cheshire Railway Modellers On-Line Club, and more information about it is on the club's website.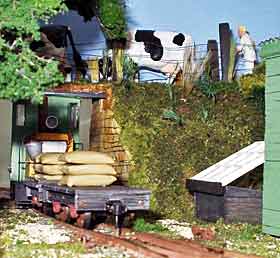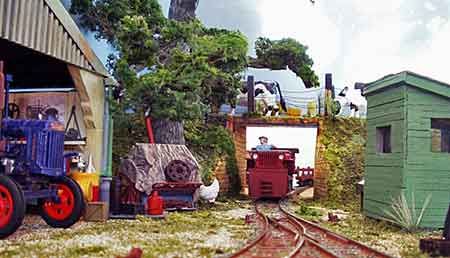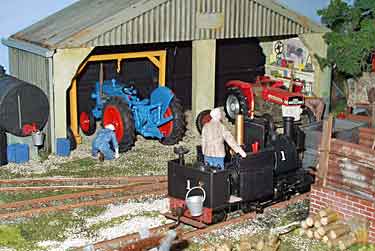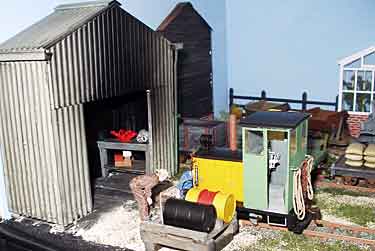 ---
Gnine Scale (1:22.5, 9mm gauge)
TINY G LAYOUT PUTS WORKING MODEL IN REACH OF ALL


Steve Bennett, from Exeter, England, started out to explore a new scale/gauge combination called Gnine (G scale on 9mm gauge). In the process he created what may be one of the smallest large-scale layouts ever built … and possibly the simplest minimum-space shelf layout that can retain your interest in operations!
To start with, all that's required to build this 12x6in (30x15cm) layout is some straight track and some cardboard for scenery! To quote Steve: "All I had to purchase was a yard of track and a jack plug and socket for the power feed. Total cost £3.50, thats about 7 U.S. dollars at the current rate." This particular layout, Vanguard Works, uses 9mm gauge, but any scale/gauge combination should be fine. You'll also need to build a small cassette (Steve's measures 6x2in or 15x5cm) with another length of track and a couple paper clips attached for positioning onto either of the visible tracks (see closeup photo).
With a little ingenuity, you can invent a variety of operating systems and games to "play" on this tiny model railroad. As either a beginner's project or a recreation for an old hand, it's hard to beat. The rolling stock shown are some of Steve's Sidelines Models range of products. For more information about this fascinating idea, see Steve's Gnatterbox thread.