H O T    I D E A S    F O R    S M A L L    R A I L R O A D S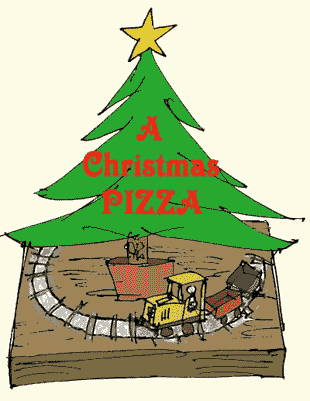 Sooner or later it comes to all of us: the urge to build a small layout in some kind of container.
Past Scrapbooks (#34, #38 and #65) have displayed layouts built in containers that ranged
from cake blister packages to old violin cases and disused microwave ovens. And here are a
few more to further stoke your imagination. Be sure to see the working gum ball machine!
---
6.5mm Gauge: Z RAILROAD IN A COFFEE TRAY

Marco van Zoen, from Zeist, in the Netherlands, built this Z-scale Märklin layout in a wooden coffee tray measuring 52x36cm (20.5x14in). He calls it Halte Bosch en Duin, after a pair of small, wayside halts on a former rail line to Zeist.
Highlight of the layout are the many small scenic vignettes (see small photos below). The houses are made from Z scale plastic kits, scaled down N scale plastic kits and some souvenirs from Amsterdam. The backscene is made from a postcard. Marco once took the layout with him to work and amazed his colleagues with its small size and good running!

---
9mm Gauge: N RAILROAD IN A COFFEE TABLE
American Chris Plumley sent an update on his new, hypermodern coffee-table layout (his third, as reported in Scrapbook #65). Provisionally named CT-3, the layout will be housed in a specially made, sculptured wooden coffee table being created by professional wood sculptor Kerry Vesper.
Chris comments, "Until recently, the layout (at my home) and the table (at the sculptor's studio) never met each other. They are being built to a common specification, but they are completely separate projects. Within the past few weeks, they finally met (briefly) at the sculptor's studio. The layout is on an electric lift, so it can be operated in the raised or lowered position. In the lowered position, a glass top can be placed over the layout." The photos below show both positions. For more information see Chris's website.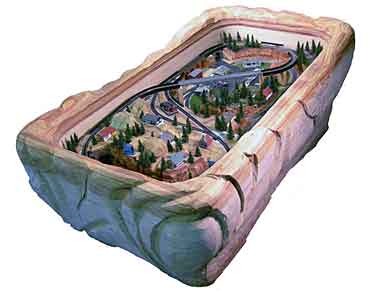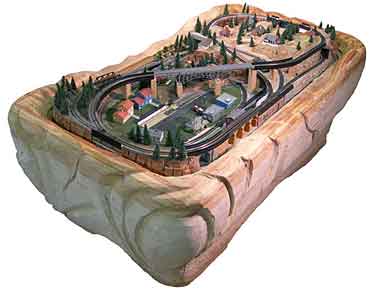 ---
9mm Gauge: On18 PLAN FITS UNDER THE BED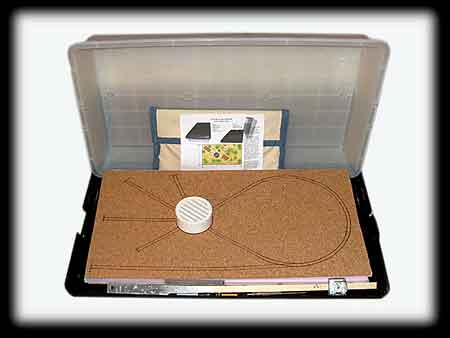 Brian Wilson, from Victoria, British Columbia, Canada, is building the On18 El Tortuga & Pine Creek Railroad to fit in a Rubbermaid™ under-bed storage box measuring 32x18in (81x45cm) by 5in (12cm) high. The design is a cross between Bob Moroch's Pine Creek RR (see Scrapbook #66a) and Don Sibley's El Tortuga layout (in Scrapbook #61a).
The spur at the bottom of the plan will be connected to Brian's Moore's Yard layout, often featured in these pages. Operations on this new line will be similar to Bob Moroch's operating pattern, adapted to take advantage of the "out and home" capabilities of the Sibley-inspired balloon loop. Stay tuned for progress reports on the ET&PCRR!
---
9mm Gauge: BRIEFCASE CONTAINS PORTABLE PIZZA IN N-SCALE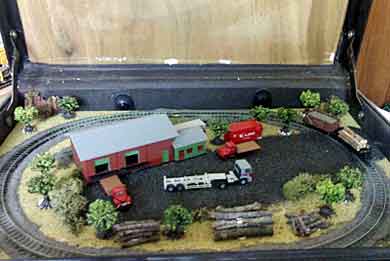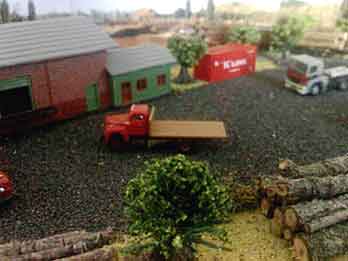 Andrew Frame, from Napier, New Zealand (North Island), sent photos of his "first attempt (in progress) at a micro N scale breifcase layout. The track is about a 10in diameter oval with a faux siding that runs off to the back of a log mill and warehouse." Andrew still is looking for an appropriate locomotive, and he's thinking about "autonomous battery power" to make the layout truly portable. His initial experience has helped Andrew develop a taste for micro layouts, though. He reports, "I managed to get hold of a beautiful, thin plywood camembert cheese box/wheel that measures 13in [33cm] in diameter, and I want to make a 'cheese pizza' (urgh! horrible pun) out of it."
---
9mm Gauge: CLEVER CONTAINERS FROM MORO DESIGN IN JAPAN

Akihiro Morohoshi, from Japan, is well known for his beautifully designed and crafted layouts, which he often exhibits under his business name, O.Moro Design. See Scrapbook #68a for a good example.
Moro recently announced several new HOn30/HOe layout designs, including this clever gumball machine (left), Gacyacya Mining. It contains an operating layout featuring a gumball mine and a little railway to bring the mine's output to a dumping hopper (right) that channels it down through a chute to the viewer.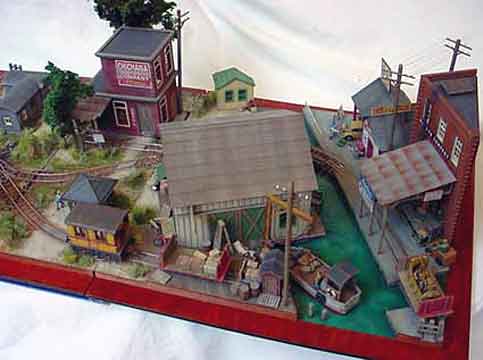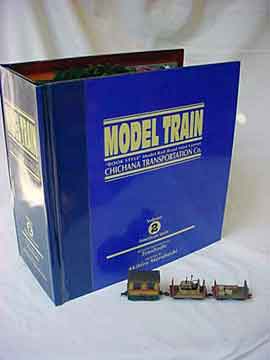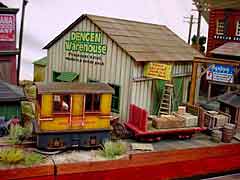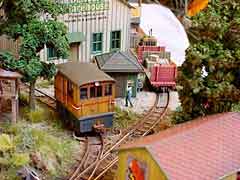 And Moro has also introduced another HOn30/HOe design, Chichana Transportation Co. This little switching layout folds up in three sections and fits on a shelf like a book (above right)! The design is similar to one marketed by Tenshodo (see Scrapbook #55a). Moro also scratchbuilt the charming little narrow-gauge boxcab loco.
---
9mm Gauge: FIRST LAYOUT GROWS IN A SHOEBOX… IN On18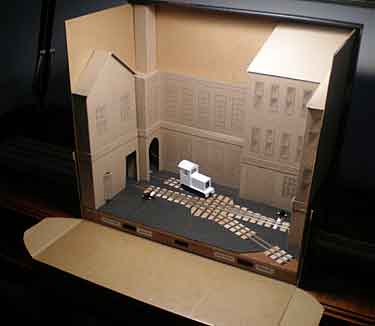 Karl Fey, from Haddonfield, New Jersey, USA, is building his very first small railroad in a shoebox. It's an On18 line using cassettes as fiddle tracks on both sides and dramatic urban scenery that dwarfs the little trains (one of my personal favorite effects).
Karl was inspired by Phil Parker's English Melbridge Box Co. layout in a box file, but those file boxes aren't in general use in the U.S. So he turned to a shoebox format … with excellent results! You can see more photos here. We'll look forward to photos of the completed layout. Karl also makes classic Christmas "glitter houses," shown at his website.
---
16.5mm Gauge: OO LINE IN A PAIR OF BOXFILES

Martyn Mullender, from Portland, Dorset, England, built Upbeach St. Mary in two 37x24cm (14½x9½in) box files. The project was "an exercise in recycling," reports Martyn.
"I only had to buy a couple of yards of Peco track, and the two box files it is built in came from work. Over the years I have built up a range of scratch- and kit-built buildings so I had everything I needed including the plywood used as a base inside the box files. The layout cost about 6 GBP."
The track plan is a copy of Carl's Exports, with the fiddle yard being two straight tracks rather than a sector plate. Martyn uses a Peco loco lift to swap and adjust offstage trains, much as Peek's Pike does it. The fiddle yard tracks may eventually be connected to Martyn's larger, garage layout.
"A short passenger platform has been put in. This causes major problems because it is also used for unloading freight, so wagons have to be moved when a passenger train is due. As movements are decided by dice—and they are simply workmen's trains—you never quite know when one is due (decided by throwing a six).
"At the moment wagons are added to the layout by throwing an even number and removed by throwing an odd number. They are added and removed in sequence but if you throw more even numbers things get very busy and wagons needing to be removed can be in an awkward place."

---
16.5mm/9mm Gauges: DUAL-GAUGE HO FITS IN A CAKE SAFE

I found an old cake safe (above) in the back of a cupboard. It covered a layout exactly 12in (30.5cm) in diameter, so I designed a version of the Squarefoot Estate Railway for it. To expand operations, I made it dual gauge—On30 and On18, or HO and HOn30. – Carl Arendt
---
16.5mm Gauge: BOXFILE A-BUILDING IN O16.5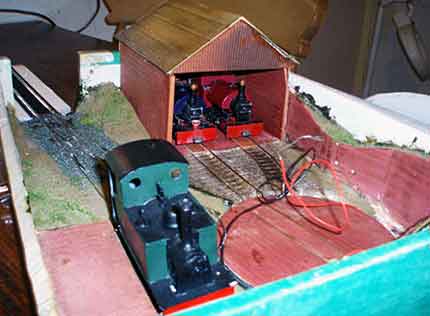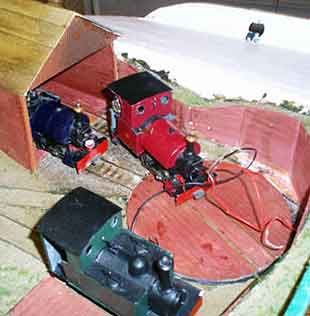 Peter-John Sanders, from Balmer, North Shropshire, England, is building a fictional narrow-gauge road, the Blackwood Valley Rly, as a series of small layouts. Off a spur from the BVR terminus at Alesmere was the main loco shed and works of the line, Morgan Works. It was in a tiny space but had a turntable, two-road shed and coal siding off the entrance road. P-J has recreated this facility in 7mm scale, in a box file. It's his entry to the 7mm Narrow Gauge Association online challange to "Build a Layout in a Box File."
The layout features a turntable made from a CD (inspired by an article on this site). P-J made the whole layout in a week for less than 10 GBP. For more details, see his website.
---
16.5mm Gauge: SHADOWBOX LAYOUT IN Gn15 OR On30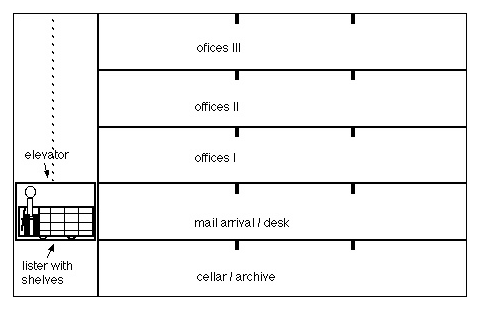 Frequent-contributor Alexander Lehmann, from Mannheim, Germany, was thinking about space-saving layouts one day when he had a splendid idea: why not put the layout in a frame and hang it on the wall? This would be a true shadowbox layout with a very small footprint! This basic notion led Alex to design the Vertical Mail Delivery Line, an indoor narrow-gauge railway that delivers mail in a multi-story office building and also carries files from department to department and back to the archive.
Scenery would be minimal and mostly on the backdrop. "Funny and satirical scenery," muses Alex, "are a must here." Imagine a frame full of Dilbert situations!
---
32mm/16.5mm/9mm Gauges: THREE GAUGES IN O-SCALE… IN A SHOEBOX!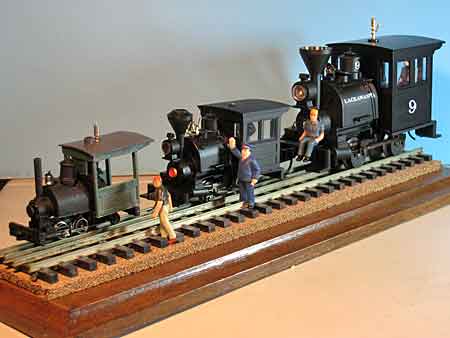 "Rubber gauging" usually means running a variety of scales on the same track gauge (like N, HOn30, Sn2 and On18, all on 9mm). But it can also refer to operating a variety of track gauges in the same scale! Here's an example, from Carl Arendt.
This photo shows three O scale Porter switching locomotives running on three different gauges: 18 inches, 30 inches, and standard 56-1/2 inches. Needless to say, the three track gauges used are N gauge (9mm), HO gauge (16.5mm) and O standard gauge (32mm or 1¼in). The locos are a French RPI kit for an On18 Porter, the well-known Bachmann On30 Porter, and the K-Line 3-rail Porter (an AC loco). The track is standard Atlas 2-rail O code 148 track with a couple extra rails super-glued in place. I put this together one day, then wondered what kind of layout could use it…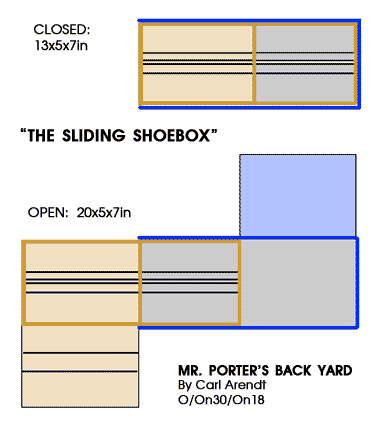 A prototype that quickly comes to mind is the "parade track" of a locomotive factory, where locos in a variety of gauges are brought out for inspection and for shipment (by rail of course!). And what better locomotive works for this trio of steamers than the H. K. Porter Co. in my home town of Pittsburgh, where they all were born? That's the genesis of Mr. Porter's Back Yard, an O-scale multi-gauge micro layout.
The design I came up with (mocked up here) is "The Sliding Shoebox." It's essentially a box within a box. The plan (above) shows how it works. The outer box, decorated to look like a factory exterior, is also a carrying case for the layout (above right). The inner box pulls out to the left (below left), and has no ceiling … it's the "Back Yard" parade ground featuring our four-rail track. The front wall of this section folds down (below right) and lies flat to reveal a (very) short stretch of standard-gauge track, holding part of a flatcar. A removable gantry crane will be available to move completed locomotives from the Parade Track to the flat car for shipment.
This idea reduces the layout functions to their bare minimum. It's also very easy to transport and can be set up and running within ten minutes of arrival at the showplace. The rolling stock, power pack, lamp for light, and gantry crane are carried in a separate box, probably larger than the layout itself! In this mockup the factory and backdrop (showing Allegheny Cemetery, next door to the old Porter Plant in Pittsburgh) are simple computer printouts. But this bare-bones mockup demonstrates that the idea will work! – Carl Arendt