PAGE 79a – November 2008
H O T I D E A S F O R S M A L L R A I L R O A D S
A pizza layout, as this title illustration shows, is a more or less circular track formation that often looks like it might be delivered in a flat, square pizza box. This simple arrangement is by far the hobby's favorite layout design around the world! It's often viewed as a portable hobby display and sometimes as a challenge to create realistic, striking or unusual scenery.
Many pizza layouts are produced at the end-of-year holiday season… so here is our semi-annual collection of interesting and creative pizza layouts, to stimulate your thinking about model displays and about layouts in general.
And don't forget… the deadline for the "World's Smallest Layout" challenge is the end of this month!
Pizza layout under construction by Fabrice Fayolle (see story below).
---
CELEBRATING A WEDDING—AND HONEYMOON—IN HO SCALE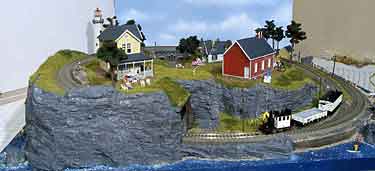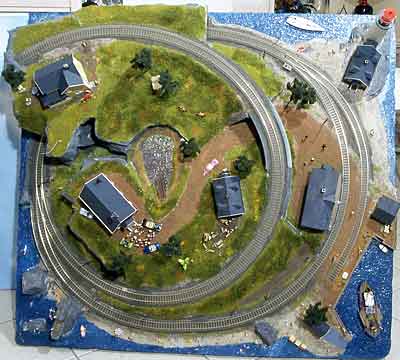 Jean Buchmann, from Strasbourg, France, built this striking pizza layout as a decoration for his wedding reception! The party theme was "The Lighthouse" so he built a 100x110cm HO layout depicting " a little island with a lighthouse and a railroad to link a small harbour with an hotel." The name is Traehz Aour (Golden Sand). If you love looking for cheap cloth table runners and other wedding decorations, you need to visit this website,
Inspired by a Harry Belafonte song, the nearly circular layout presents an idyllic tropical island, drenched with sunlight. Scenic highlights include a delightful stretch of beach, the lighthouse, the railway station served by a railcar and by a white wedding train, a small church with the happy couple just exiting, and an enchanting honeymoon hotel on the highest promontory of the island. Scenic details abound, including couples of all ages enjoying the island's pleasures together. And somewhere amidst all this happy activity are scale models of Jean and Kathy Buchmann. Salud!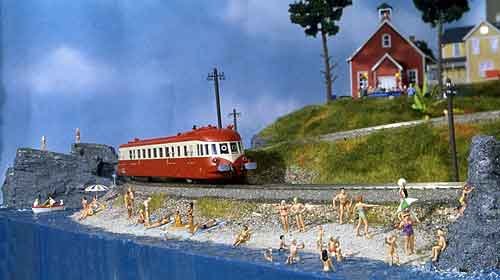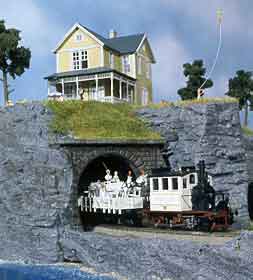 ---
PIZZA TEST TRACK SHOWS OFF STREAMLINED Nn3 LOCO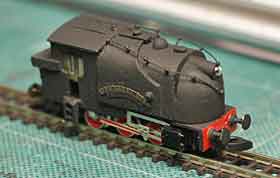 Taking note of the 1930s fad for streamlined design in railroad stock, Kit Friend, from London, England, built a "redesigned shunter" in Nn3 scale—N scale scratchbuilt body mounted on a Z-scale chassis. The result was a redoubtable looking piece of motive power (left), The Great Bear. Shades of Raymond Loewy!
Its test track was a solid wooden base with the controller built in. To see this unlikely combination in action, click on the triangle at the center of the YouTube clip linked below.
---
CANADIAN PIZZA FEATURES SWITCHBACK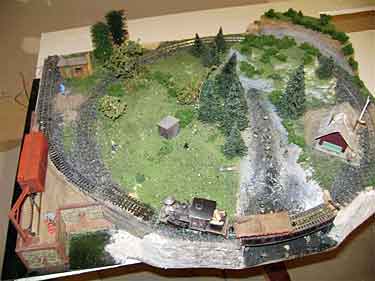 Gordon Crossfield, from Welland, Ontario Canada, built his very first pizza layout, Longbranch Shortline, to combine features of a Toronto station with the Shorthills near Welland where he now lives. "The N-scale layout is about 18x18in (45x45cm), a loop with a switchback to a small wharf," Gordon explains.
BIGGER SCALE, TINIER BASEBOARD!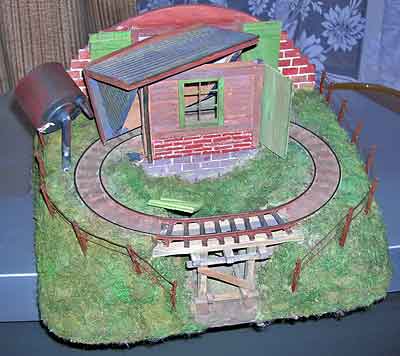 Andy Spooner, from Hailsham, Sussex England, likes to make small locomotives or "critters" in O-16.5 (On30) scale. He built this diminutive 8x9in (20x23cm) test loop to give them some running room. The radius is less than 2.5in (6cm)! We'll be taking a closer look at some of these unusual loco models in another Scrapbook.
---
FAYOLLE FABRICATES FURTHER FANTASIES… IN Gn15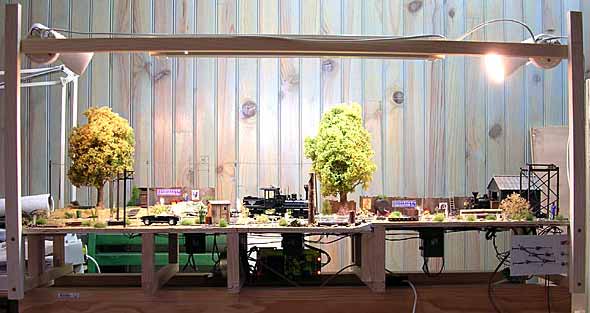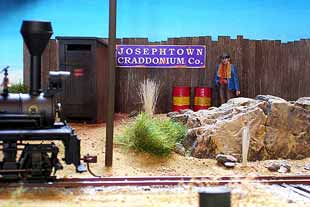 Continuing his exploration of modeling Australian prototypes, Fabrice Fayolle, who lives in Amiens, France, built a Gn15 diorama, Kelgura (above left). He was so pleased with it that he's expanding his Gn15 modeling into a pizza layout (above right and title illustration). For more about his diorama, see Fabrice's website. We'll look forward to future photographs of his scenic treatment of the pizza!
---
PIZZAS ALSO MAKE GOOD 'STARTER SETS' FOR YOUNGSTERS


Inspired by the small layouts on this website, Greg Trickey, from Devon, England, built this 4x4ft (1.2×1.2m) OO-scale pizza layout for his son, Sam (hiding behind the house in the upper left photo). Platform, trains and movable scenery items are all selected to be very sturdy, able to withstand hard knocks from playful children! This is a good way to interest young people in the hobby of model railroading without making large investments in either trains and scenic goodies or your own hobby time.
---
PRAGUE PIZZA FURTHER EMBELLISHES TOTS' TOY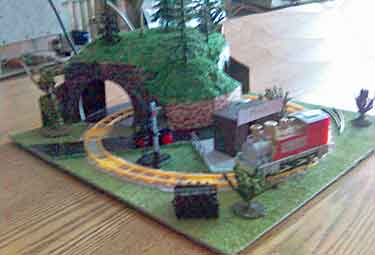 David Pecina, from Prague, Czech Republic, elaborated on a battery-powered locomotive toy to create this pizza layout. It's TT scale (1:120) and measures 31x30cm (1ft square). The station is called Mišín after David's girlfriend, Míša, who gave him the loco.
---
KENTUCKY On30 LINE SHOWS OFF LUSH SCENERY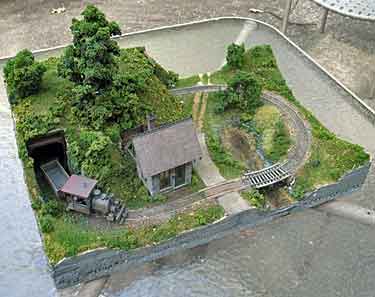 This 32x24in (81x60cm) On30 railroad was built as a test track and an exercise in learning to build convincing scenery. It's creator, Gary Gresham, from Paducah, Kentucky USA, explains, "This is the Owen's Quarry Branch, on the Cumberland Point RR, a fictitious railroad that runs through the hills of far Western Kentucky… There is a detailed backstory, but really it's an excuse to run trains on a plausible fictional railroad with lush Kentucky scenery."
To get a feeling for the "flavor" of this backwoodsy line, take a look at the YouTube video that Gary has produced (click on the triangle below). For more photos, see Gary's Picasa Album.
---
BEER CRATE PIZZA REDUX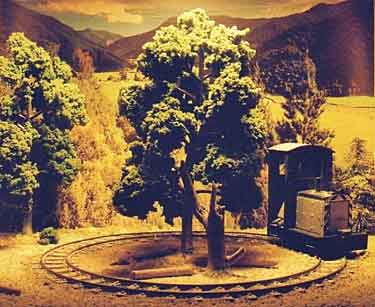 Gavin Sowry, from Wellington, New Zealand, has appropriated a national landmark to house his exhibition pizza, called Pizza'n'Beer. He used a classic wooden ABC beer case… details in Scrapbook #67a. Gavin sent the above photo as a final report on the finished layout.
LAYOUT BUILT IN A REAL PIZZA BOX!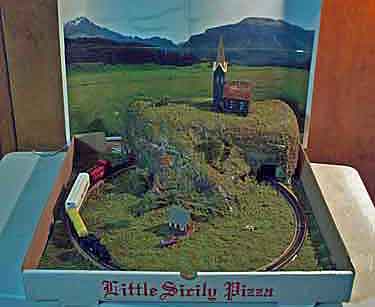 Duane Brocious, from Lansdale, Pennsylvania USA, built his layout in a genuine pizza box! It's an N-scale pike, and rolling stock includes a salt car and a milk tanker, to help provide the "makings" for many pizzas. Duane points out that he still has some detailing to do.
---
WINTRY PIZZA IS BAKED IN ITALY, OPERATES MULTINATIONALLY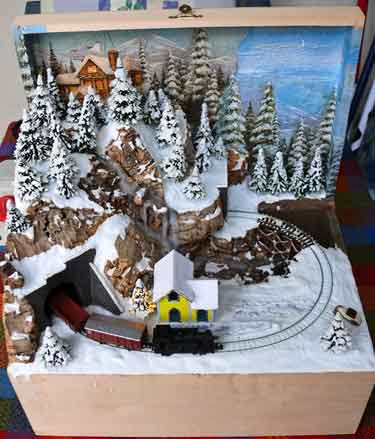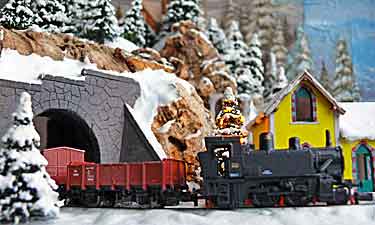 This N-scale winter pizza was built in a wooden box by Luca William Lucarelli, from Torino (Turin), Italy. In its 33x23cm (13x9in) space, Luca has included "a tunnel, a station, a bridge, a mountain, a river, a canyon, a forest, a road and a level crossing!" He also can run rolling stock from several countries because the scenery spans at least two continents—the bridge and back tunnel portal are American inspired, while the station is more European. The photos show both Italian and U.S. stock. The layout's name: Mélange!
The rock walls forming the canyon and mountain are made from inexpensive cork atrips intended as Christmas decorations. After much experimenting, Luca made his snow from "a mixture of baking soda with diluted white glue and a touch of blue chalk spread on the ground, on the fractures of the rocks, on the wooden timbers of the bridge, and on the trees. For the river and the cascade I used wax, melted and allowed to flow to create icicles, the ice wall, and frosted water on the river bed."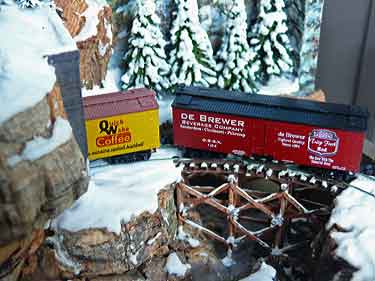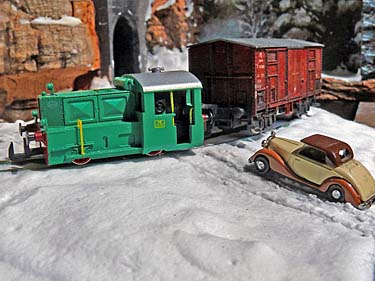 ---
THIS PIZZA IS MADE OF CARDBOARD!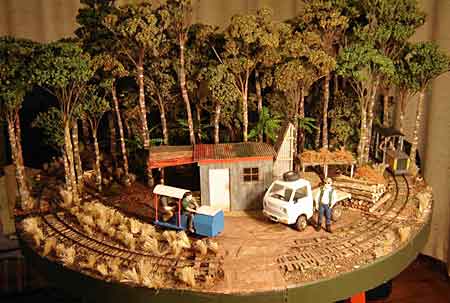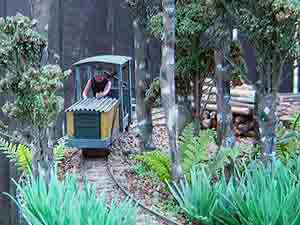 Paul Napier, from Wellington, New Zealand, built this Gn15 pizza, Silverpine, for a contest. Most structures and scenery were made from cardboard and paper!
---
PIZZAS HELP PROMOTE MODEL RAILROADING AT ALABAMA FESTIVAL


John Lucas, from Troy, Alabama USA, took several pizza layouts to the TroyFest local arts festival earlier this year. That's John (above) at his "Demonstrating Artist" booth in the downtown square of Troy. As John describes the scene, "I brought the Bear Point [Scrapbooks #55 and #67a] and 10 Mile Branch [Scrapbook #72a] layouts along with my Lillabo wooden train layout (made from the wooden train sets sold at IKEA). Lots of people stopped by, including adults, children and children with parents in tow! I got to talk about the hobby of model railroading and the advantages of small layouts. Some of the visitors expressed interest in having me build a layout for them. Could be a second career starting!"
The downtown square of Troy is also the setting for John's latest pizza layout (below), Three Notch Street, an N scale layout built in a briefcase. In addition to the selectively compressed downtown scenery, John reports he "added figures, vehicles and interior lights in the buildings. The lights are LEDs I salvaged from small flashlights at Dollar Tree. Two AA batteries provide power for all the lights." John has also posted some more photos on his website and also a short video on YouTube.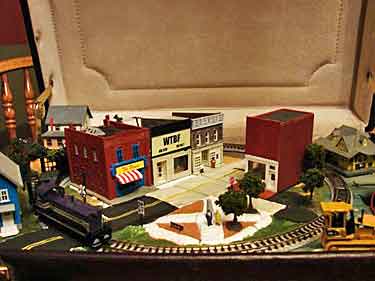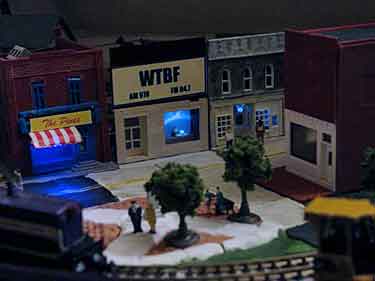 ---
THIS RAILROAD GATHERS INGREDIENTS FOR BAKING PIZZA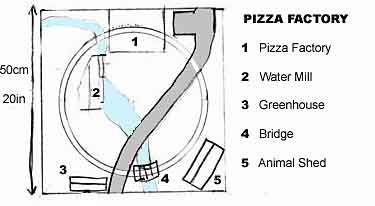 Niek Uwland, who lives in Delft, The Netherlands, is not only building an HOe pizza layout but he's making a pizza bakery the scenic focus of the line! "The idea," declares Niek, "is that a small 750mm narrow-gauge train runs along a circle to collect the ingredients so the bakery can bake the delicious pizzas. As the plan shows, the train runs inside the pizza factory, and besides this building there are three more buildings: a small water-mill, to make flour out of the wheat; a greenhouse for the tomatoes and pineapples (I like pizza Hawaii); and a small animal shed/farm for the pork, beef and milk (and eventually eggs)."
---
G SCALE PIZZA ENJOYS IMPRESSIVE WESTERN U.S. SCENERY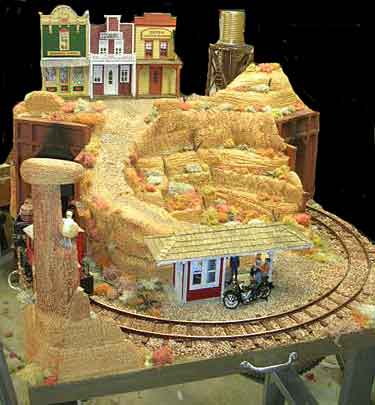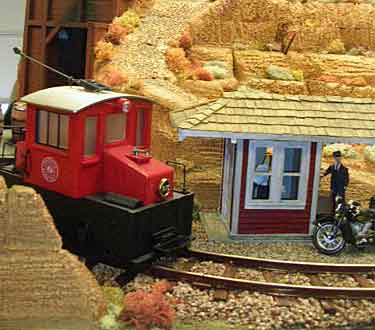 Victor Smith, from Pasadena, California USA, is now adding details to his G-scale pizza layout set in the Western U.S. The nearly-finished layout features towering scenery.
---
VERY-LARGE-SCALE PIZZA IS BEING BAKED IN SWEDEN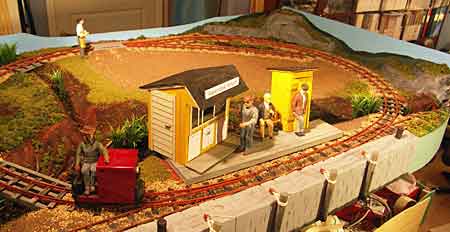 Henrik Laurell, from Gothenburg, Sweden, is building a very-large-scale pizza layout in 7/8n18 scale (1:13.7 or 7/8in to the foot, running on O-gauge track that represents prototype 18-inch gauge). Aspendale Wharf, says Henrik, is a "small estate/industrial line serving a match factory and a smaller mine, a few miles down to a waterfront. I have started on a small flagstop to put at the wharf and a bigger building [will be] put in the middle. This one measures 150x115cm (59x45in), just enough to fit in my Volvo if I tilt it a bit while passing the opening in the back. There's more information on my website."