PAGE 85b – May 2009
Cyril J. Freezer, 1924-2009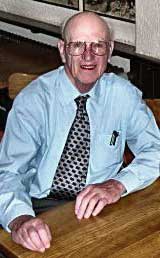 Photo courtesy
MRC Bulletin
, used by permission.
Cyril Freezer, who played a vital role in making the model railway hobby what it is today, passed away peacefully in his sleep on 19 May 2009. His contributions to our hobby, particularly to small layout design, would be hard to overestimate.
Cyril was editor of Railway Modeller magazine for many years, moving in 1976 to edit Model Railways. He was a prolific author and a frequent commentator on model railways in the "Letters to the Editor" columns of a number of magazines. He remained active in retirement, serving as vice president of The Model Railway Club (London) where he had been a member since 1946.
David Thomas, who writes about model railway history, noted, "CJF, as he was affectionately known by British modellers everywhere, also did much to encourage the idea that railway modelling is about the realistic operation of a railway as well as the building of models. This idea though very familiar on North American 'basement empires' is far less common in other European countries such as France and Germany where there are superbly modelled dioramas, modules and layouts but less emphasis on railwaylike operation." Many of Cyril's ideas about layout design have also entered the U.S. hobby through the pages of Model Railroader magazine fostered by his friendship with MR editor Linn Westcott.
Cyril Freezer's contributions to small-layout design were both fundamental and far-reaching. Some of them are outlined below. While he will be missed personally by his many friends in the hobby, his ideas and designs will be with all of us permanently and will continue to enrich everyone's hobby experiences. RIP.
A Tribute to C. J. Freezer
Over the course of his long career, Cyril Freezer made many significant contributions to the art of small layout design. We've chosen to present three of his most influential achievements, as measured by the number of people who have used his ideas in building their own layouts. His influence spreads much wider than these examples of course, but in evaluating his accomplishments this is a good place to start!
---
FIDDLE YARD TO TERMINUS DESIGN


In an interview with the Model Railroad Club's Bulletin last year, CJF included among his early influences the fact that he was "fascinated by Bill Banwell and Frank Applegate's original Maybank at the 1939 MRC exhibition." Edward Beal, whose books provided another of CJF's early influences, described this same O-gauge layout as "an entire departure from the usual; the layout includes a terminus station only, with a short length of main line which deploys from the station into a tunnel. The latter houses an extensive traverser having four tracks which is entirely concealed by the high-level locomotive depot above it."

In other words, Maybank was an original fiddle-yard-to-terminus design! Cyril created literally hundreds of layout plans using this operating pattern and advocated the design concept in many of his books (see a selection below).
The idea still appears often… this example (left) is Nottery Quay, by Chris O'Donoghue. Its main line appears from a fiddle behind the camera, passes a small halt among the dunes, then skirts the hill at the right to terminate in a charming seaside village. It's a classic example of the genre and graced the exhibition circuit for a number of years. More info's in Scrapbook #49a.
---
THE 'RABBIT LAYOUT' FOR NARROW GAUGE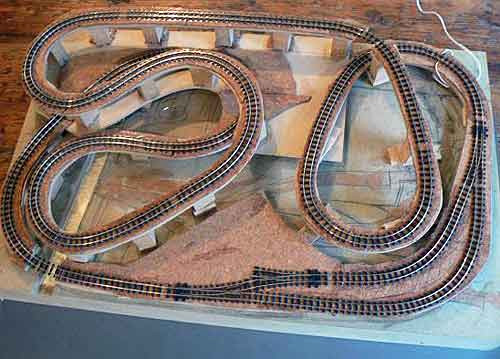 CJF apparently invented the "rabbit layout", and he designed a number of variations on this theme. He described it this way: "Strictly intended for display, it exploits the sharp radii possible with OO9 [HOn30] to allow trains to pop out of tunnels all over the place."
A great many narrow-gauge fans have followed his lead over the years, including Tim Halket, who's building the version shown here. Tim points out, "The stations have been all but omitted and two trains run in opposite directions with the one not running waiting in the station loop." When scenery covers parts of the loops, the little trains dodge in and out of the tunnels like rabbits in a warren! For another example, see Scrapbook #67a.
---
THE CLASSIC MINORIES: FREEZER'S BEST-KNOWN DESIGN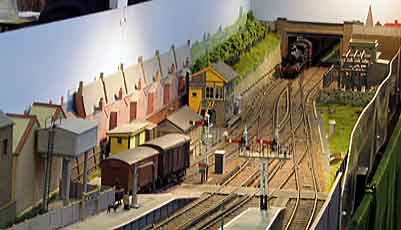 CJF called his best-known layout plan the "deceptively simple Minories, a three platform city terminus built on a pair of folding baseboards." The story goes that Cyril was standing at Liverpool Street (Met) station, when he realized that a similar model track pattern might be worthwhile. He quickly sketched it out, and the rest is history. According to CJF, he "spent 30-odd years trying, in vain, to improve upon the basic scheme." Hundreds of modelers have also found the pattern to be good!
An excellent example is Brian Thomas's Newford, an O-gauge translation of the Minories track pattern. This exhibition photo (left) by David Thomas demonstrates the graceful flow of trackage that results from the Minories turnouts. Try tracing traffic patterns on the plan, and you'll understand why this layout design is so popular!
---
WHERE CAN I FIND MORE OF CYRIL FREEZER'S WORK?
Fortunately, Cyril Freezer's layout designs are easy to find… he was indeed a prolific author. This photo shows just a sampling of his books that I pulled off my library shelf to make this montage. Many of them are still in print, and most of the rest are available at used-book sites like AbeBooks and aLibris.


Perhaps the best known are CJF's "little books" done years ago for Peco, especially his 60 Plans for Small Railways, an all-time classic. His Model Railway Design Manual is also an extremely useful volume, especially if you're designing British layouts. My favorite, though, is Modelling the Steam Age Railway which, along with John Armstrong's Track Planning for Realistic Operation, taught me most of what I know about railroad operations applied to model layouts.
— Carl Arendt
---