PAGE 91a – November 2009 Mid Month Extra Edition
H O T    I D E A S    F O R    S M A L L    R A I L R O A D S
When it comes to running trains and operating in prototype fashion, we builders of micro and small layouts are often left to our own devices. Accordingly, these pages from time to time take a closer look at some of those Devices that are so useful for perking up operations in tiny spaces. This time we're taking a closer look at Sector Plates—lengths of track that are pivoted at one end.
In This Issue
Photo by Colin Peake at Cleethorpes

---
CLASSIC MICRO LAYOUT FEATURES FAMED WW2 BOATYARD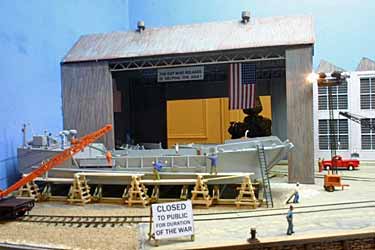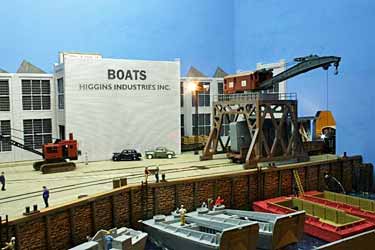 Sector plates are often hidden, to provide unauthorized routing of trains behind the scenes. That's the case with Higgins Boats, an H0 line by Alain Kap, from Luxembourg. Alain explains, "My first micro layout is based on your Carl's Imports design. I adapted it to my theme about the manufacturer of the famous landing craft used in large numbers during WW2 and called after their builder Andrew Higgins.
"The layout features a sector plate inside the assembly building to serve the track along the backdrop. The plate is partly hidden by various landing craft being built. In the backdrop I have two rectangular holes, one behind the assembly building to operate the sector plate and one behind the backdrop building to exchange cars. For added operation I also have a Roco digital crane that lifts and turns finished boats. An added piece of track makes the connection to the world [at the right]. The buildings and details are created following numerous pictures of the prototype in New Orleans, USA, during the War."

---
A SLICE OF 'SIXTIES CHICAGO' UNFURLED IN FRANCE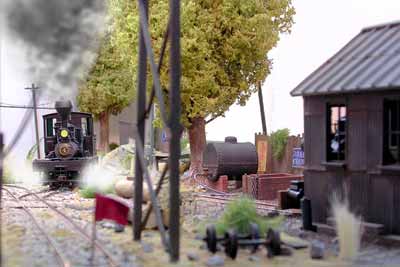 The sector plate is essential to feed trains to the visible layout in Fabrice Fayolle's latest (proposed) layout, 69th Street. It's an O scale design measuring 270x60cm (106x24in), set in Chicago USA during the 1960s. Fabrice lives in Amiens, France. We'll keep you posted!

---
AND HERE'S A FRENCH FACTORY YARD CONSTRUCTED IN ENGLAND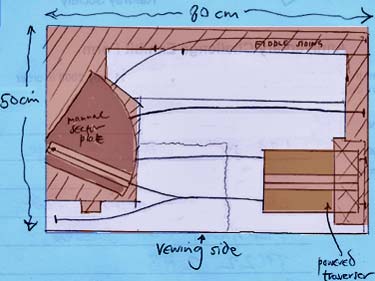 This sector-plate layout is also based on Carl's Imports, using the plate to access a whole fan of sidings and thus replace a long ladder of space-consuming track switches. P. Moreau & Fils, by Les Coleman, from Sussex, England, is 1:24 scale running on H0 track (16.5mm gauge). It measures 80x50cm (32x20in).
The line models a 40cm extra-narrow-gauge railway serving a French factory. Les also found room for a traverser (transfer table) as used in François Fontana's Cycles le Berlan layout. The traverser is powered, and Les has also tucked in an extra spur, providing even more operating possibilities! This versatile layout made its debut in October 2008 at ExpoNG in Swanley, Kent, England.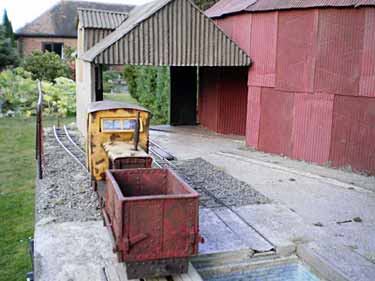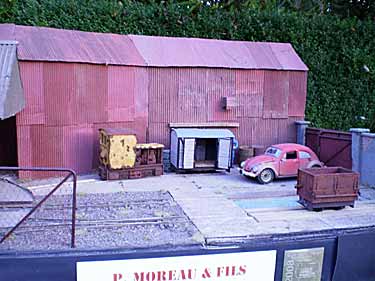 ---
THIS SECTOR PLATE IS RIGHT OUT IN PLAIN SIGHT!


Not every sector plate is hidden away… there are prototype examples that were used in most countries of the world. A famous one for many years channeled locomotive traffic at the French port of Boulogne. Our title photo (at top) was taken in 2004 at Cleethorpes Coast Light Railway, a narrrow-gauge line in Lincolnshire, England.
Chuck Perrucci, from Perkasie, Pennsylvania, USA, has now built Sand Works 2, his second micro layout using a fully-visible sector plate crafted from an Atlas girder bridge (lower left in the photo). This layout measures exactly four square feet, at 36x16in (90x40cm), somewhat larger than the original Sand Works that was featured in Scrapbook #42a. Notice in the photo that Chuck wisely uses short 0-4-0 locomotives and rolling stock—like these 26-foot ore cars—that allow more capacity and more switching fun in this minimum space.

---
3mm FINESCALE MICRO LAYOUT MAKES GOOD USE OF SECTOR TABLE


Sector plates aren't necessarily pivoted at the end of the track. Sometimes they're even pivoted at the center, just like a turntable except they don't rotate 360 degrees. In that case they're called "sector tables" (or, in the U.S., "swing tables"). Martin Hogg, from Mansfield, England, used a center pivot in order to save benchwork length in his new layout, Elston Road.
This layout is his first attempt at finescale modeling, using 3mm (1:100) scale, 14.2mm gauge. Elston Road is 3x1ft (90x30cm). Virtually everything you see is scratchbuilt. Martin remarks, "The layout and the stock have given me a lot of headaches so far, but I'm really quite proud. Having built everything gives a real sense of satisfaction." For more information about this work in progress, see his website.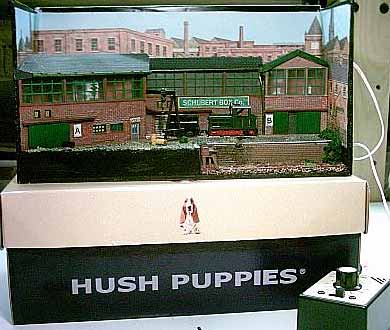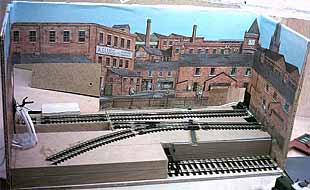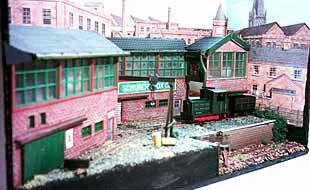 ---
TWO-ROAD SECTOR TABLE SERVES ENGLISH NARROW-GAUGE LINE

Stuart Reeve, of Poole, England, used a two-road, train-length offstage sector table to expand operating potential in his new layout, Feltwell Road. The OO9 layout (4mm scale on 9mm gauge) measures just 33x18in (84x45cm).
Says Stuart, "The railway is set in the flat fenland area of East Anglia—it existed in real life, serving local farms but was standard gauge not narrow gauge. The design offers much operating potential due to a two road sector table, hidden siding with isolated end to store two complete trains, railcar/local storage spur, built-in Inglenook (if you ignore the loop road), and the station design allowing a passenger train to be stored in the platform road whilst shunting continues, including use of the runaround loop."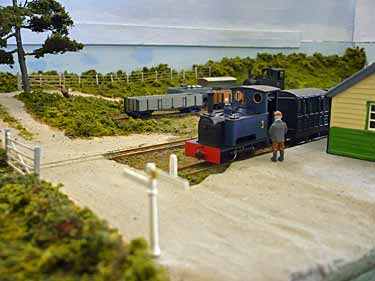 ---
SECTOR PLATE WORKS OVERTIME IN COMPUTER-STAND LAYOUT

In some cases the sector plate makes possible the entire layout design. So it is with this industrial switching layout by Robert Forde, from Clevedon, in southwest England (near Bristol). Originally inspired by Emrys Hopkins' John Stuart Mill, Robert is building his OO line on a 22x14in (56x36cm) computer monitor stand, complete with pull-out drawer for stock storage.
Robert comments, "The sector plate and adjacent line along the baseboard edge are in the offstage fiddle yard, and the visible part, when the scenic structures are complete, will consist of the entry line curving round to enter a building, with the ends of two sidings emerging from other parts of the building complex… The large switch in the fiddle yard is a double-pole-double-throw switch to reverse polarity on the sector plate; by turning the track back on itself in this way I introduced the perennial reversing loop problem!"

---
FANCY BUILDING A MICRO LAYOUT? TAKE TWO, THEY'RE SMALL!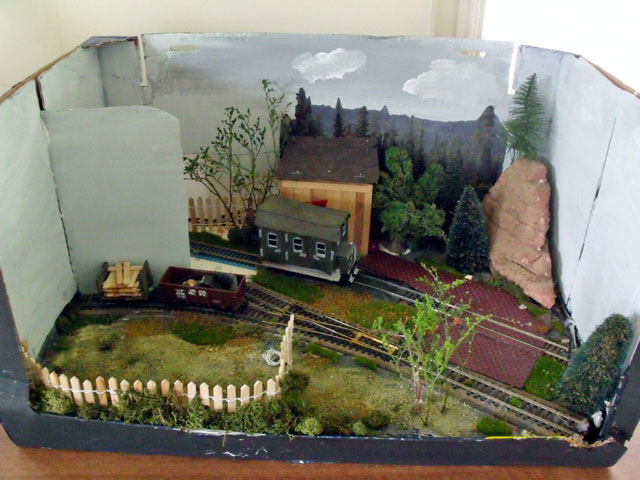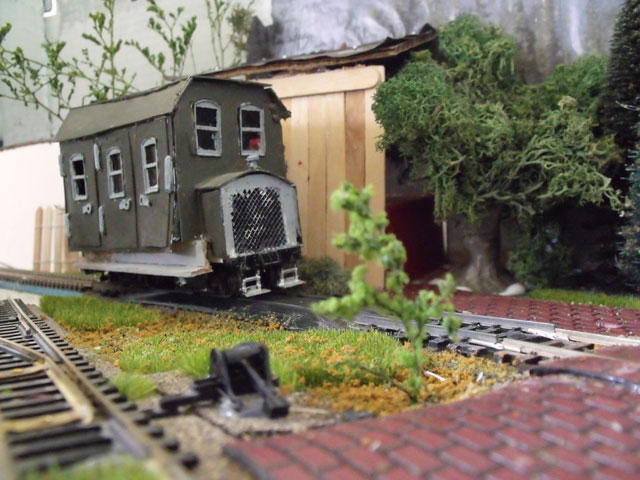 Joshua Wolfe, who lives in Shippensburg, Pennsylvania, USA, is building two micro layouts both in Gn15 scale (1:22.5 on 16.5mm gauge) and both inspired by layouts of Carl Arendt. Joshua's first-ever micro (above left) was Gravel & Sand Railway, based on the plan of the Squarefoot Estate Railway, but weighing in somewhat larger at 1.7 square feet.
His current effort (above right) is the Shire & Hobbiton Railway, measuring 24x18in (60x45cm). Like several other layouts on this page, it was inspired by Carl's Imports. Joshua explains, "It is a little railway set in the rolling hills of the Shire of Lord of the Rings fame. Motive power is a single rail bus that I built. It comes in from the fiddle yard [sector plate], drops off a carload of freight, usually produce and such to satisfy the immense appetites of the inhabitants of the the railway, and then proceeds over to the station to load and unload passengers."

---
FRENCH FACTORY FEATURES UNUSUAL SECTOR PLATE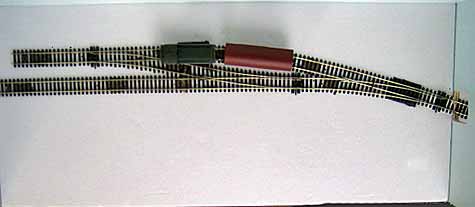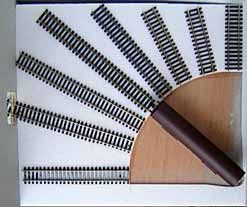 Perhaps the most elaborate sector plate on this page is this one, from France, that serves a layout representing a factory yard with one track connected to the SNCF rail network (represented by the sector plate). The layout's builder, Jean-Yves Martinez, points out that the H0 line may connect with the fiddle yard as illustrated, or it can be connected directly to his larger home layout. The fiddle yard's sector plate serves the factory track plus seven additional storage sidings for locos and rolling stock!
Overall dimensions of the visible layout are 80x35cm (31½x14¾in). The fiddle yard measures 40x35cm (15¾x14¾in).