PAGE 96 – April 2010
H O T I D E A S F O R S M A L L R A I L R O A D S

This month we visit once again the world's most popular display layout plan—the "pizza." Circles of track decorated in remarkable ways by many modelers are a delightful feature of the hobby! Here are some good examples.
---
OLD CIRCULAR TABLE HOLDS SAND MINE AND TRAMWAY

One of the pleasures of pizza layouts is the remarkable scenery that ingenious modelers place around them. Amper Sand, built by Geoff Potter, from Wamberal, NSW Australia, is a good example. Geoff has concocted an O-9/On18 over-the-hill New South Wales sand mine and tramway shown in its final days. Built on the top of an old 500mm (20in) diameter table, the tram sports various kitbashed structures and figures made from heavily modified Tamiya 1/48 scale poseable military figures. "Figures were butchered to resemble civilians, using X-Acto knives and Squadron green putty. In these figure sets there are often many nice detailing parts…
"I found that building this layout was a lot of fun. It is the first I have ever actually finished!" Geoff writes. "I was surprised and delighted to have won the 'Best Micro Layout' section at the 2009 Australian Narrow Gauge Convention."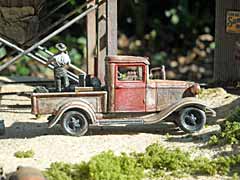 ---
29cm BLOCK OF FOAM HOLDS 0-SCALE NARROW GAUGE PIZZA

From halfway around the world comes a similarly-themed pizza layout measuring 29cm (11½in) square. Philippe Mortier, from Saint Estèphe, France, used earth and sand and small beads to create sandy, rocky terrain over a foam block for this tiny 0n18/0f layout. He carved the cabin from balsa, made the vegetation from thyme, and sculpted the tree from electrical wire. However, "Je n'arrive pas a fabriquer une machine pour la pizza," says Philippe. ["I haven't yet made a locomotive for the layout!"]

---
WALLACE AND GROMIT RIDE THE 'SHUNT-O-MATIC' PIZZA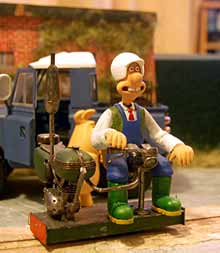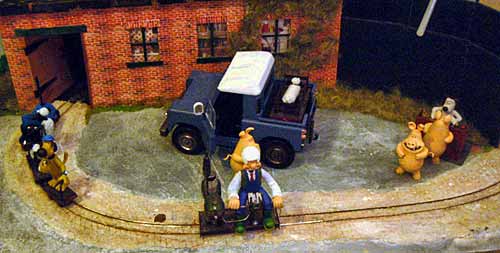 Focusing his pizza on two toy figures of British clay-mation film stars Wallace and Gromit, Matt Wildsmith, from Peterfield UK, also managed to squeeze in a number of other characters from the films. You can see the whole roster and lots more photos at RMWeb.
Although the two ends join together backstage and there are no spurs for shunting, Matt decided to call the layout Shunt-O-Matic, in honor of Wallace's invention-naming habits!

---
3-RAIL O-GAUGE PIZZA EXPLORES SCENERY TECHNIQUES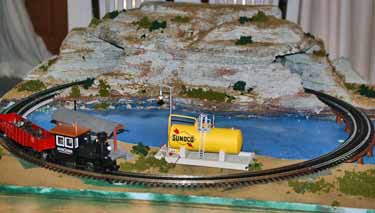 Although three-rail pizzas are less common than two-rail versions in these pages, here's a nice one—Neuse River East Railroad, by Wayne Mitchell, from Havelock, North Carolina, USA. This was Wayne's first experience with Atlas O-gauge track, and he combined it with styrofoam scenery, including a tunnel, to make attractive scenes on both sides of the river. The loco in the photo is a K-Line Porter 0-4-0, virtually a scale locomotive except for the wheels. You can compare it with its narrow-gauge counterparts in Scrapbook #72.

---
DRAMATIC SCENERY LOOMS IN On30 PIZZA UNDER CONSTRUCTION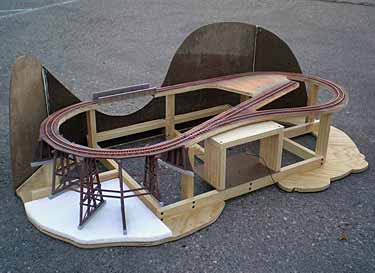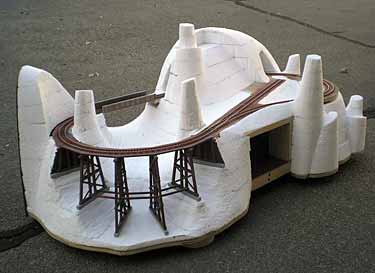 Still looking at O-scale layouts, we find the On30 Jacumba Tungsten Company, being built by Byron Olson, from Dana Point, California USA. This one is a bit larger and more complex than a simple pizza circle—it measures 52x26in (132x66cm) and was built as a construction test bed. Byron explains, "I'm experimenting with ways to eliminate as much wood as possible and use mostly EPS foam for layouts to keep them light but still create dramatic, vertical scenery."

---
HERE'S A PEAT BOG IN A WOODEN DESK FILING TRAY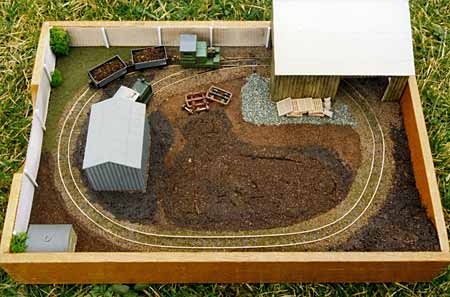 Adrian Foster, from Doncaster, South Yorkshire, England, sent some photos of his Pending Peat Company, a peat-bog tramway built in a wooden desk filing tray. Adrian explained, "Internally it measured 360x240mm (14×9½in), big enough for something silly like an oval of track and perhaps one siding. Nothing was planned – it just sort of er, happened." The name came from the label on the tray.
This was an early micro layout, described in Railway Modeller magazine for July 1997. It no longer exists, and Adrian is considering another: "I am planning a Pending Mk II, this time in a wooden cutlery box of slightly larger dimensions."

---
HUMPTY DUMPTY HAD A GREAT WATERFALL IN THIS GARDEN PIZZA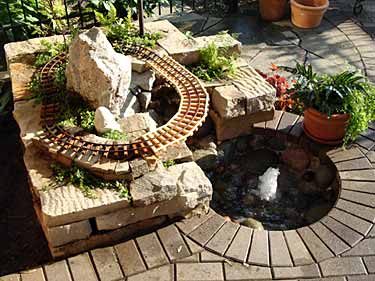 We get very few opportunities to show outdoor (garden) layouts in this site dedicated to micro and small layouts… but here's one! It's a delightful outside pizza measuring "roughly" 6x8ft (1.8×2.4m), a 7/8in scale pizza (1:13.7 with 45mm between the rails, representing 2ft/60cm gauge). This is H. Dumpty & Sons 2, the second version of this outdoor pizza line rebuilt to provide more exciting scenery and "a more sophisticated water feature." Marty Johnston, from Saint Paul, Minnesota, USA provided photos and cinched the point with a short video (below left). See his website for more!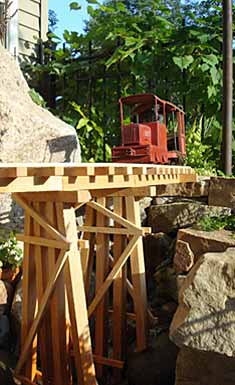 ---
PIZZA OVAL SHOWS OFF CLASSIC EGGER-BAHN STOCK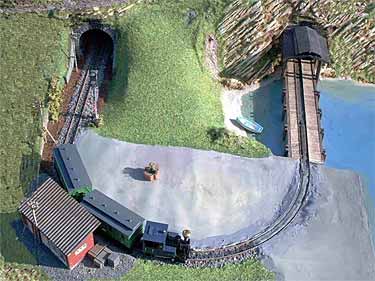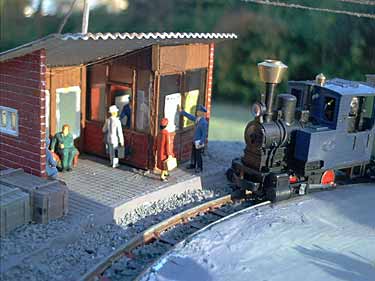 What do you do if you're a collector of model trains (specifically of Egger-Bahn) and you want to run your collection in realistic scenery every once in awhile? If you're Dr. B.P.E. (Björn) Clasen, you build a small pizza layout in the style and colors of the illustrations that used to be found on the Jouef/Egger-Bahn boxes. The result is shown here: the Clasen Collection Scenic Railway (CCSR).
The little oval H0e layout measures 60x40cm (24x16in), and the trackplan is a simple oval. The 12V power supply is concealed inside the mountain, along with an electronic gadget designed by Dr. Clasen to let the unmodified trains move very slowly and gradually slow down as they approach the station. Dr. Clasen lives near Bremen, Germany, and you can learn more about this layout at the Clasen Collection website, starting with the Egger-Bahn pages.

---
CLASSIC JAPE GETS A NEW T-WIST…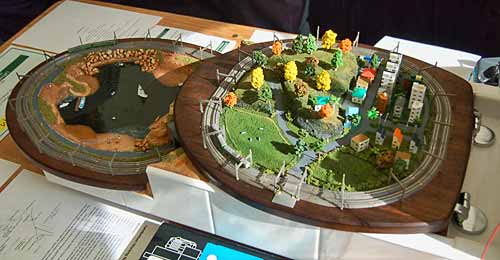 John Chandler, from Petersfield, UK has given a new lift to a classic (and overworked) model layout joke by building a double-tiered Tgauge display (1:450 on 3mm gauge) on a two-part toilet seat. Relentlessly resisting any resemblance to potty humor, we report with a straight face the layout's name, Lynbottom. It's named for a local dump (landfill) on the Isle of Wight. You may create your own jokes to suit (don't send them here). John did a good modeling job.

---
SARDINIAN SCENERY DECORATES VERY SMALL CAKE-SAFE PIZZA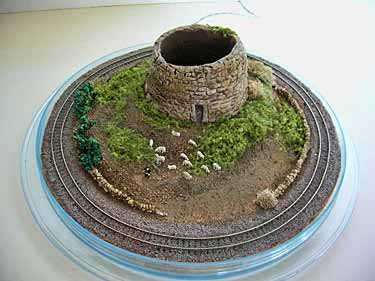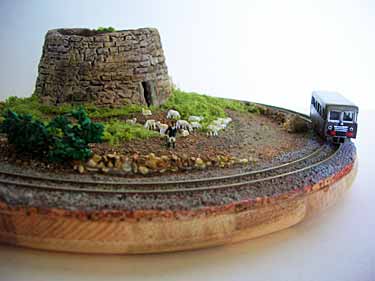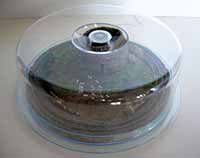 This petite Nm railroad (1:160 on 6.5mm gauge) is built on a 24cm (9½in) cake case [cake safe]. Roberto Bracciante, who lives in Padua, Italy, describes his scenery this way: "It is set in the Sardinian countryside, showing typical elements from that setting: cactus (fichidindia), stone walls, sheep, and archeological ruins called nuraghe, a kind of bronze age megalithic house-tower." Roberto is still working on typical Sardinian rolling stock for the little layout. The case's transparent cover protects the layout when it's not in use.
---
FOR YOUR 2010 PLANNING, HERE'S A CAROL OF CHRISTMAS PIZZAS!
The winter holidays in December are a very popular time to display model trains in every part of the world. Here, to help you get started on planning your display for next December, are four charming Christmas layouts from the season just past. There are lots of good ideas here!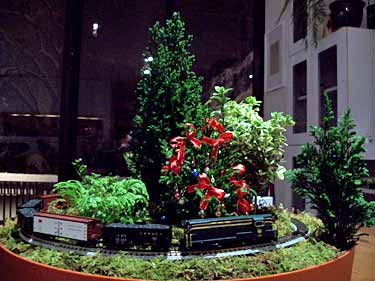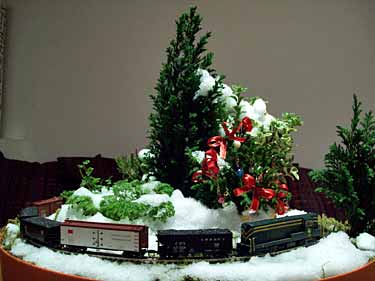 Blair Mielnik,
from New York City, USA, built his N-scale display in a 16in (40cm) diameter planter using a 177mm circle of Tomix track. The trees are miniature pines, boxwood and ferns. In the left photo, the soil is carpeted with a fresh layer of moss that gets a daily rain shower from a misting bottle. The snow scene at the right was provided by a giant snowstorm on the U.S. East coast in December 2009. "No harm," says Blair, "it just melts and waters the moss."Blair continues, "The idea was inspired by wintry hikes when you come upon the perfect tree set back in a sheltered part of the woods. I have often imagined and wondered what it would it be like to see that one small tree decorated right where it sits, surrounded by the beauty of nature. Here is my re-creation that experience on my dining table in New York City."
---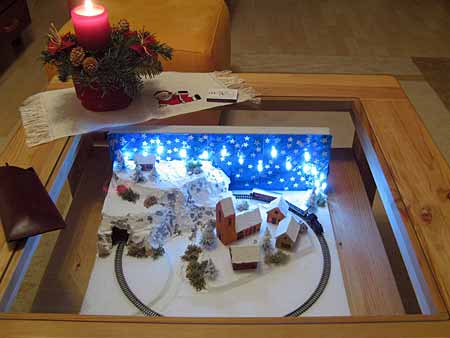 Gerhard Sonnenberger, who lives in Meckenheim (near Bonn), Germany, built his winter display to make two points: "First of all: you can manage to finish it before Christmas! And then: you may have a White Christmas in Rheinland—something that is unusual in reality!"
The tiny circle of track is Z scale (6.5mm gauge).

---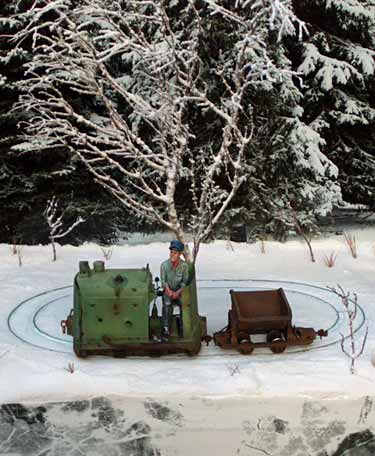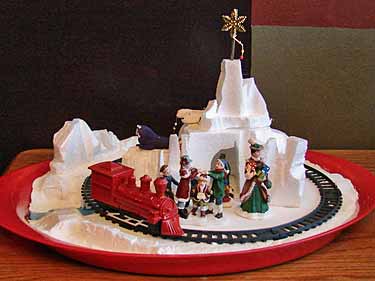 (Above) John Lucas, from Troy, Alabama USA, makes more pizza layouts than practically anyone. He based this one on a cheap battery train. Quoth John: "Christmas Iceburgh is a festive little community built on a plastic serving platter. The scenery is styrofoam packing material carved with a hot wire tool. The people are a mix of Christmas figurines with some animal characters made from Sculpey clay."
(Right) Franck Combe, from Asnières sur Seine, France, built this Gn15 holiday pizza after seeing all the pizza layouts shown on this site. It measures 30x20cm (12x8in) and has a track radius of 6cm (2¼in). Franck has posted some more photos here.
---
RETIRED LOCO LANTERN NOW HOUSES PIZZA RAILWAY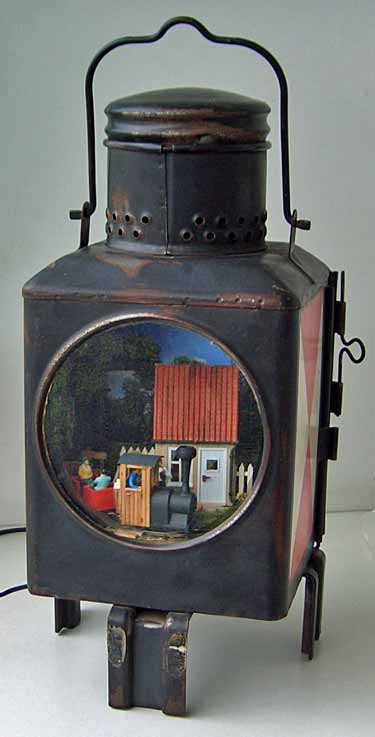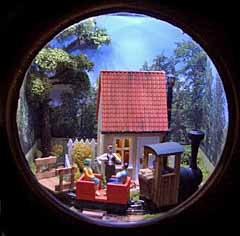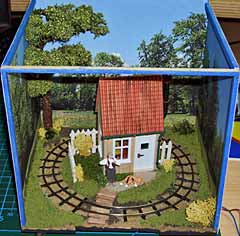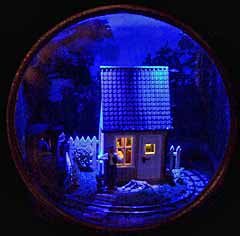 An old locomotive lantern provides the container for a narrow-gauge pizza layout by Harald Pascher, from Berlin, Germany. Appropriately, he calls it Lampenbahn.
The 17x16cm (6¾x6¼in) layout is 0f/0n18 scale (1:45 on 9mm gauge), and the rolling stock are all scratchbuilt — locomotive, carriage and wagon. Harald also hand-built the structure, including a detailed and illuminated interior.
He has equipped the lantern with white LED lighting for daytime effects (top right photo) and can switch to blue LED lighting to provide a night scene (shown at bottom right). The little pizza layout slides into the lantern through a hinged door at the rear.

---
TRIPLE-GAUGE FOLDUP PIZZA PLEASES LOVERS OF COMPLEXITY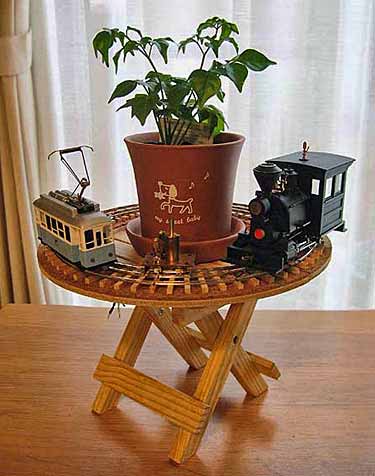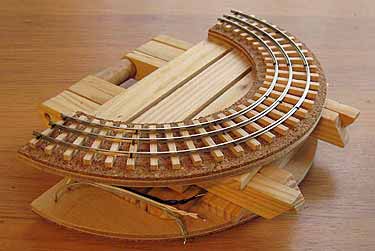 From Japan skt48 (also known as Shozo K) sends these photos of his ingenious triple-gauge, portable, foldable pizza layout with an integral stand. "How about this?" he writes. "It has 16.5mm, 9mm and 6.5mm gauge tracks." And so it does! Nestled within a 16.5mm gauge are side-by-side 9mm and 6.5mm tracks, with the central railhead cleverly providing the "missing millimeter." For more information about this and other interesting layouts from this Japanese modeler, see his website. He also has made a number of videos using this little pizza layout. Click the large triangle below to see one of them.
---