PAGE 96a – April 2010
H O T I D E A S F O R S M A L L R A I L R O A D S

New developments on layouts we've seen before—a great way to find good ideas we can all use!
---
TINY RAIL FERRY TERMINAL FEATURES UNIQUE FIDDLE YARD

In Scrapbook #88 we featured the Erie RR's tiny Harlem Station Yard (149th Street) in New York City, including an excellent N-scale layout plan by Will Ayerst and Carl Arendt's attempt at an HO version. Now Jack Trollope, from the Scottish Highlands, has taken up the HO challenge, improved the design, and is building the layout!
Key feature of Jack's 48x32in (120x80cm) design is a full-sized fiddle yard, made of four Peco Loco Lifts arranged in two end-to-end pairs and representing the car barges that fed the prototype yard. The Loco Lifts are supported on a version of Jack's invention, "The Stick," which supports each end of the fiddle yard and feeds current to the rails. You can learn more about The Stick in Scrapbook #93. This little layout should be a gem to operate!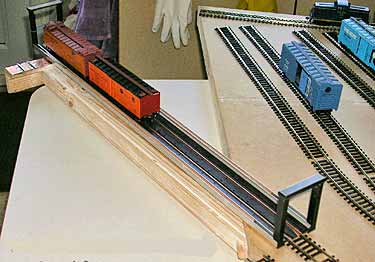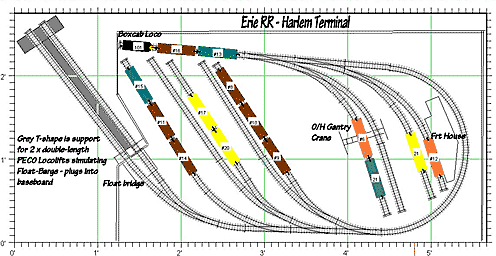 ---
UNUSUAL INDOOR LAYOUT SHOWCASES *BIG* 7/8-INCH SCALE TRAINS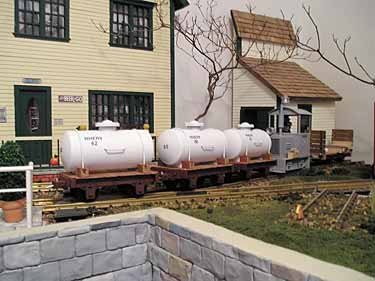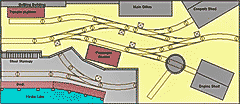 Upper Level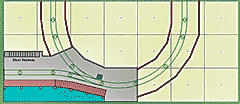 Lower Level
Hedgehog Hill Estates Railway first entered these pages in 2002, showing us a rare 7/8in scale indoor layout under construction. In this Very Large Scale, G gauge track is used to represent two-foot-gauge prototypes… so 1¾in gauge converts to 7/8in to the foot. A 40-foot box car, for example, would be nearly a yard long! You can understand why nearly all layouts in this scale are large, garden lines.
Bill Cooke, from Staten Island, New York USA, has created a wonderful exception. The HHER measures just 7x3ft (in On2 scale, the same plan would measure 25x10in!) and represents a small tramway in the upstate New York Finger Lakes region carrying wine from the wineries (Upper Level) to the shipping point at the waterfront (Lower Level). Until now, our most recent look at this unique layout was in Scrapbook #15, in 2003.
Bill recently sent us a few photos of HHER in its final stages, just before it had to be torn down. Here are a few of those photos. More will be published soon in various channels. I think Bill's inspiring work illustrates clearly a subtle point: in these large scales (G and above), details are very important. And it's quite easy to overdo them, cluttering the scene—and upstaging the trains—with several tons of scattered newspapers, torn posters, detailed manhole covers, and the like. To me, the HHER illustrates just about the perfect level of detail for these large trains… enough to be convincing, but not so much as to be distracting! Have a close look and see if you agree.
It's a pleasure to report that Bill is now in new quarters and planning a new version of Hedgehog Hill, perhaps with a continuous run feature. Stay tuned!

---
FELDBAHN ADDS NEW SCENERY AND SOME ROLLING STOCK, TOO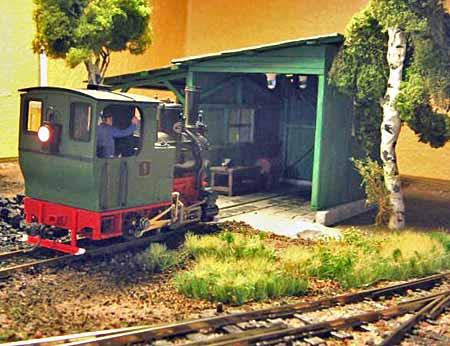 We've been watching over his shoulder as Michael Hanisch, from Hildesheim, Germany, landscapes his feldbahn (light narrow-gauge railway), Asel (see Scrapbooks #83 and #86a).
He has been focused mainly on the landscaping for the little line, which measures just 170x55cm (67x22in) in 0e scale (1:45 on 16.5mm gauge). Wisely, Michael has used landscaping materials from many sources to provide a variety of complementary colors and textures to his scene, which greatly enhances realism.
At this point the feldbahn has begun to be exhibited at train shows in Germany, and Michael sent us these photographs to commemorate the occasion.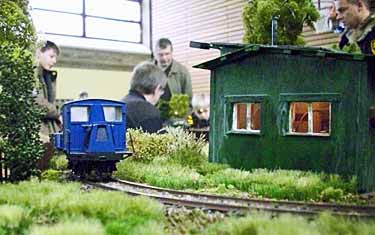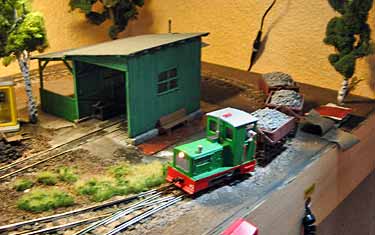 ---
A DICKENS PIZZA ADDS REAL ESTATE, VICTORIAN STRUCTURES
Gerry Snelson, from Frostburg, Maryland USA, the powerhouse behind A Dickens Pizza (which was voted among the Top Reader Favorite Layouts of 2009), is at it again! He's added a 9in (23cm) shelf at the back of the layout to hold a new scene (photo below left). You can see that he has mastered the art of presenting sooty, Victorian London in a convincing way. He also uses period rolling stock in Gn15 scale (see Scrapbook #95).
Gerry has also generously provided an aerial view of this small (but large scale) layout (below right). The new section is at the right in this view, beyond the backscene. For more pictures and information about new developments on this striking layout, see the always-entertaining Gnatterbox Forum.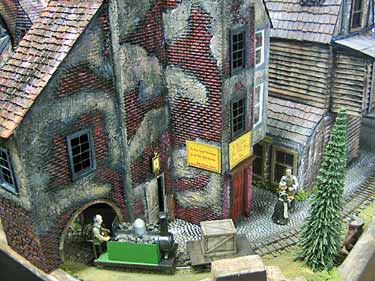 ---
REVISITING PROTOTYPE SCENE 'LIKE GOING BACK 40 YEARS'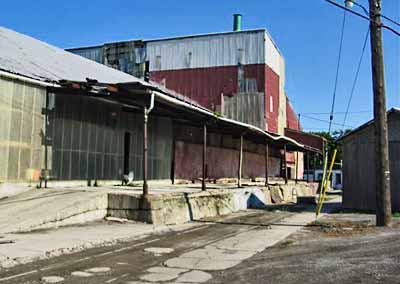 A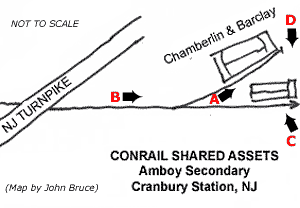 In early 2009, when John Bruce introduced us to Cranbury Station, New Jersey USA, a prototype switching location, he declared it was a survival of times past—the end of a wandering, rural switching branch line. In mid-summer 2009, George J. Loy Jr., from Long Island, New York, had a business trip to New Jersey and decided to take some time off to visit Cranbury Station, if he could find it. George reports, "I found the locale. It is an amazing place. All around the area, amongst the farms, are modern warehouses and other buildings put up within the last several years. Cranbury Station is like going back in time at least 40 years. Enjoy the pictures!"
To illustrate the way this scene is a preserved pocket in time, George sent along a Google Map (below) with the comment, "Here is a satellite view. I circled in red Cranbury Station. In blue are new warehouses, housing developments, etc. displacing the farm land all around Cranbury Station."
What a great prototype for a micro layout! Some of George's photos are shown here, keyed on John Bruce's map, to get your ideas flowing. Lessee… obviously the fiddle yard could be a cassette off to the right, behind some trees…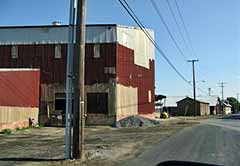 B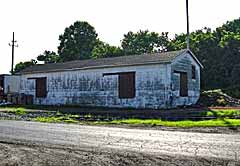 D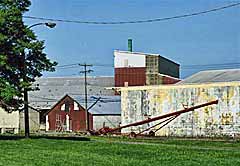 C
---
JUST IN: PHOTOS OF PROTOTYPE BOSTON CENTRAL CITY YARD

In Scrapbook #92, Omar Lehr showed us a prototype balloon loop yard located in the urban center of Boston, USA. He commented, "Looks like they service engines and do a little intermodal. The tanks to the NNE are pastel pink, blue, and green. You can look into it when exiting I-95 at rush times."
As he lives in the area, I asked Omar to get some photos if he were able… and here they are. What a terrific prototype for a small layout module… a return loop, with a loco service depot and an intermodal yard inside. The backscene would be a portion of the Boston skyline. As you can see, opportunities for detailing the scene are abundant.

---
NOTHING WRONG WITH YOUR EYES — IT'S DUAL SCALE, NOT JUST DUAL GAUGE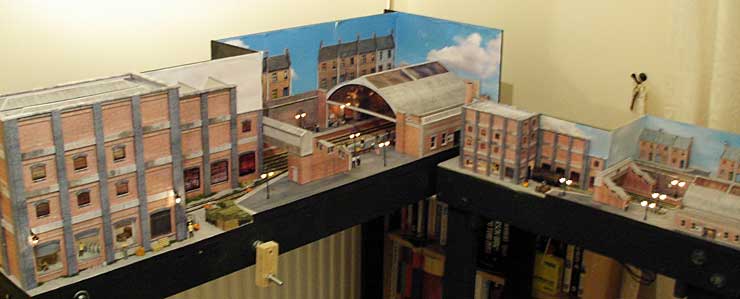 Don't look now but Ian Wigglesworth's HO layout, Stubbier Yard (see Scrapbook #93) not only has a new name but has acquired a fraternal twin! Ian, who lives in Grantham, Lincolnshire, England, has renamed the layout as Wold's End… and to compound the confusion, has built an N-scale version exactly the same, with the same name! (The name derives from the Lincolnshire Wolds, near Ian's home.) Ian comments that he made the N scale version "a little wider to fit low relief houses on the back instead of just a picture, but other than that tried to keep it the same."

---
THIS ONE MOVED TO CANADA, ADDED A RUN-AROUND, GAINED A FIDDLE YARD

Nick Palette, from Handsacre in Staffordshire, England, has made a few changes in his North Point Yard layout from Scrapbook #78 of a couple years back! Not only has he streamlined the name to Northpoint, he has made a few other changes as well: "The layout has changed location to Canada, now has a run-round loop and an additional 30in length for a fiddle yard. I have included many small scenes, including animals, to give younger viewers at shows something to search for. However there no prizes for getting them all!" And of course, his "extended-Inglenook" style layout has changed to a Tymesaver! Other than that, nothing much has happened…


---
LAZY RIVER GETS FULLY DETAILED, HEADS FOR EXHIBITION CIRCUIT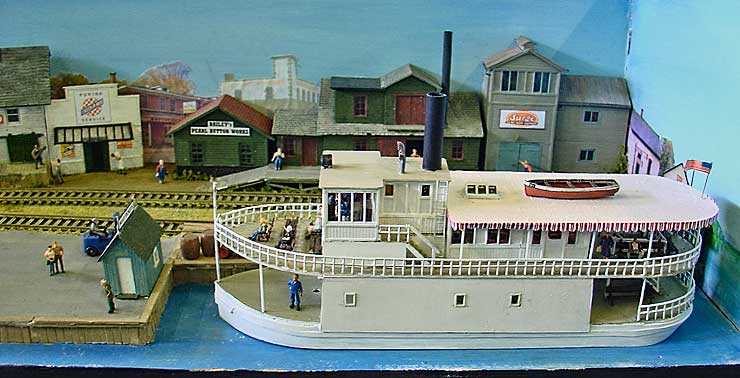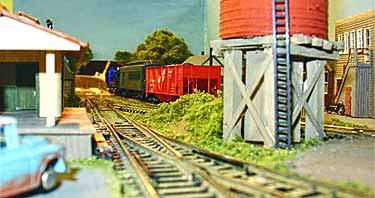 Giles Barnabe, from London, England, revealed the track plan for his layout, Lazy River, in Scrapbook #65a (2007). Now the layout has grown up and is being exhibited… and some operating lessons have been learned! Giles explains, "Operating experience has shown that the original staging yards are not sufficient, and I suspect that a second siding is needed behind the wharf scene (plus extra length). At the other end the traverser never materialised, and it is planned to make this a scenic board with the other end of the run-round loop, a freight spur for a sawmill and a loco shed." Anything else? "The date for the layout has been set as 1960."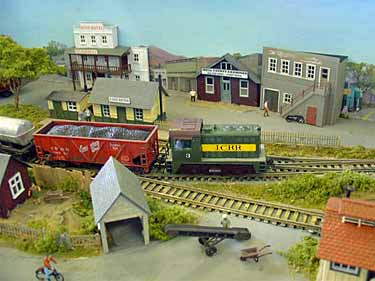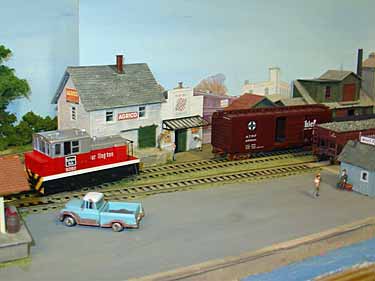 ---
DAWSON STATION HITS THE ROAD, BEGINS GARNERING AWARDS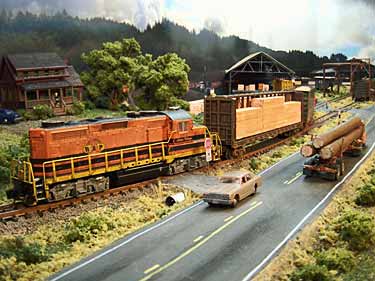 Dawson Station, an authentic N-scale sawmill-switching layout by Ken Olsen, from Adair Village, Oregon USA, was selected among the Top Reader Favorite Layouts on this site in 2009. Now Ken has been touring it, and has starting winning still more awards. He recently gathered first place in the Diorama category and was runner up for Best in Show at the 6th Annual Pacific Model Logger's Congress held last month. You can see details of the awards and new photos of the layout at Ken's blog. Ken also assembled the panoramic view of his 4x1ft layout (above), and uses it as the title banner for his blog.

---
AFTER THREE YEARS, BICHOU'S YARD IS DUSTED OFF AND RENEWED

Bichou's Yard, by Olivier Jeanneret, from Pully, Switzerland, was first seen in these pages in Scrapbook #53 (September 2006). After this excellent start, it languished in the cupboard for three years! Then, inspired by our Paper Scenery issue, Olivier pulled out the layout and obtained access to a high-quality computer printer. He followed our links to suppliers of online scenes, printed some out, and brought the layout to the stage you see here in just two weeks!
He was especially pleased by the "metal sheet" effect on his sector plate of pasting a printed paper strip on top of the track! He's starting a website to celebrate the layout's renaissance.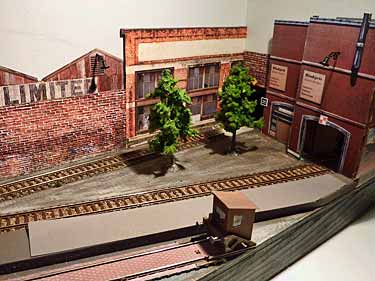 ---
BERLINER BUILDS TWO 'FOREIGN' LAYOUTS — FROM ITALY & INDIA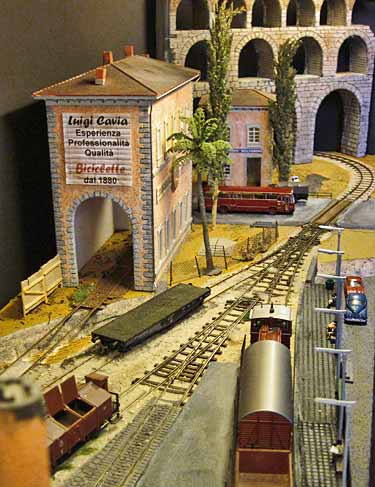 Alexander Kaczmarek, from Berlin, Germany, is building two small layouts, both representing railways in countries other than his own!
First, there's Stazione Montelupo, which we first saw in Scrapbook #91. Representing a Northern Italian interurban station, this layout is a combination of Inglenook game and circle line… an Ingloop, perhaps? Alexander has included a seldom-modeled piece of scenery… the remains of a Roman aqueduct. He muses, "remarkable that they already knew styrofoam ;-)."

---

Alexander Kaczmarek is also putting the finishing touches on his version of the Darjeeling Himalayan Railway of India. This is an On30 line, similar to the Gum Stump & Snowshoe but without the overpass which would require very steep grades in this larger-than-HO scale. As far as finishing touches are concerned, Alexander points out the "the main streets are now more crowded, and there are some more new details… And if you ask what these Shays and Climax are doing in India… they keep the trains going until the class B arrives (whenever that will be)."
Finally, the DHR has been featured in several previous Scrapbooks—including #53a, #63a, #74, #81 and #86a—but to date we have never published a track plan. Alexander has corrected that gap and sent the plan you see below. Our coverage is now complete. This layout was voted by a number of our readers among their personal favorite track plans of 2009.