PAGE 98 – June 2010
H O T I D E A S F O R S M A L L R A I L R O A D S
Okay. Some folks like intensive switching activities (the Shelf People). Others prefer to run trains (the Circuit People). Can you do both on a small, standard gauge layout? Here are some ideas, including new plans from seven of the best small-layout designers.
---
ALTERNATIVE 1: INCLUDE AN OVAL AS PART OF YOUR YARD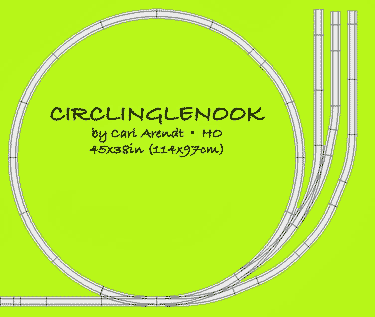 This page is about having your cake and eating it too. It's about making a layout with good operating possibilities—lots of switching cars and making up trains—but still allowing for some "train-running" action, going 'round in circles. All in the space of a Small Layout (under 24 square feet or 2.16 square meters).
One good way to join switching with circular running is to make the circle an integral part of your train yard or switching district. The plan that comes to mind is those delightful little train-ferry yards that lined the rivers in New York City USA… like the Lehigh Valley's Bronx Terminal on the Harlem River (upper left, click on diagram to reach an excellent page about this yard). Because land was scarce (and expensive), the prototype railroads had to curl their switching leads (head shunts) into a small, continuous oval shape to get the longest amount of track in the least space. They even built circular freight houses to use the space in the center!
We can work that same trick to get lots of operation and train-running in about 45x38in in HO scale (above right). Circlinglenook is designed entirely with Peco SeTrack, using its curved turnouts (three lefts) and taking advantage of its 17in (438mm) and 14in (371mm) curves. You can do a lot of shunting in this very small layout—even playing Inglenook games—and can still watch your locos log some miles. Adding a foot or so to the three yard tracks (by building a short extension) can add considerable capacity to this little yard. The stub at lower left can hold an engine house for the switcher.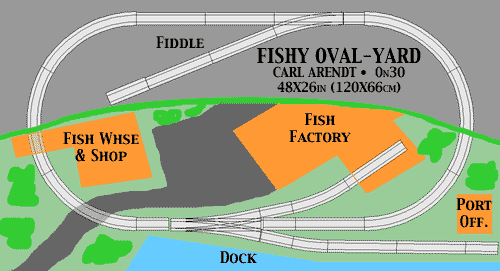 Fishy Oval-Yard (left) illustrates a similar approach that offers good results for On30 trains in a similar space. It takes advantage of Fleischmann's 10-inch-radius H0 curves to squeeze in an oval and uses a single Peco three-way turnout to create a "switching district." The head shunt (yard lead) is also the main-line oval. Scenery can take many forms; the suggested theme of a fishing industry plays on the fact that there is a lot of Maine two-foot gauge equipment available for On30, and several of those little lines served waterfront areas.

---
ALTERNATIVE 2: ADD A TEMPORARY, REMOVABLE OVAL
If we can find or negotiate a little more space—at least on a temporary basis—then other alternatives appear, still within our "small layout" compass. One approach, currently gaining popularity, is to construct a small "shelf switcher" for everyday use… and when space is available (on the floor, on folding tables, or at a train show) connect the rest of an oval of track to the shelf. That way, we can have switching enjoyment all the time, and when we feel the urge, we can also run trains round and round! The oval can be made from pre-mounted trackage sections or just assembled from sectional track (preferably the kind with molded-in ballest).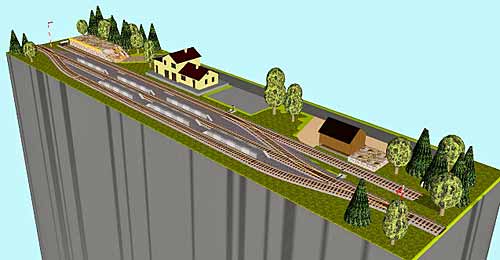 The Shelf-Plus-Oval idea is well illustrated by this layout sent in by Jiří Brožek, from Prague, the Czech Republic. Jiří built a TT-scale (1:20 on 12mm gauge) module of a small, local-line station. Then he connected the ends of the module with an oval of Tillig sectional track. "the layout had to be put together either on a large table or on the floor," he commented. "TT is quite small, but not THAT small!"
The photo at right shows the station module before scenery was installed. The drawing below shows the planned scenery. There's a web page with more about this layout (in Czech, which Google Translations will handle for you). Jiří sent us this information in response to my questions about micro modules in Scrapbook #97a.
Jiří's evaluation of the layout was not very favorable. "Unfortunately this idea had more cons than pros in the end… Especially the fact that the layout had to be put together on a large table or on the floor… [Also] As the station was built using Tillig profile track, I had to create two additional transitional segments that allowed me to use the sectional tracks for the track outside the station… As you may notice the module was higher (due to switching mechanisms) than the sectional tracks and they had to be bottomed on plastic bricks—another potential cause of problems. In the end I've abandoned the whole idea."
But perhaps the idea has merit for others. We've noticed at train exhibitions (especially in continental Europe) an increasing number of layouts using this configuration—a beautifully detailed module, connected by a temporary oval of sectional track for running trains through. A good H0-scale example from Luxembourg is Timpas, a layout by Alain Kap shown in Scrapbook #89a.
Another example (below) is an O-scale Timesaver built by Stefan Karzauninkat, from Hamburg, Germany. His home shelf-switcher layout is shown at an exhibition with a temporary oval laid out on a variety of tables (O scale is large!). For use at home, Stefan has included a meter-long module at each end of the Timesaver, to allow trains to pass all the way through the switching area. At exhibitions, he uses the pre-fab oval shown to keep the traffic flowing. There's lots more information at his website, and in Scrapbook #83.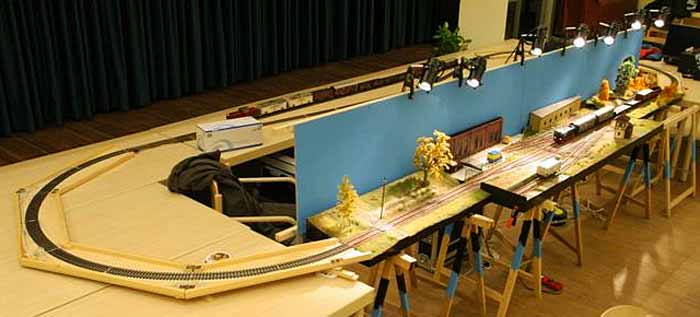 DESIGNING THE SWITCHING SHELF — A MASTER CLASS


Alexander Kaczmarek
Berlin, Germany
Alexander Kaczmarek is a photographer and artist as well as a layout designer, and his pictures, drawings, and track plans have appeared in these pages for the last several years. Alexander submitted two plans for this challenge, and invited us to take our pick. Naturally, we chose both!
The first, Mainlände Hafen, is a complicated design that flings spurs in all directions. Alexander comments, "At Mainlände you can find an extra runaround possibility and also a small harbour, but switching while the mainline is occupied is not possible in this configuration." Nonetheless, the switching possibilities are tremendous, even if they do have to cease while the express train roars by. Both this and its sister layout (below) are designed to use Peco Code 75 track and turnouts, and both can be switched without the oval in place.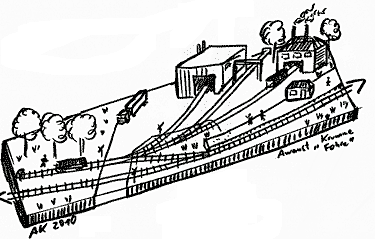 Alexander's second layout is named Krumme Fohre (a small station in northern Bavaria), and is also labeled Awanst. Alexander explained, "Awanst is the bureaucratic abbreviation for 'Ausweichanschlussstelle' (you notice the German preference for compound words)." It literally means "alternate interface."
The three sidings in the yard are conveniently laid out as an Inglenook switching game, which provides one excellent mode for operation. As indicated on the diagram, there are lots of other good switching possibilities as well. Alexander concludes, "Awanst has the advantage that you can switch with one train in the sidings and at the same time a train can pass on the mainline. That´s exactly what we want, isn´t it?"





---
HOW TO GET STARTED… SOME GOOD BEGINNING LAYOUTS
For the benefit of beginners and newcomers to the hobby, we need to ask at this point: "What if I don't know whether I like switching or running or both? I know that I don't want to mess around with curved turnouts or complicated switching patterns. Is there any way for me to have a simple layout with a spot of switching and a bit of running, to try things on for starters?"
The answer of course is: Yes! We'll be devoting a page to this question in the future. But for now, here's a simple answer… a layout that is relatively easy to build, doesn't require much investment of time or money, and gives a feel for the joys both of switching and of running trains.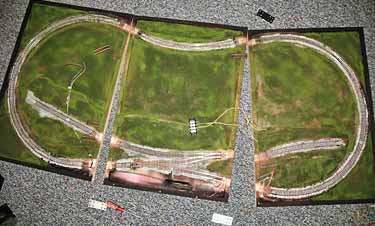 This little portable HO layout was built by Tom Schaeffer, from Boston, Massachusetts, USA, as a gift for his nephew, Eric, who lives in California, about 3,000 miles away. Overall the layout measures 70.5×34.5in (179x88cm). It is built—of necessity—in three sections which are stacked in a single carton for shipment from Massachusetts to California. Each section measures 23.5×34.5in and has a wooden frame filled with foam insulating board. Scenery and trains will be added at the other end of the trip.
Eric is seven years old and definitely qualifies as a beginner. The oval track for continuous running has an end radius of 16.5in (42cm), which limits rolling stock to small locomotives and 40ft cars. A lot of those models and kits are available, and they operate just fine on curves from 15in (38cm) on up.
As for switching, this layout follows the "Two Turnout Theme," which offers excellent switching opportunities. Two previous Scrapbooks have been devoted to this switching theme—see #65a and #59a. As a general comment, the "kickback" siding will provide lots of opportunities for manipulating cars to get them to their designated spots on the layout. Put a five-car train together, designate three cars for spotting at selected places (chosen by lot, by dice, by pulling cards from a deck, etc.). Then go to it. You may find that you'll need to "run around" a car in order to shove it into place. One good way to do that is to take the locomotive all the way around the oval. Works fine!
Above all, have fun. That's what Eric's Layout is for… and what model railways are really about!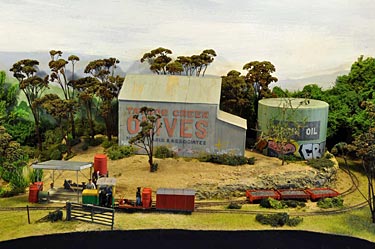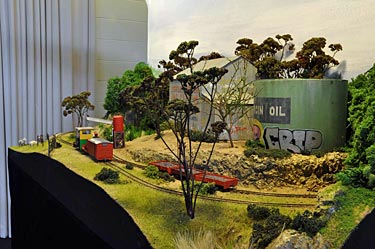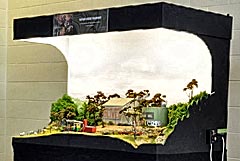 To demonstrate how a simple layout like Eric's can be "dressed up" with excellent scenery, here's Taylor Creek Tramway—an engaging little narrow-gauge layout. It's the very first exhibition appearance by a younger modeler, Nathan Badcock, from Tasmania, Australia. Prof Klyzlr, in Sydney, sent these photos with the comment, "I have to say, it ticks all the right boxes for my mind re: Layout Presentation." (See Scrapbook #95a for Prof's opinions on this subject.) Photos are by Stuart Dix.
Note that the track plan for Taylor Creek Tramway is virtually the same as the one for Eric's Layout. The addition of scenery makes a significant difference, doesn't it? Notice particularly the changes in ground height (although the track is level); the use of varied ground cover, from dirt and gravel to tall grasses to rocky cuttings; the marvelous trees and other vegetation scattered about; and the convincing way the structures nestle into the landscape. Now imagine those elements applied to Eric's Layout above… and get to work!