PAGE 105 – January 2011
H O T    I D E A S    F O R    S M A L L    R A I L R O A D S
In This Issue
N-Scale Shelf Layouts
Hobbiton—A classic small, rural British station
Littleport—Changing scales opens new possibilities
Car Shop Inglenook—N version of this excellent layout theme
Schelph Line—Intricate industrial district and interchange
Large-Scale Shelves—O, G and Beyond!
Duncton Yard—Scenic O-16.5 Inglenook switcher
Pattingham—O junction sprouts amazing fiddle yards
Cardboard Conclusions—G-scale shuttle uses cardstock end bumpers
Creighton Barrel—Hollow door holds G Tymesaver line
Borkum Railyard—Maneuvering mastodons: 7/8-inch switcher
After an orgy of circuhilarity running round and round at the holiday season, it's time to get back to work. For our layouts, that means Switching! Here are some good shunting shelves, from very small (N) to very large (O and above). We'll fill in the middle (HO/OO) another time.
---
---
AN APT FIRST VENTURE INTO N-SCALE MODELING


After spending his childhood with OO trains, followed by 25 years fooling with computers, Nigel Gaunt, from Nottingham, England, recently decided to return to model railroading, this time in N scale. The result—somewhat influenced by this site—is Hobbiton, a 54x10in (137x25cm) Great Western branch line in the form of a runaround loop (passing siding) with spurs running off in both directions (to keep the operator's life interesting).
Scenery is mainly plastic buildings, with very attractive ground cover and excellent trees made from twisted wire coated with "liquid bark." Nigel photographed the backscene in Yorkshire by walking down the road, snapping photos of all the buildings. He explains that he used PhotoShop to create a montage of all the photos, editing out the "21st century street paraphernalia, like burglar alarms and satellite dishes. I tried to print them on my home printer, but the results were too dull. So eventually I took the JPGs to my local supermarket, who printed the whole set of glossy 9x6in (23x15cm) prints for just over £1. These were then pasted to the backscene (lower right photo)."
When the layout was complete, Nigel took it along to his local hobby shop, where they liked it so much that he sold it to them for display in their shop window! It may well still be there (though not shown in the linked photos).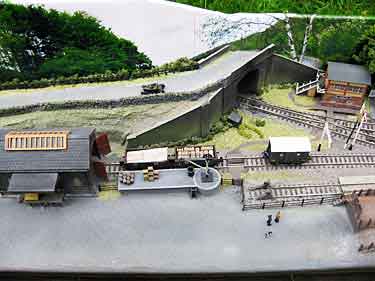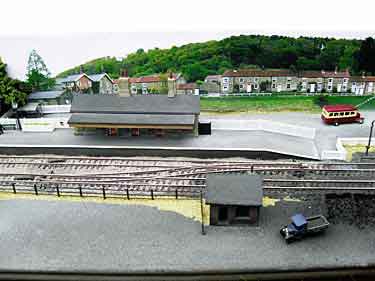 ---
CHANGING GAUGE CAN OPEN NEW SCENIC AND OPERATING POTENTIAL



A reader just beginning in the hobby wrote, "I like the Littleport layout of Giles Barnabe [Scrapbook #57 (plan at right)] but I would like to make it in N scale. Can I do that?" The answer of course was a resounding, "YES! Lessee, in N it would measure 30x7in (75x18cm)…"
The comment stopped right there, as I paused to think about the conversion. This is a British layout, set in a small seaport, that relies on short four-wheeled UK rolling stock to provide flexible operations. But my reader was an American, who undoubtedly would be using 40 or 50ft cars that require longer sidings for shunting. So the thought occurred: why not keep the layout the same size as in OO scale (roughly the same as HO scale), rather than shrink it for N? And voilà! I redrew the layout as shown full-width above… an N-scale Littleport, measuring the same as the OO layout—60x14in (152x36cm).
What do we get for our investment in space? First, we get a lot more scenery space, room to spread out and allow the railroad to be embedded in very realistic surroundings (a much-touted advantage of N scale in very large layouts). In addition, we have room to do the same switching as OO, but much more like the prototype does it, slowly and systematically, using full-length U.S. cars. And we can create a very believable small, rural branch line leading to a carefully modeled seaport town tucked away in the hills of New England, or Carolina, or Florida, or California, or… you name it!
One more point: this is a very easy railroad to build, and yet it has a sophisticated look. Even a beginner can produce an "advanced" layout with this kind of plan. What more need I say? Here's the track parts list:
Atlas Code 80 N Track: 3x-Custom N Line Switch Right; 1x-45º crossing; 3x-Full Section 9in Radius; 2x-Half Section 9in Radius; 11x-5in Straight; 1x-Plate Girder Bridge; 3x-Pkgs of Assorted Straight Pieces.

---
CAR SHOP INGLENOOK PICKS UP FROM THIS SITE AND CARRIES ON


Our classic article about RIP Track (Repair In Place) operation by "Rip Traxx" provided the inspiration for Ralph Grutzmacher, from Toledo, Oregon USA, to build his N-scale car-repair facility including Inglenook sidings. He also discovered the Bachmann model of a good-sized car-repair shop. Ralph explains, "In addition to the starting point of the Bachmann car shop model I kitbashed a Walthers modular plumbing supply kit to build the office and shop flat that is on the opposite end of the module from the car shop.  Yes, that whole flat is built from a single kit plus some sheet styrene."
Ralph also carpentered a display enclosure for the layout, built just large enough to contain and show off a 48x12in (120x30cm) layout (the display box is visible top and bottom in the upper photo). "The Inglenook portion of the module was sized to take cars up to 50 feet in length… I located eight different-colored MDC/Roundhouse boxcars with Micro Trains wheelsets in my tray of Crayola modern box cars (lower left photo)," Ralph continues.
He also built a string of "bruised" cars (lower right photo), clearly in need of repair and/or scrapping. Visitors really enjoy seeing those cars hobbling around the repair shop! All in all, he's created a credible and busy shop facility, that is also fun to operate using the Inglenook game rules.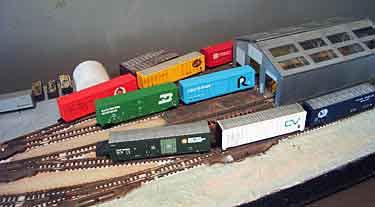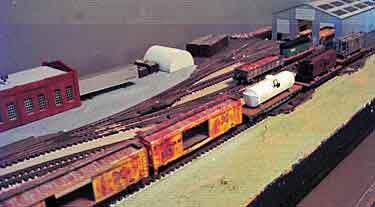 INDUSTRIAL SWITCHER ADAPTS 'PIANO LINE' TRACK PLAN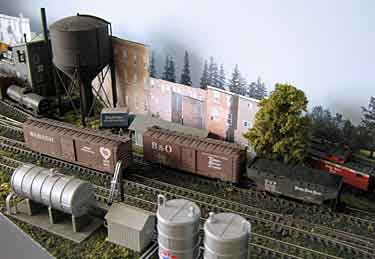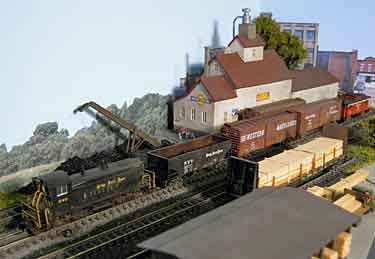 John Bugg, from Colchester, England, built the N-scale Schelph Interchange and Industrial District micro layout on a 58x8in (147x20cm) baseboard. It represents the northern end of a 10-mile branch from Norwalk, Ohio—originally part of the Wheeling & Lake Erie and absorbed into the Nickel Plate in 1949.
John expands on the history, "The line originally ran down the main street in Schelph before terminating in the industrial district (lower left photo). However by the mid-Thirties the townsfolk were becoming alarmed at the prospect of unwelcome modifications to the bodywork of their automobiles, so the railroad jogged over a couple of blocks and skirted the town, reconnecting near the far end of the runaround siding at the terminus (lower right photo). The enduring legacy of this realignment is an unconventional track layout. The former main line is now only a stub beyond the south switch to the runaround siding, enough for a loco or one car. Trackage beyond the north switch can handle a loco and three cars." The result is a sophisticated version of the Piano Line, one of the Classic Small Layouts.


The layout was designed for as much switching as possible, including six industries—canning factory, engineering plant, coal dealer, feed mill, lumberyard and an oil dealer—as well as LCL consignments to be unloaded at the depot and considerable traffic to and from the interchange track. Most trains are four cars long, plus caboose. Space restrictions mean there's no room for a fiddle yard, so between operating sessions cars are swapped on the interchange track. The next train is assembled somewhere on the main and backed into the hidden staging track.
John worked out some basic assumptions about traffic levels/types and uses a computer to generate random numbers to determine the number of cars in a consist, which cars are selected, etc. "This has proved to work very well and gives many different combinations of cars and switching requirements. Some switchlists are easy, others require forethought to avoid unnecessary moves and the peril of gridlock."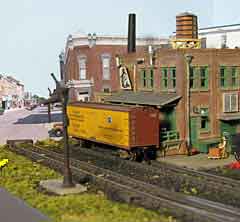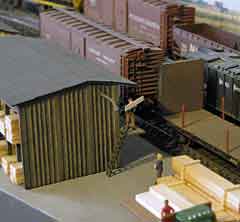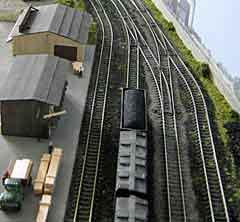 ---
LARGE SCALE SHELVES — O, G and Beyond!

---
O-16.5/On30 SHELF UPHOLDS CLASSIC INGLENOOK LAYOUT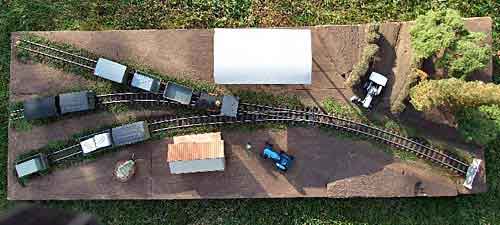 Duncton Yard is a sleepy private siding in England modeled in O-16.5 (On30) and measuring 110x40cm (43x16in). Chris O'Donoghue, who lives near Rye, England, is building it as a classic 5-3-3 Inglenook layout. The striking structure under construction at the front is a Dutch barn—a storage area under a simple roof supported on poles. It's a view block that is open enough (lower right) to show the audience what's going on behind.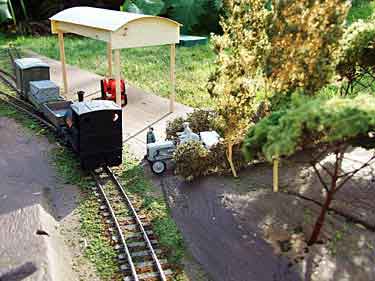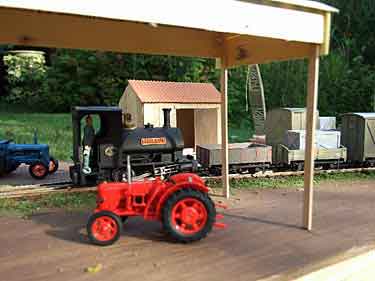 ---
O-SCALE LINE FEATURES INCREDIBLY COMPLEX FIDDLE YARD(S)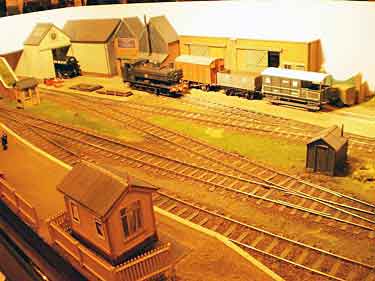 Mike Bragg, from Solihull, England, models the Midlands in O scale. Pattingham, his latest effort, is set on a line between Bridgnorth and Wolverhampton that never did get built, but now is modeled based on a real industrial works that Mike has renamed Joseph S. Buffey Co. (after his maternal grandfather). The track plan is by Neil Ripley from Hull MRC, enlarged from the original OO scale to a 54x30in (135x75cm) O-scale design, with an amazing collection of fiddle yards on both sides (measuring 42x24in and 42x30in — 105x60cm and 105x75cm). At least three operators are required to work the layout at an exhibition (a driver and two fiddle-yard workers), though Mike manages on his own at home or operates with a single friend, usually Barrie Watkins. For more information, see Mike's website (last layout on the page).


Plan courtesy Neil Ripley, who designed the layout

---
G-GAUGE SHUTTLE SPORTS CREATIVE CARD CONCLUSIONS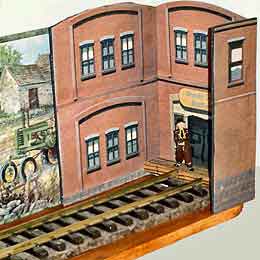 Bill Chestnut, from Bridgeton, New Jersey USA, is a garden railroader who has built a waist-high indoor G-scale shelf for railroading when it's too hot or too cold to go outside. The little line measures 12ft by 8in. Bill recently decided to use some of the paper background ideas from Peek's Pike on this site to "dress up" the ends of his line. Building images were edited with Paint Shop Pro, printed out and mounted on black foamcore and card. Looks pretty good to me!

---
DOOR-BASED LARGE-SCALE LINE PROVIDES PLAYGROUND FOR 'CRITTERS'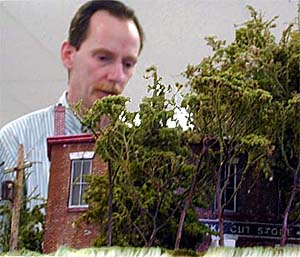 This 7/8-inch scale Tymesaver is the work of Gary Larson from Niantic, Connecticut USA. Inspired by Carl Brummer's similar layout from this site, Gary plans to include a small turntable, engine house, repair shed and a factory across the whole back built as a facade. He'll call it Creighton Barrel and use it as a playground for the industrial critters intended for a larger layout that he's been building for approximately the last 11 years.
Note: 7/8in scale is really BIG (1:13.7 proportion). These guys use G-gauge track, 1¾in or 45mm wide, to represent two foot gauge prototype track!
---
GIANT 7/8-INCH TRAINS ROAM THIS INDUSTRIAL SHELF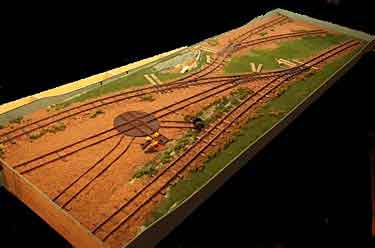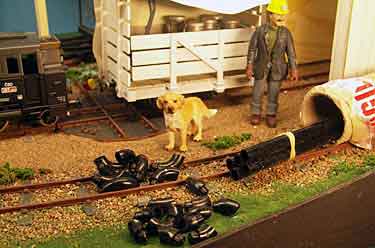 A previous Scrapbook illustrated the "portable stage" designed and constructed by Henrik Laurell, from Gothenburg, Sweden. Now Henrik shows off one of the 7/8in scale layouts that can occupy his stage—this one is called Borkum Railyard and is built to 7/8n18 scale (1¼in/32mm gauge). Henrik comments, "The layout is 70x190cm [28x75in] and is separate from the lightbox, so I can easily replace it with another board whenever I wish." There are lots more photos at Henrik's website.