PAGE 85a – May 2009
H O T I D E A S F O R S M A L L R A I L R O A D S

This month's themes involve saving time (and money) on layout construction,
then enjoying leisure time operating the layout with variations on John Allen's
classic Timesaver. The Timesaver varietals, which we call Tymesavers to distinguish them
from the original, all have a runaround loop (passing siding) with spurs running off it.
The construction kinks involve commercial products that can quickly and
inexpensively provide baseboards and benchwork for small layouts.
---
'STARTER' DESIGN TRIGGERS SCENIC MICRO LAYOUT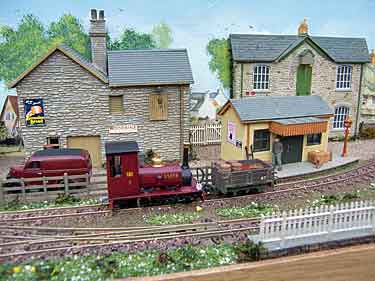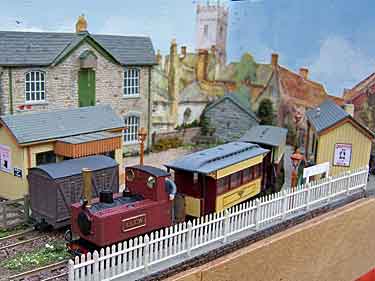 Graham Watling, from Norwich, England, was inspired to build Fotherham by a "starter" layout, Hylton (Town), on this site. "I liked the 'complete' nature of the station, loop, and especially the curved platform and goods siding," Graham explained.
Measuring 1300x195mm (51x8in), the layout includes just a few changes from its predecessor. The fiddle yard was expanded to increase its versatility, the overbridge was slimmed down to increase the visible scenery, and Graham added a small coal siding at the head shunt end of the layout. "All the buildings, the viaduct and most of the track has all been re-used from previous projects, so this little layout hardly cost me anything," Graham added. "The result is a very portable layout which is interesting to run, and I run all sorts of locos and stock as the fancy takes me!"
Fotherham is a Tymesaver plan because it features a runaround loop [passing siding] with spurs off it. We call it a "Tymesaver" to emphasize that it is a variation of the classic Timesaver plan. This specific design, like Hylton (Town), is also an adaptation of Rev. P. H. Heath's classic Piano Line layout, c. 1965!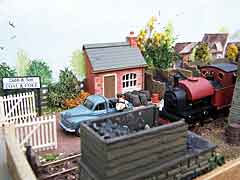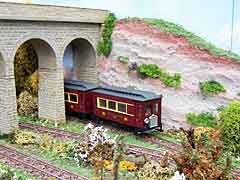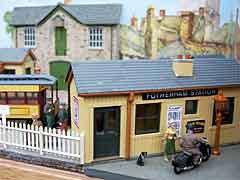 ---
SECTOR PLATES SUPPLANTING TURNOUTS TRANSFORMS TIMESAVERS



Our inveterate layout tinkerer, Shortliner Jack Trollope, from the Scottish Highlands, has come up with a space-saving idea to apply to John Allen's classic Timesaver design. Jack suggests, "Replace the turnouts at each end of a standard Timesaver with sector plates, hidden under highway bridges jammed with traffic." Shown above is Jack's scale drawing of this idea applied to a Timesaver using 50ft U.S. boxcars and a GP9 (or other diesel road switcher) for power. The sector plates are each 15in [38cm] long, to accommodate two standard cars, or one car and a locomotive. The cars shown all over the layout are placed there only to illustrate each siding's capacity (measured in 50ft car-lengths). The standard Timesaver is worked switching five cars at a time.

To save still more space, Jack has redrawn the layout using standard 40ft boxcars from mid-20th Century U.S. railroad practice, along with a short, 45-ton diesel switcher. The effect on layout size is dramatic, as you can see. Sector plates are only 9in [23cm] long, and the entire layout measures just 38x12in [96x30cm]. (Again, cars shown are just to illustrate siding lengths.)

---
BOXFILE LAYOUT OPERATES WITH 'PHANTOM' TYMESAVER

David Richardson, from near Swindon in Wiltshire, England, has reduced his visible OO layout to the size of a box file, using the "Phantom Layout" concept described in the last issue. David's setting is at Grange, end of the line for an imaginary freight-only extension of that portion of the Irish Western Rail Corridor widely known as the Burma Road (closed to passengers in 1963).
The track layout at Grange is drawn on the inside cover of the box file, with the modeled part in red. The Phantom remainder provides a guide to operations, with locomotive and wagons appearing from time to time on the two tracks modelled. Transfers are handled offstage using a Peco Loco Lift as a cassette.

---
SPRING FLOODS PROVIDE GROUND FOR TYMESAVER


MJ Idzerda, who lives in London, Ontario Canada, has celebrated the coming of Spring by unearthing his 6x1ft (180x30cm) layout (see Scrapbook #82a). MJ continues, "London, Ontario recently saw flash flooding of the Thames River, which flows near our home. After the snow melted and the waters subsided, the river left tons of sand along the now lower banks… Having always loathed putting track ballast on the cork rail bed, I thought that this sand could make a good looking base all around. This discovery propelled me to revisit the project, set the board up, dust off a previous revision and plan away."
The result is shown in the photos. Landscaping comes next—shrubs, trees, weeds, and the like, followed by scratchbuilt structures. The plan is a good switching layout, a variation on the Tymesaver theme. Stay tuned for future developments.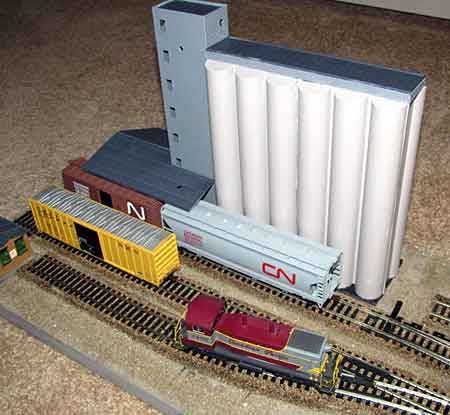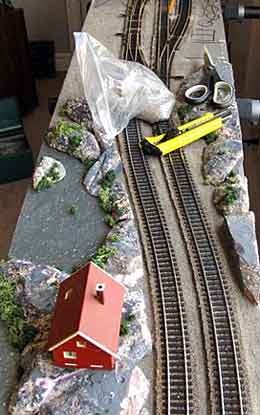 ---
CORNER PLAN COMES ALIVE, PORTABLE BENCHWORK AND ALL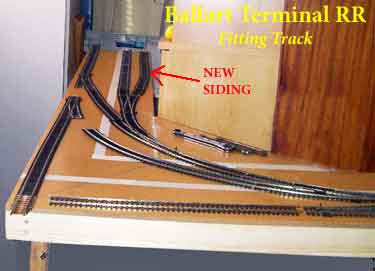 Speaking of benchwork, Shortliner Jack Trollope, from the Highlands of Scotland, is working on a new layout that combines innovative benchwork with a fresh take on the Tymesaver theme. Jack explains, "I am working on my U.S. version of Rügenshaven [Thomas Van Hare's award-winning entry in our Trackmobile layout competition], stretched to 52in (132cm) arms that are 8¼in (21cm) wide. It's based on something like the Ballard Terminal Railroad, and similar to Jordan Foster's Portway Terminal O gauge layout. I know it doesn't qualify technically as a micro layout now, but I can use larger locos and 57ft cars!"
Benchwork splits down the middle and uses broomstick legs that are removable for transport with the boards face to face. Working with the trackwork, Jack found a way to add an additional siding to the Rügenshaven plan (right photo above), creating two more spots to switch cars. Also, this layout will be viewed from the outside. We'll keep you updated.

---
IRONING BOARD GIVES QUICK, SOLID BASE TO A LAYOUT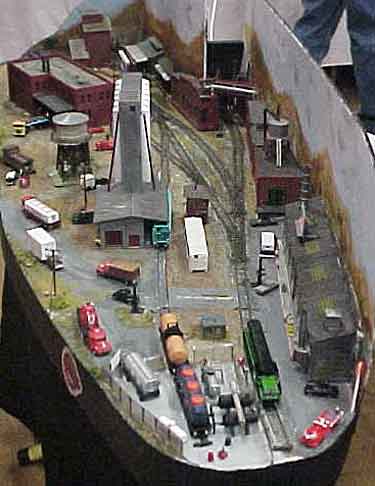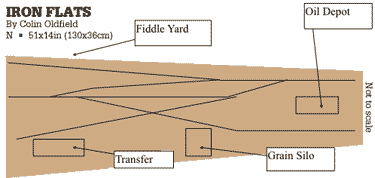 Colin Oldfield, from Rainhill, England, built his N scale Iron Flats on a standard ironing board, 51x14in (130x36cm), after his wife upgraded to a new one. Colin remarks, " It is self supporting and takes about half an hour to set up and commence running, and fifteen minutes to dismantle ready for removal… The small switching yard portrayed is set somewhere in Nebraska and is mainly served by Union Pacific and Santa Fe road switchers. Locomotives from other railroads put in appearances from time to time on transfer runs."
Track plan is a Tymesaver. Colin knows that Espee SW engines are unlikely to appear in Nebraska, but comments that he likes the loco and feels that we should all enjoy modeling. And so we should.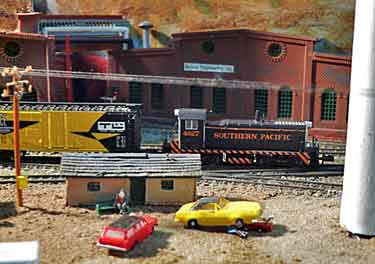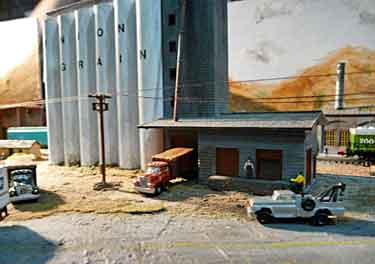 ---
'PERSONAL TABLE' MAKES A USEFUL MICRO BASEBOARD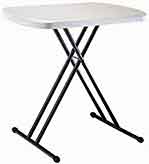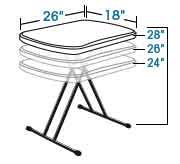 Jonathan Hamtil, from Estero, Florida USA, discovered this fold-up "Personal Table" that would make a good base for a 26x18in (66x46cm) micro layout. Its scissored legs allow an adjustable height up to 28in (71cm). This table looks best for lone-wolf modelers operating from a seated position! Or it could sit atop a standard banquet table at train meets. Its 24in setting would bring total height to about 54in (142cm)—around eye level! Jonathan found it at Costco, but it's probably widely available.

---
LOOKING FOR A CHEAP, QUICK, STURDY BASEBOARD? TRY THIS!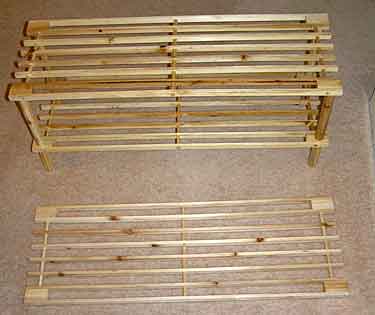 Andrew Glover, from Retford, England, recently found a supply of suitable commercially produced, inexpensive baseboards in his local B&H Store. They're shoe racks! One pack contains two open plan boards measuring 29½x18in (75x45cm) and cost £2.99 GBP (about $4.50 USD). The photo shows both a single board and a set made up.
A little research shows that IKEA have a similar rack available nearly anywhere in the world (costing $9.99 in the U.S.). Other inexpensive versions of this design are undoubtedly on the market.

---
IKEA SHELF HOLDS MODEL MELBOURNE MUNICIPAL TRAM LINE

Victoria Street, an HO scale tram (trolley) layout, is being built by Glenn Corbett, from Melbourne, Australia. The layout, set in a fictional section of the Melbourne Tramway System, measures 36x8in (90x20cm) and fits on an IKEA shelf in the study. One end serves a railway station with a small retail strip and a pub. At the other end variable backdrops will represent special events — an Australian Rules football game, horse races or agricultural show — requiring extra tram service. Glenn is building a tram fleet that will run two-rail, with lighting from the live overhead.

---
RESIN PORTABLE TABLE IS STRONG, STURDY AND CHEAP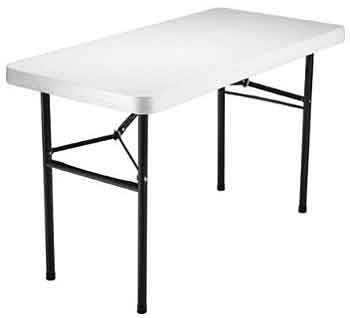 Brian Wilson, from Victoria, British Columbia, Canada, found this sturdy resin portable table at his local Staples store. It measures 2x4ft (610x1220mm) and has folding legs to collapse it for storage. Brian, who lives in a space-limited condo, uses one for his worktable but says that it would be ideal as a baseboard for a small model railway.
The resin table-top is high-density polyethylene and is claimed to be stronger, lighter and more durable than wood. After a quick Internet search, we found that this table is made by a number of manufacturers and is widely available around the world. Brand names in North America include Office Star and Lifetime. Cost is about $49 USD. (To find one, do a quick search for "resin portable table" in your country's version of Google.)

---
UPSIDE-DOWN DOLLAR STORE TRAYS MAKE MARVELOUS MODULES
Chris Mears, from Charlottetown, Prince Edward Island, Canada, is bulding an unusual modular layout. "The modules are going to be based on an wooden tray I was able to purchase at the Dollar Store (yup, only a buck [Canadian] each!)," Chris explains. "The trays are softwood, witha 1/16in (1.5mm) plywood base. They measure about 9x11in (23x28cm) and are about 1¼in (32mm) deep. In each tray end there is a slot, originally used to carry the tray. I'll be running wires through there.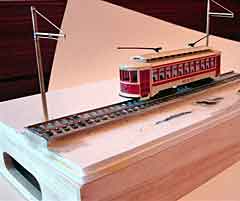 "I'm building an N scale traction (tram) layout. To the tray's top surface, I have added two layers of 3/16in (5mm) foamcore board. I was worried about noise, and I'm hoping to get a little sound-deadening this way. Also, the foamcore is easy to cut, so mounting structures and adding below-grade details shouldn't be too hard. I am using strips of card-stock as track base and to maintain the gauge. Basically, I am enclosing code 80 rail in strips of cardstock, the centre one being 9mm wide (lower right photo). The rails are held in place with a bead of CA glue."
Line poles are homemade. Chris is experimenting with methods for connecting the modules, and he's enthusiastic about the possibilities for this layout construction. "I'm pleased with the economical nature of this approach. The wooden tray was a dollar, the foamcore (24x36in sheet) was another $3 and the rail was stripped from a length of Atlas flex. So for well under $20 CAD I have a module. I can see building more of these and encouraging the kids to have a go at scenicking them!"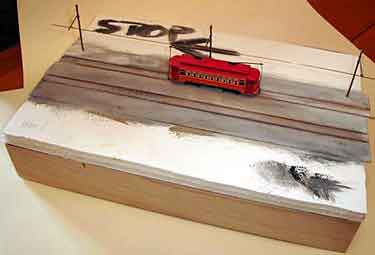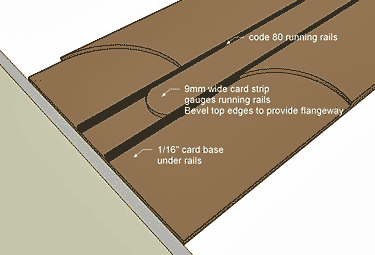 ---
IKEABAHN USES COMMERCIAL SHELVING UNIT FOR Z BASEBOARD

Alan Cox, from Swansea, Wales, designed the Ikeabahn, a 83x50cm (33x20in) shelf layout in Z scale, to fit into IKEA Ivar shelving units for convenient storage and operation. The track forms three loops with a set of small sidings feeding the local factory (and forming an Inglenook switching game), plus a couple of storage sidings offscene.
Local service is provided by a railbus, and ICE services and double-deck commuter trains sail through on the mail line. Alan has posted more photos of this scenic layout online.