PAGE 90 – October 2009
H O T I D E A S F O R S M A L L R A I L R O A D S

Once again we pause to catch up with changes and new developments on layouts that have previously appeared in these pages. We hope you find some fresh ideas here!
---
NETHERLANDS NG TRAIN SHOW DRAWS INTERNATIONAL CROWD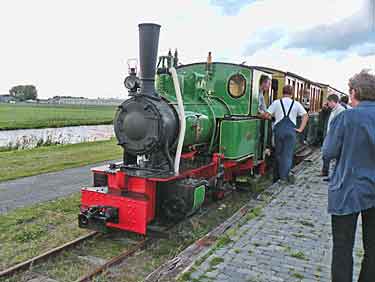 Each year the Dutch National Narrow Gauge Museum (Nationaal Smalspoormuseum) at Valkenburg sponsors a prototype and model exhibition of slim-gauge trains. This year the show was held on September 5-6, and was attended by an international group of model exhibitors. Among the full-scale delights they encountered (above) were a wide variety of "critters", including an array of small Diemas, and a special steam-powered train ride for exhibitors.
Richard Glover, from England's Greenwich & District Narrow Gauge Railway Society, attended along with several fellow Society members (see below). He provided the photographs shown here. The weekend is also well covered by a set of videos by Dave Grassing, along with excellent collections of photographs from Ted Polet and Jan van Mourik. Among the outstanding model layouts on display were Punta Marina (below left), by Henk Wust, Erzan Mine, by Leo Grinsven, and Small World by Jan Beeke (see Scrapbook #78a).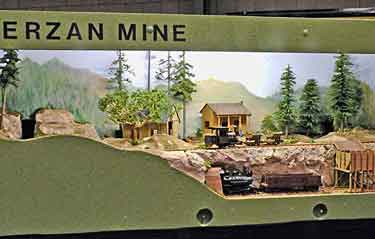 The G&DNGRS contingent displayed (left) Matthew's Corner, Chris Krupa's tiny, delightful Gn15 shelf layout; Sand Point, by Richard Glover, that has appeared in previous Scrapbooks including #66 (which includes a track plan) and #69a; and 'Ole Bill Springs, a World War I diorama by Robin Winter.
Sand Point has been brought considerably closer to completion since we last visited it. Richard reports adding both structural and natural scenic features. More photos of the layout at this exhibition are below.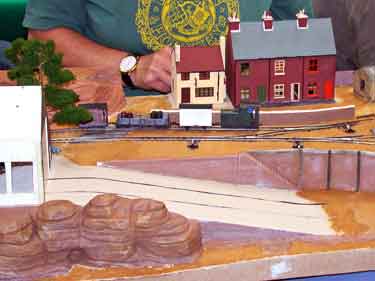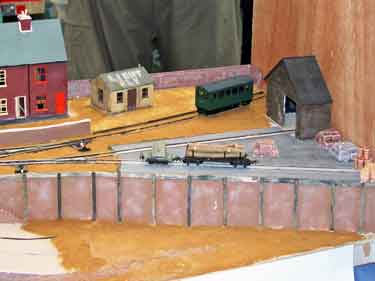 Richard Glover explains, "Up to now the main scenic feature has been, well, sand! But now we can also offer shingle, rocks and a variety of greenery (above). The buildings have not been neglected either—the boatshed which screens the fiddle yard (below, left and right) has finally been clad in wooden featherboarding (clapboarding) and covered with a corrugated iron roof. Large windows in the side let in plenty of light for the boat builders, although they are all blacked out to conceal the fact that the inside of the shed is actually full of a 12in (30xm) turntable and trains!
"The entrance to the sector table forming the hidden sidings was difficult to camouflage, as it was two tracks wide. I tried various ideas, but finally settled on two carefully placed pine trees. They don't completely block the view, but do distract the eye enough to maintain the illusion."
Still on the "to do" list: the carriage to move boats up and down the inclined marine railway has yet to appear.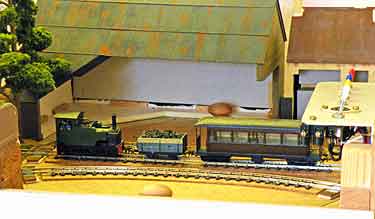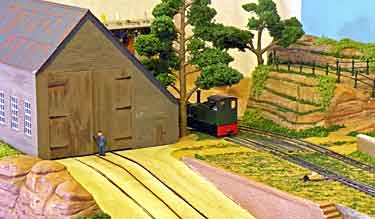 ---
PROTOTYPE CIRCULAR LAYOUT REVISITED — SOUTHWEST RAILROAD MUSEUM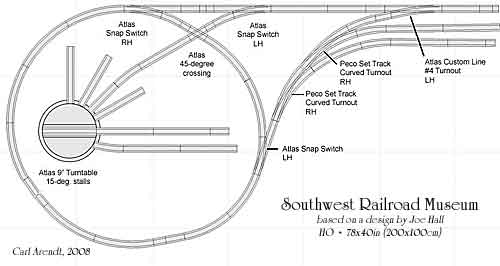 In Scrapbook #72a, Joe Hall, from O'Fallon, Missouri, USA, showed his design for a circular layout with a small yard connected by a wye and called Southwestern Railway Museum. it was inspired by the Nevada State Railroad Museum, which uses essentially the same plan. Many people have asked how to build this layout with standard turnouts available in the U.S. So here it is: Southwest Railroad Museum, designed to use Atlas and Peco switches in a 78x40in (200x100cm) area.
Track Required: 2x-Atlas Snap Switch, LH; 1x-Atlas Snap Switch, RH; 1x-Atlas Custom Line #4 switch, LH; 2x-Peco curved Set Track switch, RH; 1x- Atlas 60º crossing; 12x-Atlas 9in straight track; 8x-Atlas 18in R curved track; 2x-Atlas 15in R curved track; 1z-Atlas 22in R curved track; 4x-Atlas 6in straight track; 5x-Atlas 3in straight track; 1x-Atlas short straight track assortment; 1x-Atlas turntable.

---
UPDATING THE VENERABLE EL DORITO MINE LINE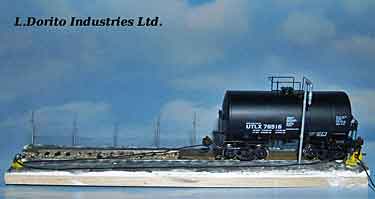 Keith Henn, from Chesterville, Ontario, Canada, has "updated" the venerable El Dorito Mine layout design by Carl Arendt. Keith's version, also a narrow, single-line layout, is called L.Dorito Industries Ltd. Says Keith, "It is also prototypical using a railcar puller beside the track to pull the tank car into position for unloading and back to position to be switched. The layout is HO scale." It measures 9x2in (23x5cm). Compare Tim Halket's Push the Wagon, Pull the Wagon, an award-winner in our "World's Smallest" competition last year, measuring 4×1¼xin (10.2×3.2cm). Smaller layouts can be lots of fun!
---
FRENCH MULTI-GAUGE LAYOUT TAKES SCENIC SHAPE


Geoffrey Nickson, who lives in Garches. France, has sent some progress photos of his triple-gauge layout, The Sonacal Factory. He's made a lot of progress since we last saw this line in Scrapbook #78! Comments Geoffrey:
"The first photo shows the left-hand side of the layout. A Fleischmann Nord 2-6-0 T (WWI German reparations to France) is shunting a wagon of coal across the sector plate into the boiler room. Just behind it, a Mougel meter gauge A 150 D Billard railcar is leaving the factory halt on the dual-gauge section [16.5mm and 12mm gauges]." Most of these structures will eventually be sheathed in bricks.
"The second shot shows the right-hand side of the layout. Our 2-6-0 is shunting a van into the building (also to receive Slater's brick sheet) where the processed product is loaded… A narrow gauge (9mm) train is visible on the upper level, ready to take the happy miners to their daily chores… Worker access from the lower level will be by way of the lift (elevator), being scratchbuilt from Evergreen strips." Though much remains to be done, this little shelf layout is looking busy and prosperous already!

---
AN HO VERSION OF HARLEM STATION WITH MORE SIDINGS!

Shortliner Jack Trollope, from the Scottish Highlands, was intrigued with the model version of New York's Harlem Station car-ferry terminal in Scrapbook #88. He writes: "My HO version uses Peco Setrack turnouts with the Fleischmann 10in radius curves (plus two Peco Small Radius RH turnouts at the back). It lets you get in extra sidings, bringing it back a little nearer to the prototype… It is now 48x30in (it grew by 4in to get the sidings at the left to a reasonable length). Car Float attaches at bottom left. It would make a good switching layout for exhibitions and in DCC could keep two operators busy."

---
MODEL LAYOUT REPRODUCES PROTOTYPE FAITHFULLY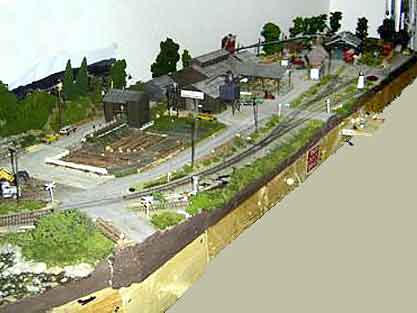 Stephan Bezier, from Leipzig, Germany, has for many years been a fan of short-line railroading in the American West. He was intrigued, as many of us were, with the saga of the "last sawmill served by a short-line railroad"— the Hull-Oakes Sawmill in Dawson, Oregon, USA. (See Scrapbook #88 for more information.)
Stephan's HO layout, the White River and Southern is a very close copy of the prototype mill. Though his layout is not really small—it's a 4.5 meter shelf—the operating pattern, like the prototype, is an Inglenook switching game! Stephan reports, "It's not exactly a space saver, but an ingenious timewaster. Operations to exchange cars take 45 to 60 minutes with two operators." Sounds good! Stephan is also working on a more micro layout with a European prototype.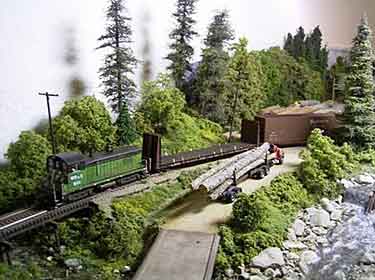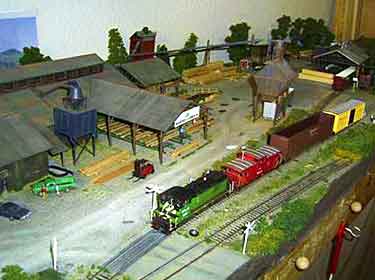 ---
SOLAR POWER UPDATE… CAN THE SUN RUN YOUR LAYOUT?
After our report in Scrapbook #89 about the difficulties of using solar power directly to drive a model locomotive, several readers pointed out that a better design might use a battery to drive the locomotive, with solar energy recharging the battery. Danial Bale and Stuart Moon both suggested this approach, with Stuart adding, "It is possible to obtain 30W at 12V from a Radio Shack solar panel on a bright sunny day… not something we get too often in the UK. Thirty watts should be enough to keep a 36A/hr lead acid cell trickle charged."
John Bruce, who did the original experiment (in Los Angeles), commented, "The circuit is very simple, just a rechargeable battery in series with a diode (to keep the battery from discharging at night). Question is still the same: whether cheap solar panels have enough power. Someone might try this!" Simon Dawson declares he has run his T scale (1:450) layout using batteries charged from a solar unit. Has anyone else successfully used solar power on a layout?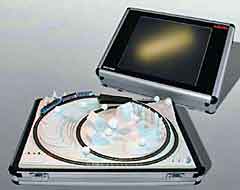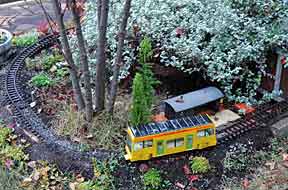 Reader Viktor Kovacs points out that the German firm Märklin markets a solar set in a briefcase (left). "The top of the case is covered with solar panels and this provides the required power for the Z scale train."
And John Milnes noticed a web article by Japanese modeler Koike Noriyuki (nicknamed Rehsi) that includes photos and a description of his solar powered tram (trolley) car in G scale (right). The roof is replaced by a solar array! Please let us know if you have found or built other examples of solar-powered model railway layouts.

---
GOOGLE'S 3-D "SKETCHUP" HELPS ENVISION FUTURE LAYOUT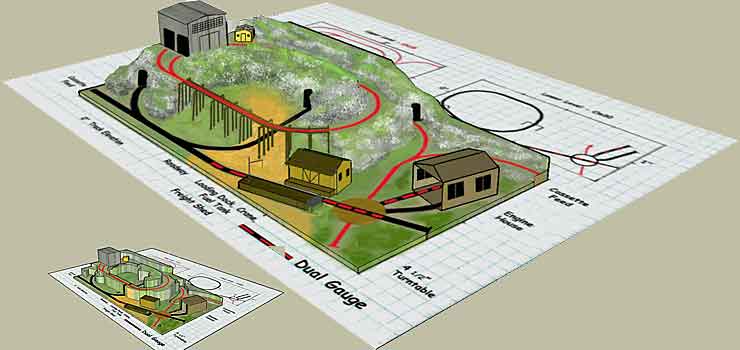 Frequent contributor Brian Wilson, from Victoria, British Columbia, Canada, has been experimenting with Google Sketchup software, using it to make 3-D visualizations of his layout designs. The drawing shows an early attempt to "pop up" his 4x2ft (120x60cm) dual-gauge O scale layout, Tsehum Grist Mills, which was first introduced to this site in Scrapbook #86a. Brian points out, "Everything is trial and error right now with emphasis on the error! The original drawing (inset at bottom left) needed some cleaning up with PhotoShop, but I think it is a really exciting way of developing plans."
Daniel Caso also used SketchUp to explore his "ferry-go-round" layout idea in Scrapbook #80. Has anyone else experimented with this interesting idea for designing layouts?

---
THERE'S ALWAYS ROOM FOR A LITTLE MORE TRACK…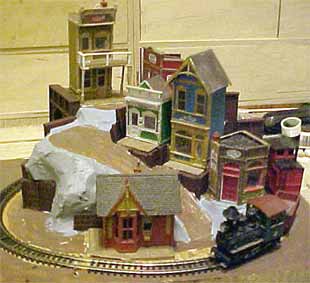 Though seriously cramped for space, Victor Smith, from Pasadena, California, USA, continues to add track and features to his 3x3ft (90x90cm) G-scale indoor layout! From its beginnings as a humble pizza in Scrapbook #79a, this layout first received a second level deck (Scrapbook #86a). Now Victor is adding a small 3x1ft (90x30cm) module featuring a small "town diorama" along with a short length of track used for photography and fiddling.
Notice the double faced structures under construction… they face both the original layout and the add-on, being essentially two sets of low-relief models mounted back to back. Great idea, yielding double the scenery in virtually no extra space!
What's next? According to Victor, "I'm also planning another small loop! This will be a 4ft (120cm) diameter track on a more or less permanent 4½x6½ft (137x198cm) base. It will be on wheels so it can be moved around, and the portable pizza will nest on top so it can still be taken off for display elsewhere."

---
TRAMS NOW ON THE MOVE IN VICTORIA STREET


Glenn Corbett, from Melbourne, Australia, is closing in on the finishing touches to his tiny tram/trolley layout, Victoria Street. First introduced in Scrapbook #85a, this little layout has seen some important additions, including placement of buildings, traffic, and span poles; a backboard; overhead wires; and a road case ("so I can drag it around the countryside").
Glenn uses block-style wiring, linked to two controllers. He reports, "Now the fun of running multiple services (up to four trams at a time) is very much like a shuffle puzzle—part Tymesaver, part Inglenook." And he adds, "Yes, that is a Boeing light rail vehicle; and no, they didn't run one in Melbourne!" It is, after all, his railway.

---
FAT CITY ROLLS ON, NEARS COMPLETION, GOES ON EXHIBIT


Alexander Lösch, from Elfershausen, Germany, has announced completion of his HO layout, Fat City, and exhibited it last month (above) at the second biennial German U.S. Model Railway Convention in Rodgau near Frankfurt/Main. The layout represents an urban portion of the U.S. prototype railway, the Delaware & Hudson RR. The layout has previously appeared in Scrqpbooks #73a and #81. We include some more photos below, to illustrate his excellent small-space modelling of an American mainline railroad.


For more information about Alexander's Fat City layout (named for the bicycle factory that is a principal industry), pay a visit to his website.