PAGE 90a – October 2009 Bonus Mid-Month Edition
H O T    I D E A S    F O R    S M A L L    R A I L R O A D S
This month starts the annual Holiday Season of celebrations calling for festive display layouts — usually pizzas (circles of track that may or may not come in a box). Here are a bunch of inspirational pizzas, including two Halloween lines and each major scale/gauge in current use!
---
HALLOWEEN PIZZAS SEND SHIVERS UP AND DOWN THE SPINE

Multipurpose Pizza
Pizza layouts make great holiday displays, because a train circles endlessly through interesting scenery to the delight of all. Chris Brown, from Bodmin Moor, Cornwall, England, designed his Multipurpose Pizza with 45mm gauge track on a 15x18in (38x45cm) base and arranged for the scenery "to lift off so the whole layout could wear a different hat for appropriate seasons."
Chris's first scene was "a 'Coming 'Round the Mountain' sort of American look." He also made a first attempt at foam rocks in this scene (lower left). Then he added a second scene (right) just in time for Halloween. "Same pizza, but now as a fairground ride taken over by giant spiders, scorpions and other bugs. It needs a couple of terrified passengers, perhaps… And then Christmas is coming," Chris adds. "I'm not sure I can face doing a Valentine's one, so Easter may be next.  And then I'll be heading towards a complete swapable set for the year."
To accommodate G-scale trains on his 5½in (14cm) radius curves, Chris built a 4-2-0 "bent" chassis (lower right) with electrical pickup at the front bogie (leading truck) to run the motor on a Playmobil R/C chassis with plastic wheels. The wagon/coach chassis are also trapezoidal. It's an ingenious layout from all angles!

---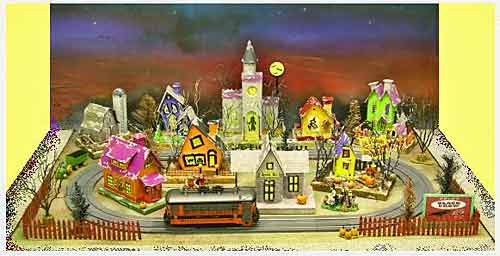 Spook Hill
Howard Leroy Lamey, from Jacksonville, Florida, USA, has been featured many times in these pages for his nostalgic, holiday "glitter houses." This year Howard has expanded his reach to include a Halloween display, Spook Hill, featuring a Lionel "Transylvania" trolley (tram) car running on Superstreets track amid some appropriate examples of Howard's excellent cardboard buildings. To top it off, his website includes instructions for making your own Spook Hill buildings!

---
T GAUGE (1:450) – THE SMALLEST OF THE COMMERCIAL GAUGES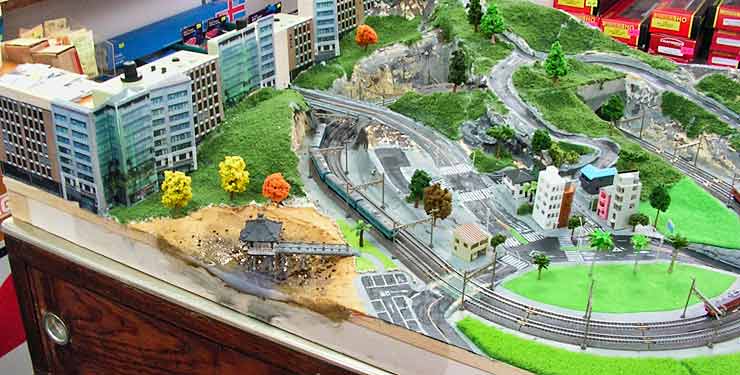 T Gauge, with a track gauge of 3mm and a scale proportion of 1:450, is the smallest available commercial model train scale. It's made by KK Eishindo in Japan and is perfect for very small pizza layouts, as no turnouts are currently available. Darren Hodges, from Stratford, Victoria, Australia, created this 40x60cm (16x24in) T layout to use in his hobby shop, Hobbies Plus, in Stratford.
Darren built the base and terrain formers of balsa covered with aluminum screening. Most structures and accessories are from KK Eishindo. There's a photo album of the construction process posted here and a video here.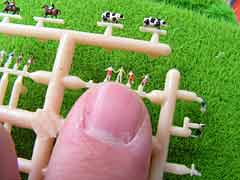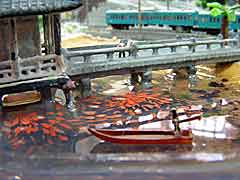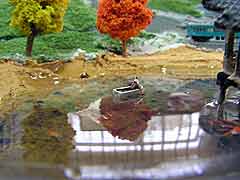 ---
Z (1:220) AND N (1:160) SCALES – HERE'S TWO PIZZAS IN BOXES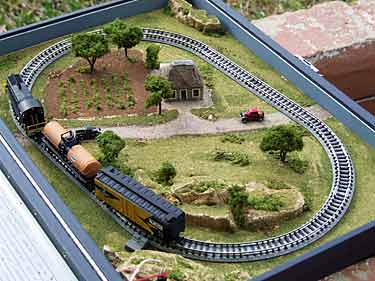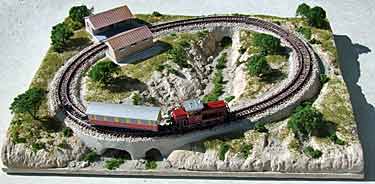 Juan Palacio, who lives in Hialeah, Florida, USA, has built two pizzas in microscopic scales. His Z work (above) measures 8½x11in and fits in a wooden stationery box. His N pike (right) is 10¾x15½in. More info at his blog and YouTube (Z and N).

---
N (1:160) AND OO (1:76) SCALES – AN UNUSUAL DOUBLE-GAUGE PIZZA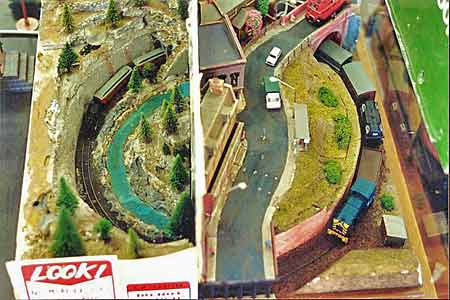 Rather than build two pizza layouts in different scales, Australian Darren Hodges opted to use an ingenious way of building both scales into the same layout! The result (left) is a pizza display that simultaneously can operate both N scale and British OO scale trains! (In a pinch, I suspect he can also run HO trains on the same 16.5mm tracks as the OO!) Although the photo shows how the trick is done, it's probably easier to understand via Darren's video below. Just click on the triangle to see the action.
(Yes, Darren is the same guy who built the T gauge layout above. He likes all the scales!)
---
HOn30 (1:87) – A NARROW GAUGE 'WILD WEST' PIZZA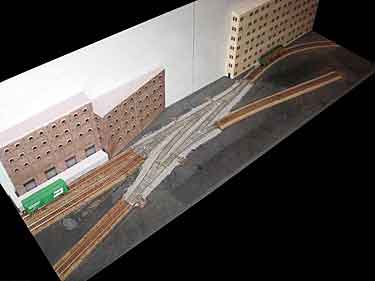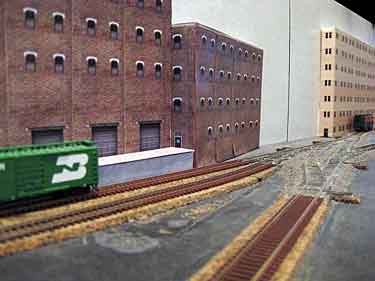 Victor Smith, from Pasadena, California, USA, first showed us his 9x10in (23x25cm) HOn30 pizza in Scrapbook #23 (above left). Recently he acquired an XTS Train System set, which runs on 9mm gauge, and decided to try it out on his old pizza layout. It worked! So he rebuilt the HOn30 locomotive structure on the battery-powered XTS mechanism and refurbished the Wild West look of the layout (above right). Results are pictured below. The battery-powered train will run anywhere, and the scenery demonstrates that a well-detailed pizza can amply reward a long, close examination!
For other display layouts based on XTS mechanisms, see Scrapbooks #45a, #51, and #80a.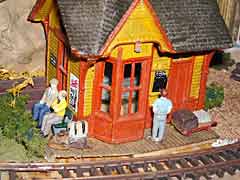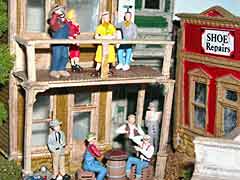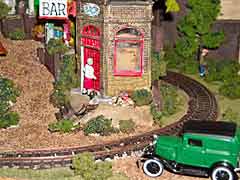 ---
HO (1:87) – NEW SCENERY BEDECKS 'MOOSE PIZZA'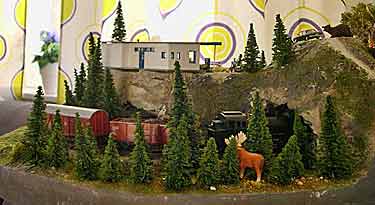 Jon Songøygard, from Arendal, Norway, has "spruced up" his Moose Pizza with the help of his son, Joakim. First reported in Scrapbooks 31 and 42a, this layout has now experienced a change in scale (from 3:100 to 1:87) and added a bear and some very nice scenery. The moose has been retained (right). Jon comments, "There's even a dinosaur skull buried in the ground between the trees (not visible, perhaps we should send a paleontologist)."

---
OO9 (1:76) – VENERABLE SLIMGAUGE LAYOUT GETS FACELIFT
David J. Rooke, from Westcliff-on-Sea, Essex, England, built the TCC Tourist Railroad some 30 years ago. TCC originally stood for Television Cabinet Central, as the 71x43cm (28x17in) was built to fit inside an old plywood TV cabinet (which has long since vanished). But David recently restored the layout and built new scenery for it, with the result shown here. The plan is a "folded dogbone" that looks more like a spaghetti layout than a pizza, but we include it here because it is a continuous layout with no turnouts and somehow seems to fit. The nicely refurbished layout is for sale. OO9 is the most popular narrow-gauge scale in Britain—4mm scale running on 9mm gauge.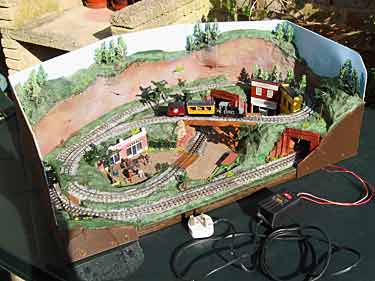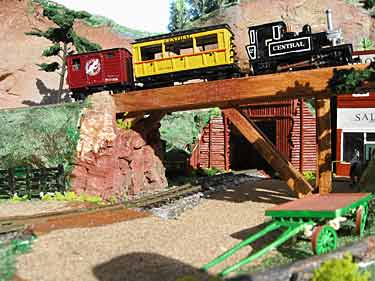 ---
OO (1:76) – KETTLE LINE SETTLES IN AN UNUSUAL VENUE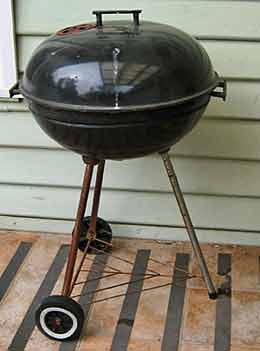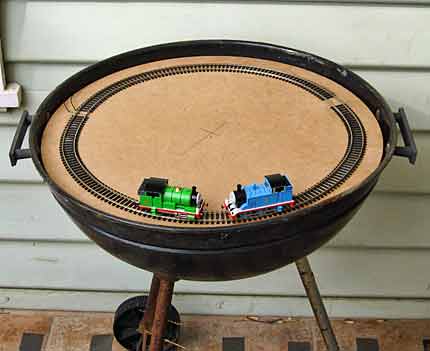 Inspired by a layout featured in our Micro Layout Design Gallery, Mark Fryer, from Heidelberg Heights, Victoria, Australia, is building a pizza layout in an old kettle barbecue oven. Radius of the OO trackage is 9¼in (23.5cm), and the goal is to provide a showcase for Thomas and Percy. Mark independently reinvented an important small-layout builder's trick—he writes, "To get the sub radius to work I had to cut away more of the plastic [web] between the ties on the inside radius of the flextrack and then hand bend the track by working my way along the flextrack."
---
O (1:43.5) AND T (1:450) – UNUSUAL COMBO CREATES MODEL GARDEN LINE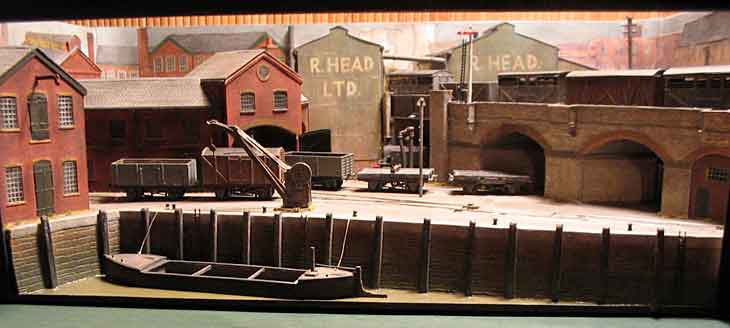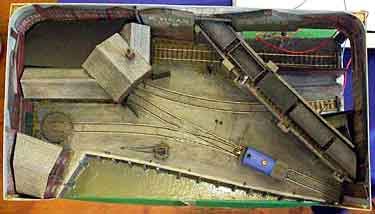 Ken Jones, from Birmingham, England, has a penchant for building pizza layouts in various containers and a variety of scales (see his website for many interesting examples). Here's one of his latest creations—a garden railway in British O scale (7mm to the foot running on 32mm gauge), using T gauge trains to represent a large scale line with about 5in gauge. The container is a wooden cutlery box he found on eBay, measuring 18x13in (45x33mm). I particularly like the "football field" style of lawn mowing!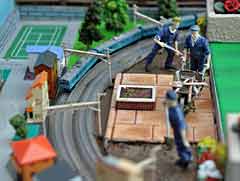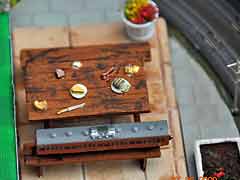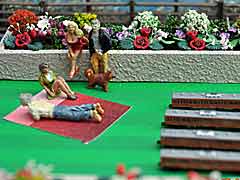 ---
O (1:48) – BIG 3-RAIL TRAINS MAKE GOOD SMALL PIZZAS, TOO

Harry Rado, from Springfield, Virginia, USA, built this O gauge tinplate pizza for an office holiday party, "as an example of what toy trains were like when I was a boy. The loco is a Lionel 2026 2-6-2 from 1949. The cars are from 1950 to 52. The buildings are lithographed tin by Skyline, from the same era. The autos are Tootsietoy Jumbos and a plastic 1947 Buick, the people were made by Lincoln Logs, and the signal is Marx…
"The layout operated smoothly all through the afternoon and was a big hit, especially with the folks who were into collectibles and the model railroaders." Harry's layout, the DP&Z Railroad, measures 37in (94cm) square.

---
O9 (1:45) & Gn15 (1:22.5) – DOUBLE-DECKER FORCES PERSPECTIVE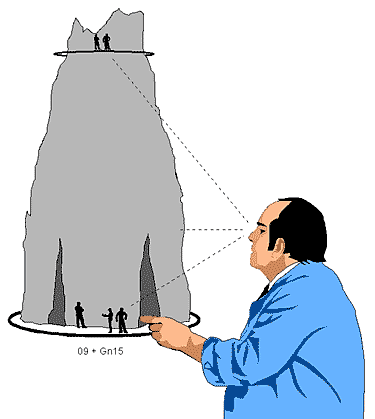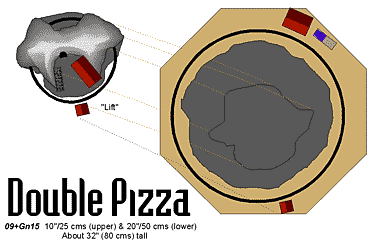 The fertile mind of Norway's Jon Songøygard has captured yet another towering idea. Inspired by Andrew Milner's Summit layout in Scrapbook #84a, Jon started with a Gn15 pizza having a 20in (51cm) diameter, then thought about stretching it upward… WAY up! At the higher level, he envisioned an O9 circle, about 10in (25cm) in diameter—the reduction in scale serves to "force perspective" and make the mountain look much taller than it actually is. The result—a very attractive (but very tall) dual-gauge pizza.

---
Gn15 (1:22.5) – A VERY SPECIAL EXHIBITION PIZZA…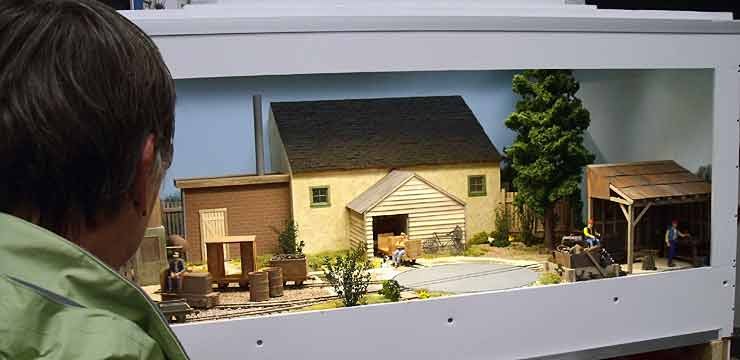 Hubert Reijnders, from Gouda, Netherlands, built this exhibition pizza in Gn15 scale (1:22.5 running on 16.5mm gauge). The photo above shows the layout at the Valkenburg Exhibition last month (see Scrapbook #90). Hubert reports, "The layout measures 70x100cm (27.5x40in). It represents a jam factory, and the name is derived from the first names of my parents-in-law, because they made a lot of different sorts of jam. In the photo you see the factory in the middle, the boilerhouse on the left and the repairshed on the right."
The overhead photo (below left) shows the simple track plan used for this attractive layout. It no doubt was inspired by Bott's Cotton Gin Tram and the SAP Line from this site. Operations are very flexible with this track plan. Hubert is converting a Bachmann On30 Davenport gas-mechanical loco model to Gn15 using Evergreen styrene (lower right). He's also one of the H's in H&H modelbouw hobby shop in Gouda.