PAGE 95 – March 2010
H O T I D E A S F O R S M A L L R A I L R O A D S
Continuous Circuits Featuring Frequent Traffic. From the beginning, model railroad layouts have been built to allow trains to run. Lots of pleasurable trains. And the continuous layout—an oval of track allowing constant train movement—is still the classic design in both very large layouts and very small. As these examples show, even in minimum-space layouts we can enjoy continuous running.
---
LE PETIT MEC 'CARRIES THE CANE' IN 1920'S HAITI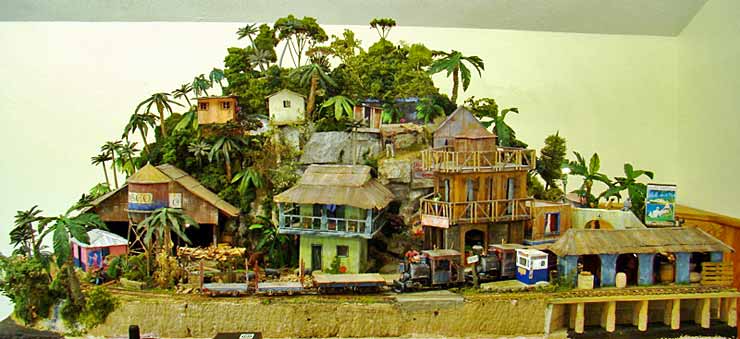 Le Petit Mec ("The Little Guy") is a superlative adaptation of Stumpy Stone's island layout, Marabunta, made by Dr. Tom (Doc Tom) Grabenstein, from Clarksville, Tennessee USA. It's a 44x30in (112x76cm) On30 sugar-cane road depicting Haiti in the 1920's.
"The railroad depicts the 30in gauge 'sugar train' that actually ran from Port au Prince to Leogane, Haiti, in the 1920's," Doc Tom explains. "The model includes the HASCO (Haitian American Sugar Company) mill and a 'depot' at the wharf in Port au Prince where sugar and rum was loaded into waiting ships. I have yet to finish the Leogane half of the mini where the sugar cane is harvested and where the prototype had an engine house."
Doc Tom gathered background and inspiration for this model during 35 trips to Haiti to work in two medical clinics. He's done an excellent job of capturing the weathering and color of the Caribbean scene and still provided a layout that has very good operating potential. The "Le Petit Mec" general store that furnishes the layout's name is shown at the lower left.

---
'AGRICULTURAL SUPPLIER' DEALS IN ALL SORTS OF CARGO

Landhandel Traugott (Traugott's Farm Supplies) is a 80x50cm (32x20in) Gn15 layout created by Dr. Michael Giersberg, from Stülow, Germany. Why model a farm supplier? According to Michael, "At the country store you can use everything—sacks, boxes, cartons, pallets of goods, etc." All kinds of cargoes will work. The little narrow-gauge railway hauls the stuff up from the harbor to the warehouse. The little layout is built in its own carrying box, 50cm tall. For more information and photos, see this thread.

---
HARRY POTTER LAYOUT HEADLINES CHARITY AUCTION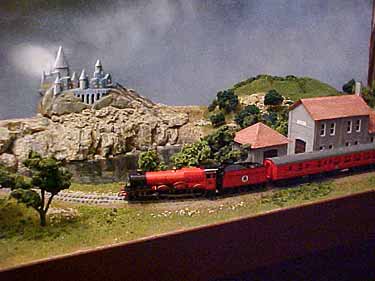 Speaking of layouts based on books (as we were last time), here's an example of the Harry Potter Hogwarts Express train, modeled as a continuous 4x6ft (1.2×1.8m) HO circuit. The line runs from Platform 9½ (above left) around the backdrop to Hogsmeade Station (above right), with Hogwarts School up on the hill above. The layout was built by Tommy B., from Billings, Montana USA. He auctioned it off on behalf of radio station KBUL, where he works, to benefit a local group home.

---
LIME WORKS RAILWAY OPERATES IN 1930'S VICTORIA, AUSTRALIA

Boneo Lime Works is an On18/O-9 layout built by David Roy Axup, from Bentleigh, Victoria, Australia. David explains, "It is an effort to produce something which may vaguely look like the small line that ran from a lime kiln at Boneo in coastal Victoria, Australia, down to the pier in Port Phillip." The layout is set in the 1930s and measures 100x50cm (40x20in). The store is a model of the local store found in an early photograph of the area, and its rear houses the lime works' offices. The layout is viewed from both sides.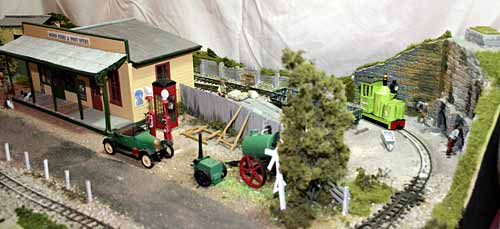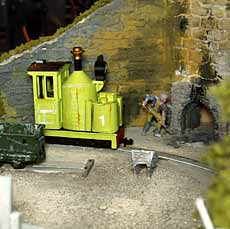 ---
CENTRAL EUROPEAN RAILWAY UNDER CONSTRUCTION IN CHINA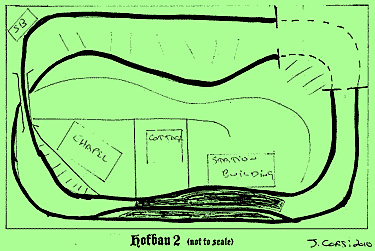 You may recognize this layout from last time as Hofbau, a central European railway based on "The Prisoner of Zenda," a novel by Anthony Hope. James Corsi, who lives and works in Wuhan, Hubei, China, built the layout based on a Cyril Freezer inverted-figure-8 plan. It measures 1x2m (40x80in) and is On30/O-16.5 scale.
James is considering several additions, including a hidden fiddle yard under the rear embankment to be entered by a switch just under the bridge, as well as a possible spur off the rear track to hug the front of the mountain and serve a logging area or a timber yard.

---
G-SCALE 'BABY SITTER' GETS LOTS OF ACTION IN SINGAPORE


Dave Appleton lives and works in Singapore. He has a small company specializing in designing automated optical inspection systems and housed in a small office. From time to time, he has to look after his three sons in the office, and you know what that can lead to…
Right! He found some G-scale Thomas the Tank Engine trains on eBay and set up a small layout in his office—a simple oval with a passing loop. Shown are his three sons—the eldest, Sulaiman (left), Omar (center) and the youngest, Ali, who find a great deal of enjoyment in "playing trains." Dave comments, "Never had any time for scenery because these three are a real handful!" Then he adds, with surprise, "But guests like it too…" So not only is Dave involving his family in model trains, but he influences some of his customers as well. That's the mark of a good hobby!

---
NEW OWNER VOWS CLASSIC CIRCUIT 'WILL RETURN' TO EXHIBITIONS
A few months back, we featured a circular, multi-track HO layout inspired by the Double Circle Railways of Keith Addenbrooke along with Foursquare Circles, designed by Carl Arendt. The recent layout, named Beaver Falls, is now owned by frequent contributor Chris Gilbert, from the West Midlands of England. Chris is planning to return the ingenious 4x4ft (1.2×1.2m) layout to the exhibition circuit, starting at the Trent Valley North American Modelers Show, 15 May 2010.

---
MAPLE SYRUP LAYOUT GETS FINAL LICKS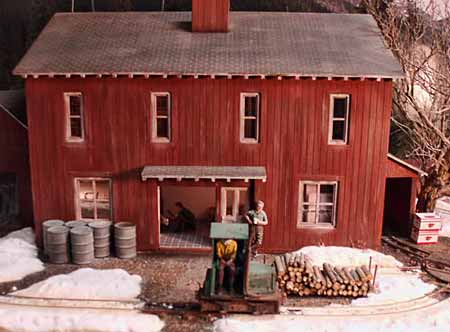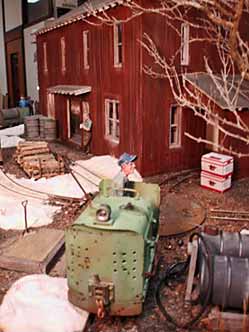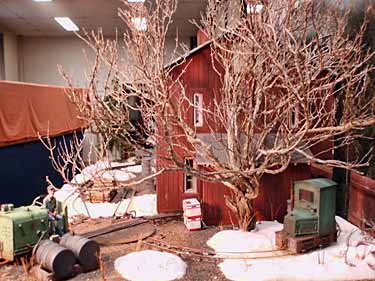 Franck Combe, from Paris, France, has posted "final" photos of his layout, Maple Shack, a maple-syrup hauling line set deep in the woods of Quebec Province, Canada. The plan and construction photos are in Scrapbook #74. Franck has added numerous small details, some very well-modeled late-winter snow, and various pieces of rolling stock. More photos can be found here.
The layout was inspired by two of Carl Arendt's layouts—Bott's Cotton Gin Tram and The SAP Line.

---
YOU KNOW IT WILL BE A LONG, HARD WINTER WHEN…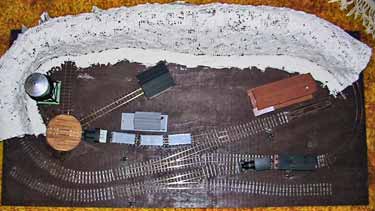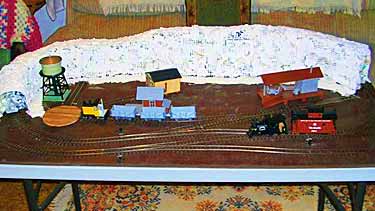 When an outdoor, large-scale railroader comes inside and walks the crooked and narrow [gauge] lines, you know it's been a long, tough winter. That certainly has been the case this year in Pennsylvania USA, and as a result Carl Ferguson, from Meadville, is now well along on a 2x4ft (60x120cm) On30 indoor layout, as yet unnamed.
Rolling stock is primarily Bachmann, with three small hoppers adapted from Thomas Troublesome Trucks. Carl's gardening railway roots show in his choice of portable control systems: he uses an Aristo-Craft Train Engineer Revolution controller with a 14.4v cordless tool battery to operate the layout via track power.

---
O-9 LINE EMULATES HEYWOOD 15-INCH GAUGE ESTATE RAILWAY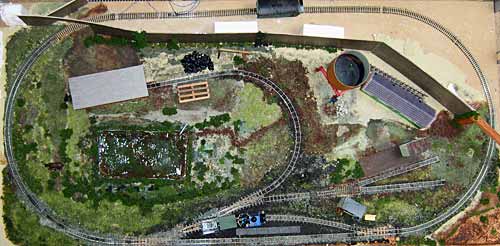 Trevor Perry, from Merseyside, England, modeled his O-9 layout, Smeton Hall Railway, after Sir Arthur Heywood's well-known 15-inch gauge line, Eaton Hall. Trevor describes it, "The line goes around the great house in a loop [hidden backstage] and fetches up near the estate office where there are two sidings and a combined loco/carriage shed tucked away behind the reservoir that supplies water for the great house. A passing loop and wayside halt with shelter are provided here."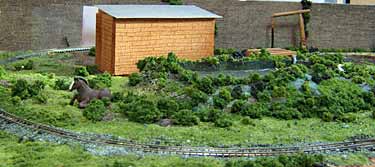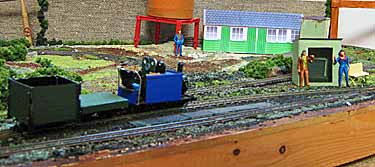 ---
AWARD-WINNING DICKENS LAYOUT CONTINUES EXPANSION

Gerry Snelson, from Frostburg, Maryland USA, continues to add details and new materials to his delightful Dickensian layout. Featured in Scrapbook #84a, this Gn15 pizza layout was voted among our readers' Most Favorite Layouts of 2009. And Gerry is still adding to it!
We've included (right) a shot taken last fall by Canadian photographer Jon Snelson (probably a relation), because it shows the sheer size of these G-scale buildings (compared with Gerry, who's normal human size at the back). The textures and sooty colors are remarkable and highly evocative of Victorian England.
Below are two more recent shots of the line's two Victorian steam locomotives (scratchbuilt by Gerry to fit over commercial mechanisms). Some of the newer architectural features can also be seen, especially "The Red Door, Mrs. Wells, Prop." (lower left), an authentic landmark of 19th century London well-known, no doubt, to Mr. Pickwick. Gerry has done an outstanding job of ferreting out Victorian G-scale figures and posing them in realistic positions. The layout itself is simple oval of track with a single siding for shunting.